Microsoft's Gabe Aul has announced this morning that they have just released the latest build of Windows 10 to Insiders on the fast ring, and this build brings some key components that were first demonstrated quite a while ago, but have finally made their way to people outside of Microsoft.
The first big change is that the integrated Skype messaging, calling, and video experiences are now available. These universal apps will be an optional replacement of the Skype client, which will remain for people who want one app that does it all. The new apps have already been made available as a Beta on Windows 10 Mobile, and just the other day Skype got integrated into the default messaging client on Mobile. This makes for a much more integrated experience on the platform similar to Google Hangouts and iMessage. For those wondering why Microsoft would be breaking the Skype client into pieces, it is to make it easier for people to use the part that they want to rather than having to fire up a big client that does everything. It will also feature quick replies in the Action Center which should really be nice since you won't even have to leave your current app to reply. I found the Mobile version to be pretty buggy so hopefully the desktop version is more stable.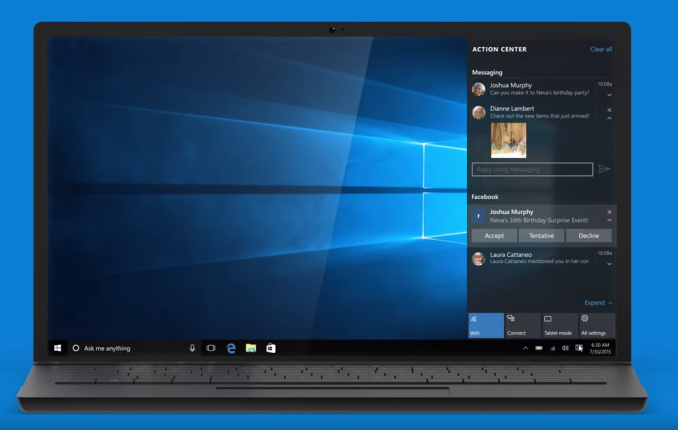 Edge is gaining the ability to preview tabs by hovering over them. It's a small change but this should help a lot when you have a lot of tabs open and want to find the correct one. Edge has certainly been a work in progress, and in this build it is finally getting the ability to sync favorites and the reading list, which should make it a much better experience especially when moving from phone to PC to tablet.

Windows 10's inking abilities are pretty amazing. I brought this up in the review, but the pen can now be used to input text on practically any text input field. The recognition has been fantastic because it almost never makes a mistake on words that I write despite my handwriting being terrible. Cortana has been improved in this build to be able to understand hand written notes right in the Cortana field. Unfortunately, there are no new locations where Cortana is enabled yet, so Canadians like myself will still have to wait to get support with the PC set up as a local one (you can always set your region to the USA to enable Cortana).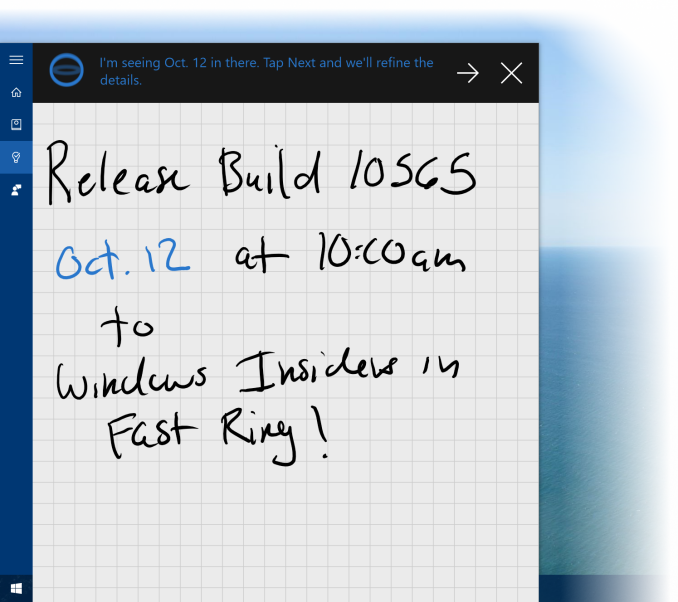 Cortana will also now do reminders for leisure activities such as movies and events. Two hours before an event it will notify you of the event and how to get there, as well as offering to book an Uber ride from within Cortana.

On a personalization note, new colors are available for the title bars which can be adjusted to make a more vibrant experience if you prefer that. The context menus have also been tweaked since Windows 10 was launched to give a more consistent feel, and once again this build tweaks the ones you see on the Start Menu. Regedit has finally gotten a new icon, along with things like Device Manager. These are subtle changes but those icons have been around since forever so it's great to see them get updated.

One of the biggest changes to this build is on activation. Activation in Windows 10 has been almost a black art, with some people having issues getting an activated copy of Windows 10 after upgrading from a previous build. Since you don't get a license key anymore, on subsequent re-installs it can be dicey as well. To that end, Microsoft has finally added the ability to use existing Windows 7, Windows 8, or Windows 8.1 product keys during the install of Windows 10, assuming they are valid for the free upgrade offer – which practically all are with the exception of Enterprise versions. This will work during setup or after in order to activate. This is a big change and is most welcome. It's surprising it took this long, since this exact issue was also a problem with the free Windows 8.1 upgrade.
As always, there is some other errata and bugs in this build. Two bugs that may be an issue is that the Search Box will not work if you are not in a Cortana region in this build, and the Xbox App will take up Gigabytes of memory when it is in use and Win32 games have been detected. WebM and VP9 have been temporarily removed as well as they continue to improve their support. Small form factor tablets that boot with rotation or virtual mode screen size set larger than the physical screen size will blue screen during the install so please don't try and run this fast ring version on a small tablet like the Dell Venue 8 Pro.
Update: To fix the search box issue, you can install any Language Pack
Source: Windows Blog