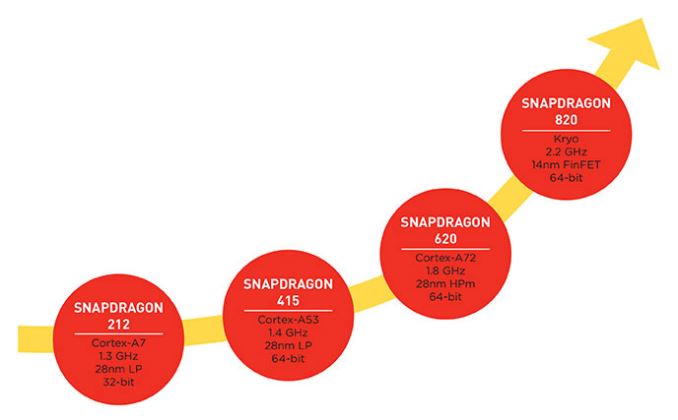 Today, Qualcomm announced a number of details in the Snapdragon 820, specifically about their Kryo CPU. Given that the Snapdragon 810 was a somewhat standard 4x Cortex-A57/4x Cortex-A53, it was clear that that this chip was a stop-gap for a future fully custom design. With the Snapdragon 820 announcement, the first major bit of information that we received was that this would be a return to a custom CPU core design, and today Qualcomm is finally unveiling a bit more information on Kryo.
The two main spec details that are being disclosed today is that the quad-core Kryo CPU in Snapdragon 820 will reach up to 2.2 GHz, and that the SoC will be manufactured on Samsung's 14nm FinFET process. It isn't stated whether this is the 14LPP process, which will give up to 10% transistor performance improvement over 14LPE which was seen in chips like the Exynos 7420, but it's a safe bet that it is. As a result of the new architecture and new process node, Qualcomm is claiming up to a 2x increase in performance and up to a 2x increase in power efficiency compared to Snapdragon 810.
The final part of this announcement is Symphony System Manager, which is said to be designed to deal with heterogeneous compute in an efficient manner. This is likely to be a kernel-level mechanism that ensures that the SoC is well-optimized for use in a smartphone or any other application. Given the focus on heterogeneous compute for this launch, I wonder if Qualcomm is going for some form of heterogeneous CPU design as well.
Source: Qualcomm