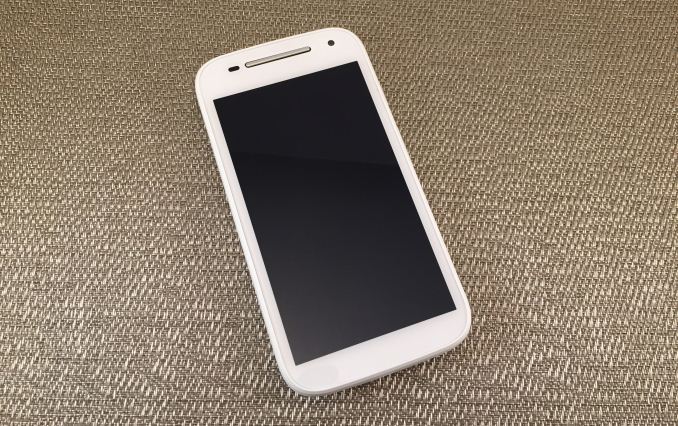 During the past couple of years we've seen a dramatic shift in Motorola's strategy for competing in the smartphone market. As one of the earliest producers of Android devices, the company needed to let go of ideas and strategies from years that had since past. Producing exclusive devices for carriers like Verizon was no longer going to work with the iPhone finally freed from exclusivity on AT&T, and Motorola's hardware and software design had begun to show a great deal of age.
That brings us to today, at a point where Motorola has more or less found their new approach to making smartphones. It's a very simple and understandable approach. Consistency across the design of the hardware, consistency across the design of the software, and a yearly line of phones that can easily be divided into budget, mid-range, and flagship categories based on a single letter in their name. This review takes a look at the newest version of Motorola's budget device, the 2015 Moto E. Unfortunately, this year adds a bit of complexity to the simplicity of Motorola's smartphone line. Before getting into that, I've put the general specifications of the new Moto E below, with the original 2014 model as a point of comparison.
Motorola Moto E (2015)
(LTE model XT1527)
Motorola Moto E (2015)
(3G models)
Motorola Moto E (2014)
SoC
Qualcomm Snapdragon 410 (MSM8916)
4x Cortex A53 @ 1.2GHz
Adreno 306 at 400MHz
Qualcomm Snapdragon 200 (MSM8x10)
4x Cortex A7 @ 1.2GHz
Adreno 302 at 400MHz
Qualcomm Snapdragon 200 (MSM8x10)
2x Cortex A7 @ 1.2GHz
Adreno 302 at 400MHz
RAM
1 GB LPDDR3
1GB LPDDR2
NAND
8GB NAND + microSD
4GB NAND + microSD
Display
4.5" 960x540 IPS LCD
4.3" 960x540 IPS LCD
Network
2G / 3G / 4G LTE (Qualcomm MDM9x25 UE Category 4 LTE)
2G / 3G HSPA+ (MDM8x10)
2G / 3G HSPA+ (MDM8x10)
Dimensions
129.9 x 66.8 x 12.3mm
145g
124.38 x 64.8 x 12.3mm
142g
Camera
5MP (2592 х 1944) Rear Facing w/Auto Focus, F/2.2 aperture

VGA (640x480) Front Facing
5MP (2592 х 1944) Rear Facing w/Fixed Focus
Battery

2390 mAh (9.08Wh)

1980 mAh (7.52Wh)
OS
Android 5.0
Android 4.4.2
Connectivity
802.11 b/g/n + BT 4.0, USB2.0, GPS/GNSS
SIM Size
Micro-SIM
On the cellular side, we have two HSPA models and 1 LTE model of the Moto E. There is an LTE version with UMTS bands targeted at the US market, a 3G-only version for the US market, and a global 3G version. The difference between the US and global 3G bands is the inclusion of the 1700MHz band for T-Mobile support on the US version, and the 900/2100MHz bands on the global version.
Design
Over the past couple of years, Motorola's hardware and software design has undergone some enormous changes. They shifted from producing heavily skinned and modified Android devices to using almost stock Google Android. Their industrial design similarly underwent significant changes, and a new style for their smartphones emerged with the original Moto X in 2013. The flat sides and edges of Motorola's old phones were replaced with continuous curves. This type of design is not only more ergonomic than Motorola's old devices, but also more unique and recognizable. It's very clear from the appearance of a Motorola phone that it is a Motorola phone, even without spotting the depressed logo on the back cover.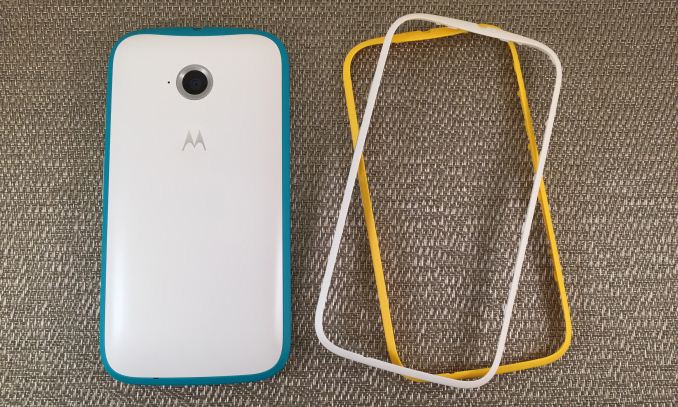 The Moto E is no exception to Motorola's industrial design. The back cover has a continuous curve that extends to all corners and meets with the phone's arched sides. The back of the phone has only a center-aligned 5MP camera and Motorola's standard indented logo. Unlike the original Moto E this back cover is no longer removable and customizable with different colors. Since the Moto E is a budget device, it also can't be customized with Motorola's Moto Maker. To add a level of personalization, Motorola has designed the phone so that the band around the edges is removable. Users can purchase a set of red, blue, and yellow bands for $20, and can swap them out with the default white or black bands as they please.
The band being removable creates a potential concern about the usability of the Moto E's buttons, as the part that you press down on is integrated into the bands themselves. During my time with the device I was actually surprised by how tactile the buttons felt and how little they wobbled considering that they were completely separated from the actual button mechanism. They definitely had more of a mushy feeling than the buttons on the Nexus 6, but they were still completely usable and actually better than I expected.

The removable bands also act as a great way to hide many of the ports on the device. Removing the band allows access to the Moto E's MicroSD slot and Micro-SIM port. The SIM slot is spring loaded, but it's so deep that anyone without very long nails will end up having to use a small object to press on the end of the SIM to remove it anyway.
The left side of the device has a tag which is attached internally and has FCC and regulatory information on it, as well as the device's IMEI.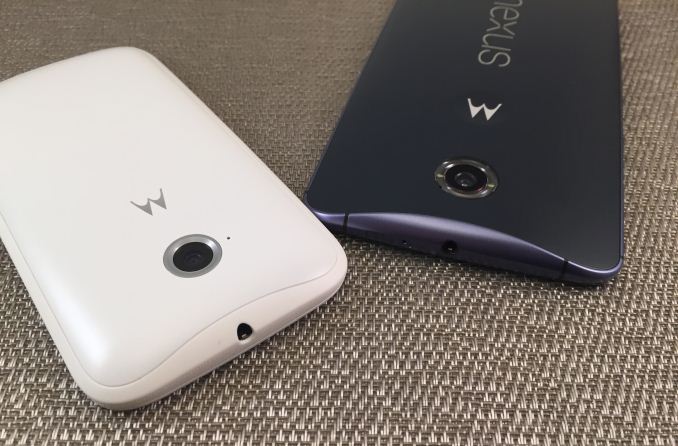 I'm quite happy with the direction Motorola has gone in with regards to design. The basic design of a Motorola phone scales down to $150 devices and all the way up to $700 devices, and on all of them it's visually appealing as well as ergonomic. The material quality definitely takes a step down when you go for those budget devices, with the Moto E sporting a plastic outer band instead of the metal ones on the Moto X and Nexus 6. Despite that, the phone still feels well made and the matte plastic back actually feels just as nice as the one on the Nexus 6. If anything, Motorola might want to worry about their flagship devices not offering enough of an improvement over the very good build quality and materials of their budget offerings.