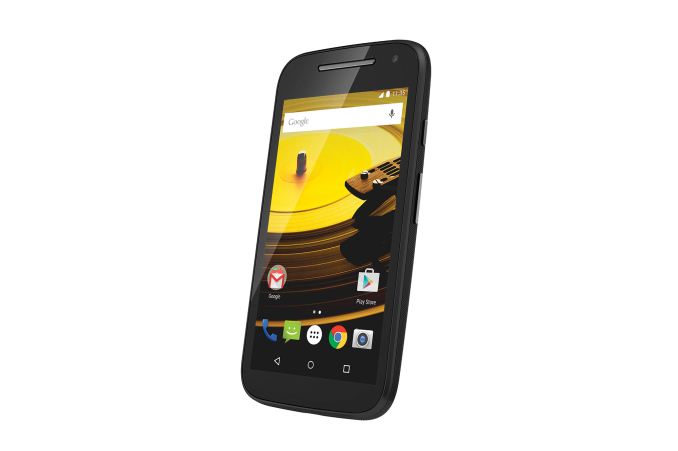 Today Motorola has announced the launch and immediate availability of the 2015 version of the Moto E, the latest member of the company's line of low-end smartphones.
The 2015 edition of the Moto E is a pretty hefty upgrade of a phone launched just 9 months ago. In terms of design the new Moto E is generally a bigger, more powerful version of its predecessor, retaining the same rounded plastic design while enlarging the overall body slightly to house the larger 4.5" screen. Meanwhile Motorola has iterated on the 2014's swappable back covers, with the 2015 featuring the ability to swap in one of the company's newer grip shells, or the phone's colored bands can be swapped out separately.
Motorola's 2015 Low-End Smartphone Lineup
Motorola Moto E (2015)
Motorola Moto E (2014)
Motorola Moto G (2014)
SoC
Qualcomm Snapdragon 410 (MSM8916)
4x Cortex A53 @ 1.2GHz
Adreno 306 at 400MHz
(LTE model XT1527)

or

Qualcomm Snapdragon 200 (MSM8x10)
4x Cortex A7 @ 1.2GHz
Adreno 302 at 400MHz
(3G models)
Qualcomm Snapdragon 200 (MSM8x10)
2x Cortex A7 @ 1.2GHz
Adreno 302 at 400MHz
Qualcomm Snapdragon 400
(MSM8x26)
4x Cortex A7 @ 1.2 GHz
Adreno 305 at 450MHz
RAM/NAND
1GB LPDDR3

8GB NAND
& MicroSD
1GB LPDDR2

4GB NAND
& MicroSD
1GB LPDDR3

8/16GB NAND


& MicroSD

Display
4.5" 960x540 LCD
4.3" 960x540 LCD
5" 1280x720 IPS LCD
Dimensions
129.9 x 66.8 x 12.3mm
145g
124.38 x 64.8 x 12.3mm
142g
141.5 x 70.7 x 11.0 mm 149g
Camera
5MP (2592 х 1944) Rear Facing w/Auto Focus, F/2.2 aperture

VGA (640x480) Front Facing
5MP (2592 х 1944) Rear Facing w/Fixed Focus
8MP (2592 х 1944) Rear Facing

2MP (1280x720) Front Facing
Battery
2390 mAh (9.08 Whr)
1980 mAh (7.52 Whr)
2070 mAh (7.87 Whr)
OS
Android 5.0
Android 4.4.2
Android 4.4.4
Connectivity
802.11 b/g/n + BT 4.0, USB2.0, GPS/GNSS
802.11 b/g/n + BT 4.0, USB2.0, GPS/GNSS
802.11 b/g/n + BT 4.0, USB2.0, GPS/GNSS
SIM Size
Micro-SIM
Micro-SIM
(Dual SIM SKU)
Micro-SIM
The phone is being released in two versions. The first being the LTE model which primarily targets the US market in its LTE frequency bands. There are also a pair of 3G versions, with one again targeted at the US and the other more globally, with the big difference being the US 3G version's support of the 1700MHz AWS frequency bands for HSPA+.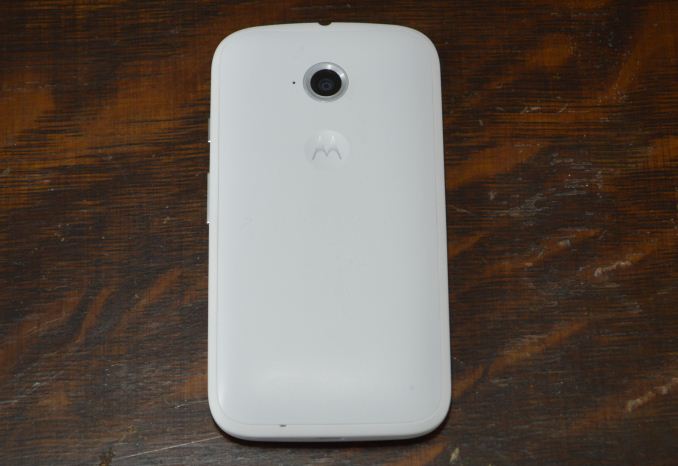 Motorolla E (2015) Model Breakdown
Region
GSM
UMTS/HSPA+
LTE
4G LTE -
US GSM (XT1527)
850, 900, 1800, 1900
850, 1700, 1900
2, 4, 5, 7, 12, 17
US GSM (XT1511)
850, 900, 1800, 1900

850, 1700, 1900

-
Global GSM (XT1505)
850, 900, 1800, 1900

850, 900, 1900, 2100

-

Priced at $149, the LTE version features a Qualcomm Snapdragon 410 processor, which supplies both the quad-core Cortex-A53 CPU and the Category 4 LTE modem. The 3G versions will be launching later at $119 – the biggest difference here is the use of a Snapdragon 200 series SoC with a quad-core Cortex-A7 CPU instead of the newer A53 Snapdragon 410. Having received the LTE version from Motorola, for our purposes we'll be focusing on the LTE version.
Likely the single biggest draw for the 2015 Moto E over the 2014 is the inclusion of LTE support, which is a first for a low-end Motorola phone, and in fact is something even the higher-tier 2014 Moto G did not include. Driven by the 9x25 modem integrated into the Snapdragon 410, this gives the Moto E Cat 4 LTE capabilities along the most common North American bands.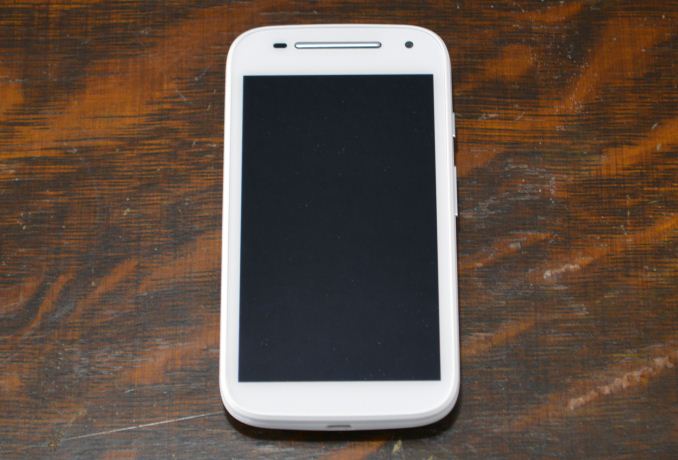 Meanwhile users of either version will also quickly notice the larger screen, which sees a slight bump to 4.5", up from 4.3" in the 2014 version. Though larger, the resolution though remains entry-level at qHD (960x540) pixels, so pixel density has decreased some compared to the 2014 version. Helping to drive this larger display and to take advantage of the larger phone body is a 2390mAh battery, 410mAh more than in last year's model. Even accounting for the larger screen battery life should be improved over the 2014 version – particularly stand-by time – however we'll have to give the phone a complete rundown to see what the real-world gains are.
Next to the screen and new to this year's version is a front-facing VGA (640x480, 0.3MP) camera. The 2014 model skipped out on a camera entirely for cost reasons, and while this camera is of limited use, it should be reasonable enough for selfies and video chat on an entry level phone. Meanwhile the rear facing camera is still 5MP, however it's now capable of auto focus versus last year's fixed focus camera. As for video recording, this camera is used to record at 720p30, a significant step up from the 2014's FWVGA (854x480) recording capabilities.
Storage has also seen a bump up, going from 4GB on-board to 8GB on-board, and users still looking for more can add more storage via microSD. The accompanying RAM on the other hand remains at 1GB, though it's now LPDDR3 as opposed to LPDDR2.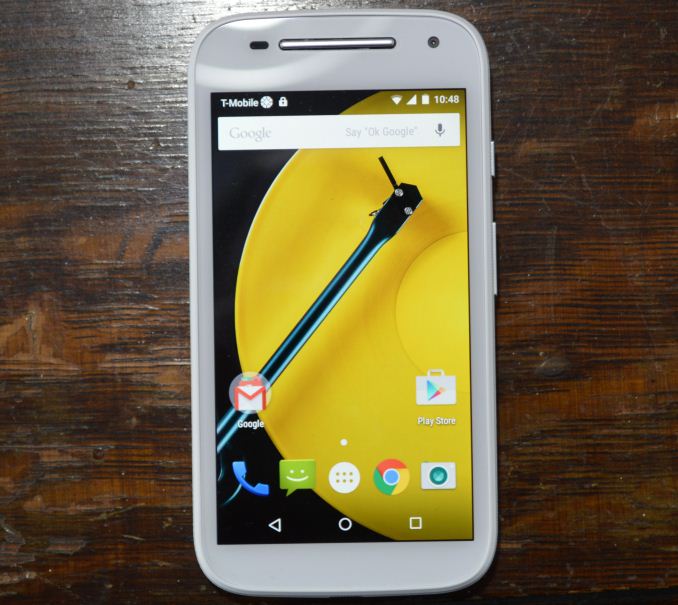 Finally, the phone is shipping with Android 5.0 Lollipop, making it the first Motorola-branded phone to ship with Android 5.0 out of the factory and joining Motorola's other phones which recently received the OS as an update. Motorola doesn't specify whether they're using a 32-bit or 64-bit version of the OS, however a quick check of the phone finds that it's running the 32-bit version of Android. Which given the fact that the 2015 Moto E is available with both Cortex-A53 and Cortex-A7 based SoCs, it makes sense that the company is sticking to 32-bit throughout.
We will be putting the new Moto E through its paces in the coming weeks, but so far it looks like a solid update to the Moto E lineup. At $149 for the LTE it does end up debuting at $20 more expensive than the previous version in what's a very price sensitive market, so it will be interesting to see how consumers respond to the higher price. But LTE tends to be a big draw.
Shipping today, US customers can order the LTE version of the phone from Motorola's website. Meanwhile international customers can look forward to Motorola rolling out the phone to more than 50 countries in the Americas, Europe, and Asia.
Source: Motorola