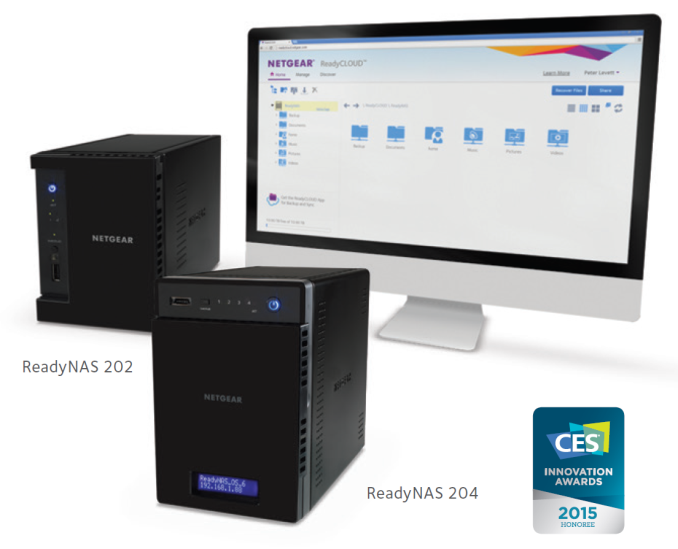 Netgear's major announcement at CES 2015 was the ReadyNAS 200 series of NAS units targeting the SOHO market and power users. This lineup has two members, a 2-bay RN202 and a 4-bay RN204. The ReadyNAS 200 series is based on a dual-core Cortex-A15 SoC from Annapurna Labs. The system has 2 GB of RAM and two GbE ports. 802.3ad dynamic link aggregation is supported, and transfer rates of around 200 MBps are possible (similar to what QNAP claims for their TS-x31+ series). The units run ReadyNAS OS 6.2 and have a MSRP of $360 and $500 for the 2-bay and 4-bay variants.
As I mentioned in our COTS NAS buyer's guide last month, Netgear's ReadyNAS OS 6.x is quite interesting because of the choice of a btrfs file system. We also get snapshots with minimal overhead (due to the COW - Copy on Write - nature of the file system) and protection against bit-rot. The ReadyNAS 200 series provides a powerful, yet affordable alternative to the ReadyNAS 300 and ReadyNAS 500 series of NAS units.
At the show, Netgear also launched the AirCard, a battery-powered 4G hotspot device connecting to the Sprint network. The $200 price also includes 1 GB of data, with the option to purchase more further down the road. In the ProSAFE lineup, we also got Click Switches - 8- and 16- port GbE unmanaged switches with USB charging ports. The focus of the product is on ease of use and versatility. On the powerline networking front, Netgear had their HomePlug AV2 PL1200 and PLP1200 devices on display.
Netgear decided to hold off on any major router announcements at CES. Most of the other networking vendors announcing flagship products were planning to ship in Q2 or later. This obviously points to the hardware platforms not being ready. It does make plenty of sense for Netgear to announce products closer to their release dates. In addition, they got in first on the Broadcom XStream platform with the Nighthawk X6 R8000 and second on the 4x4 MU-MIMO Quantenna solution (after Asus) with the Nighthawk X4 R7500. They have both flagships currently in the market. The focus at CES was more on the software updates (such as ReadyCLOUD integration, configurable power output for the Wi-Fi radios etc.) that Negear had in the pipeline for the R7000 platform.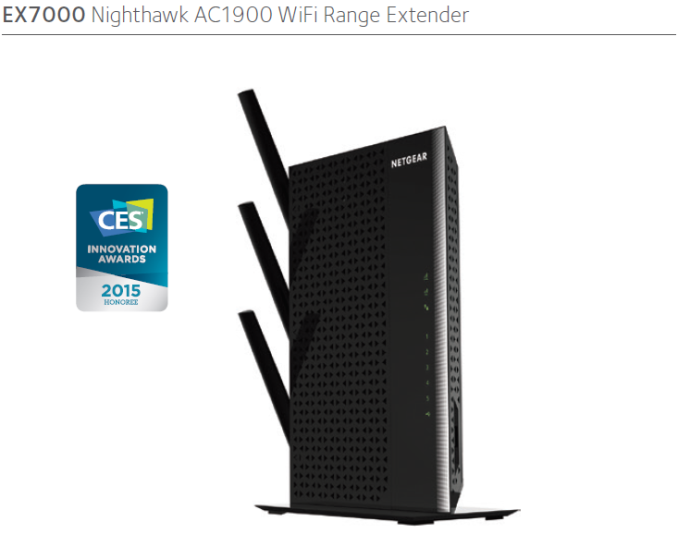 That said, they did show off a Nighthawk AC1900 range extender - basically, the same internal hardware as the R7000, but, without routing support, and priced a good $30 cheaper.