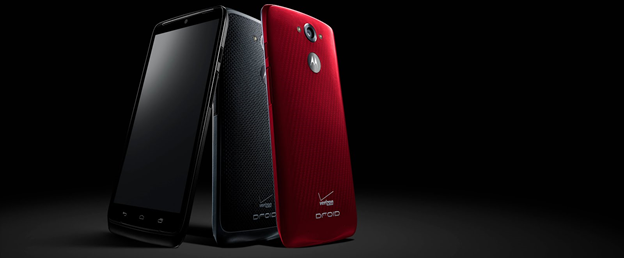 Verizon and Motorola have always had a close relationship. The smartphones in Motorola's Droid line are typically exclusive to the carrier, and they helped make Verizon a heavy supporter of Android devices during a time where AT&T was the exclusive US carrier for the iPhone. Today's announcement is no exception. The Droid Turbo is a Verizon exclusive smartphone made by Motorola, and seemingly their most powerful. Its biggest selling point is its battery life, but before getting into specifics I've given an overview by laying out all the specifications in the chart below.
Motorola Droid Turbo
Motorola Moto X (2014)
SoC

APQ8084 2.7GHz Snapdragon 805 with 4 x Krait 450 + Adreno 420

MSM8974 2.5 GHz Snapdragon 801 with 4 x Krait 400 + Adreno 330

RAM/NAND

3 GB LPDDR3, 32/64GB NAND

2GB LPDDR3, 16/32GB NAND
Display
5.2" 2560x1440 AMOLED at 565ppi
5.2" 1080p Super AMOLED
Network
2G / 3G / 4G LTE Listed as Category 4
2G / 3G / 4G LTE Listed as Category 4
Dimensions
143.5 x 73.3 x 11.2 mm, 176 grams (Black Nylon)
143.5 x 73.3 x 10.6mm, 169g (Metallic Red/Black)
140.8 x 72.4 x 3.8-9.9 mm, 144 grams
Camera

21MP

(5248x3936)

Rear Camera with F/2.0 aperture, 2MP Front Camera

13MP Rear Facing, 1/3.06" CMOS size (Sony IMX135), 2.1MP FFC
Battery

3900 mAh

2300 mAh, 3.8V, 8.74 Whr
OS
Android 4.4.4 KitKat
Android 4.4.4 KitKat
Connectivity
802.11a/b/g/n/ac + BT 4.0, USB2.0, GPS/GNSS, DLNA, NFC
802.11a/b/g/n/ac + BT 4.0, USB2.0, GPS/GNSS, DLNA, NFC
SIM Size
NanoSIM
NanoSIM
It's interesting that this is a Verizon exclusive device, as it has significantly better specifications than the Moto X which is Motorola's current widely available flagship. Like many of the other recently released flagship phones, the Droid Turbo uses Qualcomm's Snapdragon 805 with four Krait 450 cores at 2.7GHz and 3GB of LPDDR3 memory. The front of the device sports a 2560x1440 AMOLED display, which is also quickly becoming the norm for Android flagship smartphones. Above it is a 2MP front-facing camera capable of recording 1080p video, and below it lies three capacitive navigation buttons which is a departure from the on-screen buttons that Motorola has been using on their other devices for some time now.
The back of the device is home to the 21MP rear-facing camera which Motorola states is capable of recording 4K video at 24fps, with 1080p recording still topping out at 30fps. The design of the back is somewhat similar to the Moto X and Moto G, but it appears to be far less curvy. There's a great deal of branding, with a logo for Verizon, the Droid brand, and Motorola's. Even without those, it's would still be clear to anyone familiar with Motorola's style of hardware design that this is a Motorola device. The curved back, centered camera, and crosshatch pattern on the back are all reminiscent of past and current Motorola phones. However, there is no lip at the top for the 3.5mm headphone jack like on Motorola's other current devices.
The big point of differentiation is the battery capacity. Motorola has not stated the voltage of the battery, but states that it has a 3900mAh capacity and claims it will last up to 48 hours of usage. While there is always some degree of variance from a manufacturer's claims based on how a user uses their device, if the Droid Turbo approaches anywhere close to that claim in battery testing it will be very far ahead of competing smartphones with regards to battery life.
One possible issue I noticed with Motorola's listed specifications is in the network section which classifies the device as supporting category 4 LTE. This may be referring to Verizon's network certification, but the Droid Turbo should be rated for category 6 LTE.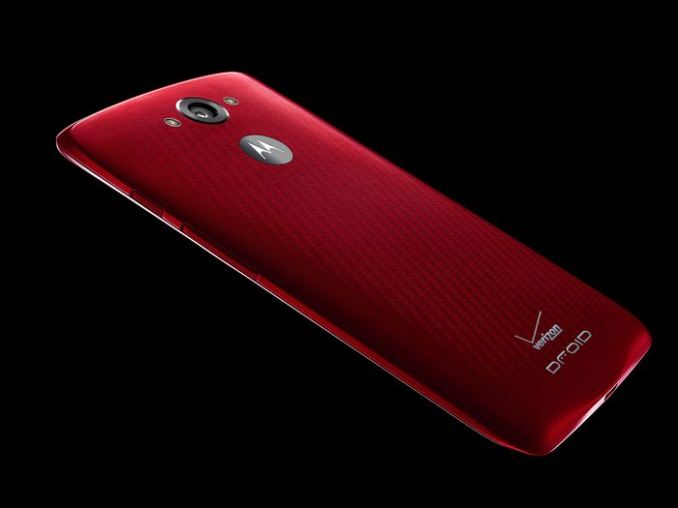 The Droid Turbo will come with two choices of materials. There is a metallic finish which comes in black or red, and is the lighter and thinner of the two variants. These will all have a 32GB capacity. The 64GB version will only be available in the Nylon Ballistic Black finish which is slightly thicker and heavier. It will be launching this Thursday for $199 and $249 for the 32GB and 64GB variants respectively on a two year term.
Source: Official Motorola Blog