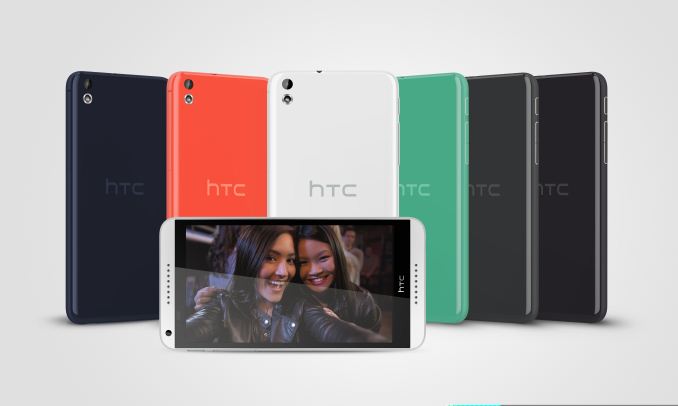 Today, HTC seems to be delivering on their promise for a stronger focus on the 150-300 USD market segment by launching the Desire 816, a phablet with a 5.5" 720p display and a Snapdragon 400, along with dual front facing speakers with an amplifier on each speaker. For now, it seems that HTC is quite tight-lipped on software, as they only state that the 816 runs "Android with HTC Sense", although based upon the press images it's clear that the hardware buttons have been removed and it may be the beginning of a trend for HTC's 2014 devices. While many are likely to object over the bezel on the bottom, it seems that this may be an unavoidable bezel, as the One, One max, LG G2, Nexus 5, and other phones all have the glass bezel area around as tall as the one that looks to be on the Desire 816. Based on the photos that I've seen for the HTC One's digitizer, it seems that the area must be used for digitizer connectors, but capacitive buttons will fit in that area.
Of course, specs are effectively the most important part of midrange phones when it comes to placing the kind of value that they have, so I made a table to summarize the key points:
HTC Desire 816
Display

5.5" 720p LCD

SoC

MSM8928, Snapdragon 400, 1.6 GHz quad Cortex A7

RAM
1.5 GB
Rear Camera
13MP f/2.2, 1080p HD recording
Front Camera

5MP f/2.8 720p HD recording

WiFi

802.11 b/g/n

Storage

8GB + microSD

Battery
2600 mAh, 3.8V, 9.88 WHr
WCDMA Bands
850/900/2100 MHz (Band 5, 8, 1)
LTE Bands

EMEA: 800/900/1800/2600 MHz (Band 20, 8, 3, 7)

Asia: 900/1800/2100/2600 MHz (Band 8, 3, 1, 7)

700 MHz (Band 28) for Taiwan, Australia

SIM Size
NanoSIM
Overall, outside of pricing, there's not too much to talk about. It does use a NanoSIM, something that's definitely important to keep in mind for prospective buyers, and the 9.88 WHr battery is a bit small for the 5.5" form factor but based upon the performance of the One max with a 5.9" display, it shouldn't be too big of a deal, especially with the power-sipping Cortex A7s. The press release doesn't say anything about the LCD panel, but I guess that will have to be discovered at the press event. Overall though, this seems like a relatively well-designed phablet. Whether HTC's strategy will work is another question.