The Core
As Ian already discussed, the new Xeon E7 v2 is a 6, 8, 10, 12 or 15-core Ivy Bridge Xeon, similar to the Xeon E5-2600 v2. The big difference of course is that this new Xeon E7 v2 can be plugged into a quad- or native octal-socket server. These processors have three QuickPath Interconnects to be able to communicate over one hop. More sockets are possible with third party "glue logic".
Compared to the old Xeon E7 based on the "Westmere" core, the new Xeon E7 v2 "Ivy Bridge EX" features a vast amount of improvements. We will not list all of them, but just to give you an idea of how much progress has been made since the Westmere core:
µop cache (less decoding)
Improved branch prediction
Deeper and larger OoO buffers
Turbo Boost 2.0

AVX instructions

Divider is twice as fast

MOVs take no execution slots

Improved prefetchers

Improved shift/rotate and split/load

Better balance between Hyper-Threading and single-threaded performance; buffers are dynamically allocated to threads

Faster memory controller
Most of the improvement were fine tuning but the combined effect of them should result in a tangible performance boost in integer performance. For software that uses AVX, the performance boost could be very substantial. Even in software that uses older SSE(2) code, we found that the Sandy Bridge/Ivy Bridge generations were 20% faster, clock for clock, and we should see similar results here.
The Uncore
Just like the Xeon E5-2600 v2, the Ivy Bridge EX cores and 2.5MB L3 cache slices are stacked in columns connected with three fast rings, which connect all cores and all other the units (called agents) on the SoC. These rings also make sure that the L3 slices can act as one unified 37.5MB L3 cache with 450GB/s of bandwidth. The latency to the L3 cache is very low: 15.5ns (at 2.8GHz) versus 20ns for Westmere-EX (Xeon E7-4780 at 2.4GHz). PCIe I/O now happens on the die as well, and each CPU can support 32 PCIe lanes.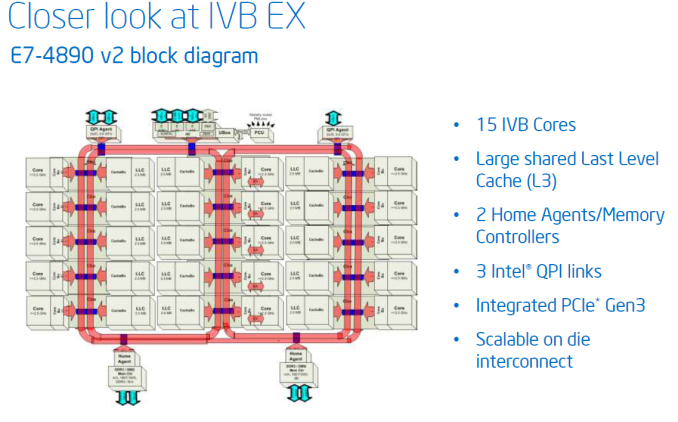 Finally, some coherency improvements are also implemented. Modified cache lines are send straight to the requester, without any write back to the memory agent. Overall, the collective sum of the improvement should prove quite capable.