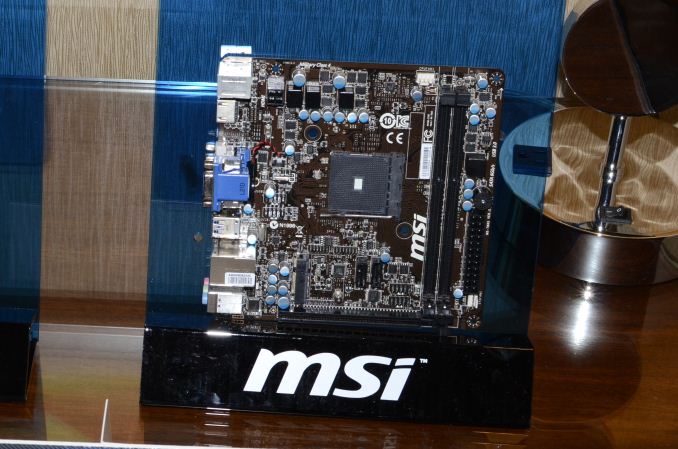 We saw some socketed Kabini motherboards at CES this year from MSI, and Chinese VR-Zone has published some interesting numbers regarding processors that are predicted to be on sale in March 2014.
Aside from the soldered Kabini we already have in, the socketed versions are aimed more towards the consumer range than the industrial PC or embedded lines that commonly utilise soldered on CPU/APUs. They will be based on the Jaguar CPU core design, which also means being limited to 64-bit single channel DDR3 memory. The focus of Kabini in this case is the need is for something just to process primarily in-cache data.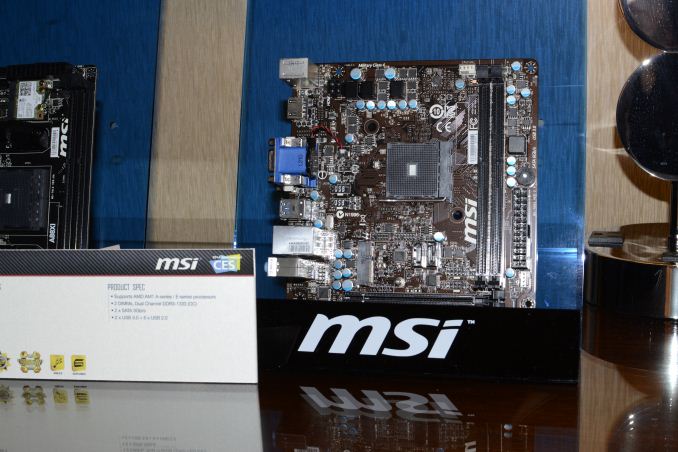 The APUs are also slated by VR-Zone to use GCN architecture for the integrated graphics portion. The main competition is from Intel's Bay-Trail-D range of processors, which we have seen samples being announced. While the standard FS1b socket for Kabini is current, the rumor extends that this will be called AM1 for the new socketed APUs.
The current rumoured line up sits as:
AMD AM1 Kabini
AMD FT3 Kabini
A6-5350
A4-5150
E2-3850
E1-2650
A6-5200
E1-2500
Cores / Threads
4 / 4
4 / 4
4 / 4
2 / 2
4 / 4
2 / 2
CPU MHz
2050
1600
1300
1450
2000
1400
GPU
HD 8400
HD 8400
HD 8280
HD 8240
HD 8400
HD 8240
GPU SPs
128
128
128
128
128
128
GPU MHz
600
600
450
400
600
400
L2 Cache
2MB
2MB
2MB
1MB
2MB
2MB
TDP
25 W
25 W
25 W
25 W
25 W
25 W
As we can see, the desktop related socketed parts are closely related to those already in systems using a BGA interface (FT3).
For comparison, here are some Bay Trail-D parts and equivalent power Silvermont:
Intel BayTrail-D
BGA1170
Intel Haswell
LGA1150
Intel Avoton
BGA1283
Celeron J1850
Pentium J2850
Celeron J1750
Celeron
G1820
Xeon E3-1230L V3
Atom C2750
Atom C2530
Cores / Threads
4 / 4
4 / 4
2 / 2
2 / 2
4 / 8
8 / 8
4 / 4
CPU MHz
(Turbo)
2000
2410
2410
2700
1800
(2800)
2400 (2600)
1700 (2000)
GPU
HD (Ivy Bridge)
HD (Ivy Bridge)
HD (Ivy Bridge)
HD
(Haswell)
N/A
N/A
N/A
GPU MHz
(Turbo)
688
(792)
688
(792)
688
(750)
1050
N/A
N/A
N/A
L2 Cache
2MB
2MB
1 MB
512KB +
2MB L3
1MB +
8MB L3
4 MB
2 MB
TDP
10 W
10 W
10 W
53 W
25 W
20 W
9 W
The main advantage AMD has with socketed Kabini is that Intel's socketed offering in this range comes down to low powered –T and –TE processors from Haswell, which are expensive but offer higher performance, which is not always needed. Intel's main low power Atom/Bay Trail range is still all BGA, meaning that the socketed Kabini route has potential for upgrades should AMD expand the processor line. The use of GCN with Kabini also offers up on the compute front, something which the Intel Haswell/Avoton line lack and the BayTrail-D line might fall up short.
What would be exciting to see is if AMD plan to keep this socket for Beema (Beema replaces Kabini in 2014, Mullins replaces Temash) which also provides a further upgrade path.