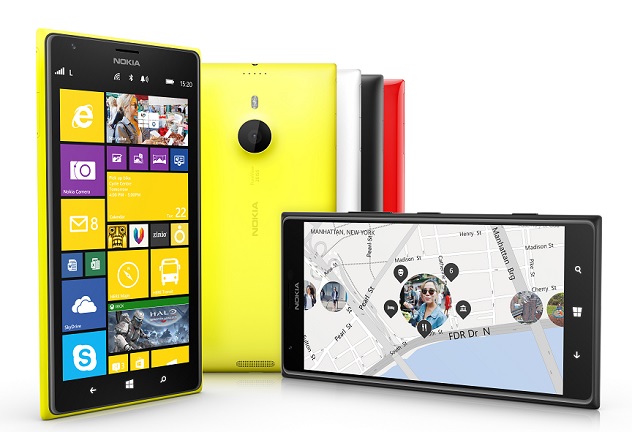 As expected, with the release of Windows Phone 8 GDR3, OEMs are releasing phones to go with the update. Nokia, the leader in Windows Phone, announced two phablets, a tablet, and some neat new software features coming with GDR3 updates for Nokia phones.
As always, specs.
| | | | |
| --- | --- | --- | --- |
| | Lumia 1520 | Lumia 1320 | Lumia 2520 |
| OS | Windows Phone 8 GDR3 | Windows Phone 8 GDR3 | Windows RT 8.1 |
| SoC | MSM8974, 2.2 GHz | MSM8930AB, 1.7 GHz | MSM8974, 2.2 GHz |
| Battery | 12.92 WHr, 3400 mAh | 12.92 WHr, 3400 mAh | 30.4 WHr, 8000 mAh |
| Rear Camera | F/2.4, 20MP | 5MP | 6.7MP, F/1.9 |
| Front Camera | 1.2MP | .3MP | 2MP |
| RAM | 2 GB | 1GB | 2 GB |
| Display | 6" 1080p LCD | 6" 720p LCD | 10.1" 1080p, LCD, AH-IPS |
| Storage | 32GB internal, microSD | 8GB internal, microSD | 32GB internal, microSD |
Nokia's answer to phones like the Xperia Z Ultra and Note 3 is the Lumia 1520. The industrial design, as with all Lumia devices, remains an evolution of the Nokia N9. It appears that this time, Nokia went with LCD, likely because Samsung seems to only allow other OEMs to use its n-1 generation panels, and reasons such as reduced power consumption under high APL conditions, higher overall brightness for better outdoor visibility (although reflectance also plays a major role), and fewer idiosyncrasies such as calibration shift over display lifespan. It also seems that the camera is most likely to have 1.1 micron pixels, as a reduction in sensor size would reduce z-height and BOM (Bill Of Materials) to fit within the phone's monetary and design constraints, and more pixels allows for greater oversampling. The SoC is also the lower 2.2 GHz bin to reduce BOM. Overall though, the 1520 looks to be a solid phone, and should compete well against the phablet competition. However, outside of the camera experience, which should be second only to the Lumia 1020, the rest of the phone is mostly identical when compared against similar, ~6" display, Snapdragon 800 phones.
The Lumia 1320 is a bit different, although very much the same. In order to fit a midrange price, the specs have been drastically reduced. In specs, it's almost a dead ringer for a Galaxy Mega 6.3, so it seems that this phone is directly targeted at the APAC region (China, India, etc…), as large phones are much more popular, with much greater pricing pressures.
While phones have been the main focus of Nokia, their tablet is especially interesting in its market position. It's a Windows RT tablet that almost reads exactly like the Surface 2 in core specifications, but with a few key exceptions. The biggest would be the inclusion of Snapdragon 800 (MSM8974) rather than Tegra 4, which is could make up any battery deficit that the Lumia 2520 has compared to Surface 2. MSM8974 also includes the MDM9x25 modem block, so the 2520 supports LTE out of the box.The power keyboard, which seems to be launching with the 2520, is also likely to make it last noticeably longer than the Surface 2. For people that find a burning urge to take photos with a ~10" tablet will undoubtedly find the Lumia 2520 to have a better camera, as the camera module in the 2520 seems to have the same module as the Lumia 720. The Lumia 2520 also has a specific emphasis on outdoor display visibility, something that the Surface 2 is mostly likely to be worse at due to its display being clamped to ~350 nits. Of course, Nokia's tablet has the traditional Lumia industrial design, while Surface continues the VaporMg chassis design. Which is better is up to personal opinion.
For Nokia's GDR3 update, codenamed Black, the notable features essentially boil down to improved camera and a new Storyteller application. On the camera side, Smart Camera and Pro Camera are now unified, allowing both manual control and burst shot-based camera features in a single application, along with the zoom and reframe features that have been the focus of Nokia's Pureview advertising and a new Lytro-esque feature that takes multiple exposures at varying focus distances to allow refocusing in postprocessing. Nokia also introduced RAW image saving in DNG format, so WP8 extends its lead in this department, especially as both Android and iOS are focused upon auto-everything, while WP8 has some of the best aftermarket camera applications that I've seen in any reasonably modern smartphone OS. Storyteller is an application that essentially uses the Nokia maps application to display photos and videos in a story format, and leverages the Lumia 1520's four microphones to deliver positional audio for greater immersion. It may prove to be popular, but for now it appears to mostly be an afterthought compared to other features.
Overall though, it seems that Nokia is extending their lead in their traditional strengths for camera experience and building on their prodigious software library for Windows Phone. The Lumia 2520 seems to take Nokia's traditional strengths and industrial design into the Windows RT space, which is a bit strange as it could be easily argued that Microsoft's Surface isn't nearly as appealing as this tablet, which is effectively the same in design philosophy and price range. It just seems that the reasons to buy or not to buy into the Windows Phone ecosystem remain the same, especially when compared to the Lumia 920, which also had a notably good camera experience but not much else that really pushed it above the rest of the competition to drive Windows Phone sales. The same goes for Windows RT, as arguably, both the 2520 and Surface 2 have the same advantages and caveats as the original Surface.