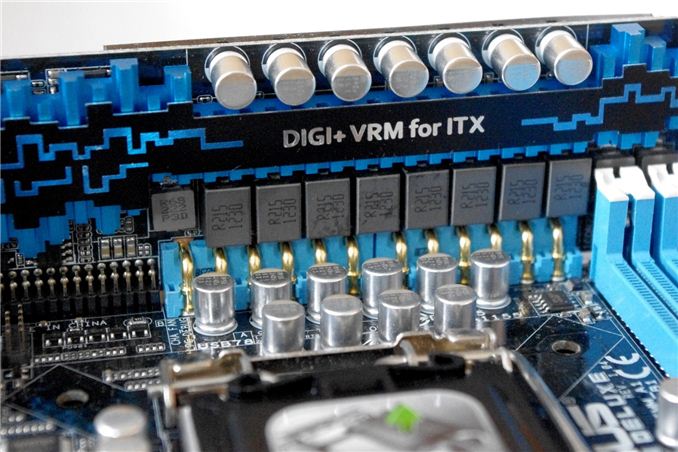 A quick look at the motherboard market and there is plenty to choose from under the $200 mark from both Intel and AMD. For Intel this marks the mid range Z77, whereas we can cover the whole of FM2 with AMD. Below $100 of course we get to the cheap-as-chips range of products, whereby selection can be purely based on what features (HDMI, PCI, two PCIe slots) are on the board.
The cheaper a board is, unfortunately, the less likely we are to review it. The sad truth is that motherboard manufacturers want to put their best foot first, which means driving attention to the top of the range, giving their products the best possible light (even if my analysis leaves it dead in the water in the face of competition). Luckily there have been a good number of boards in the $100 to $200 range that have passed my eyes in the past year, and here are some of the best.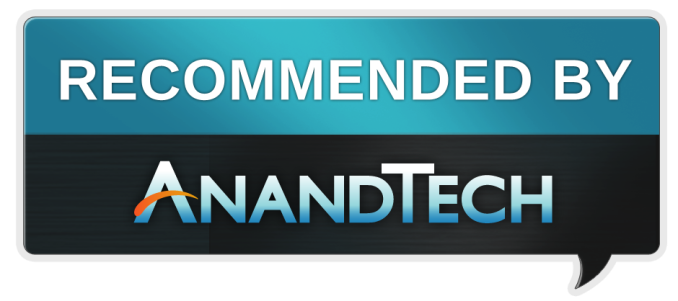 Pick of the Range: ASUS P8Z77-I Deluxe ($185) – AnandTech Bronze Award
At the turn of the New Year, we published an extensive review of the five main mini-ITX boards on the Z77 platform, from ASUS, ASRock, MSI, EVGA and Zotac (we looked at the Gigabyte H77 earlier in 2012). Out of the list we gave ASRock a recommendation but an award went to the ASUS. The P8Z77-I Deluxe was designed the right way for where all the connectors are offers a lot more in the package than the others, such as an Intel NIC, additional USB 3.0, integrated WiFi and that odd looking daughter board for the VRM, allowing the PCB to free up some space. The ASUS P8Z77-I Deluxe was the best performing mITX board from the bunch, along with the best software and BIOS package, not to mention features like BIOS Flashback. The ASUS P8Z77-I Deluxe is innovative in its VRM solution, paving the ground for the future.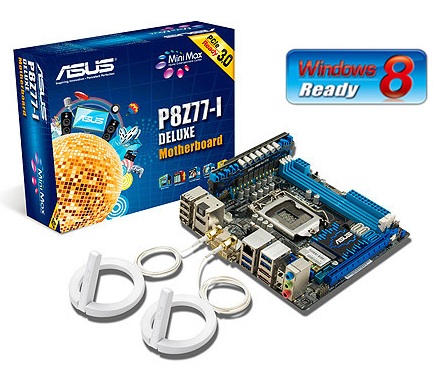 Read our review of the ASUS P8Z77-I Deluxe here.
AnandTech Bronze Award: Gigabyte Z77X-UD5H ($175)
One Gigabyte tactic (of late) is to take its motherboard lineup and attempt to push it down one price point. Here steps in the Z77X-UD5H - on paper it has a range of included extras such as dual NIC, extra SATA 6 Gbps ports, three-way PCIe 3.0 GPU gaming without a $30 expansion chip, an mSATA port, TPM, up to ten USB 3.0 ports and a full range of video outputs, all in a $180 (MSRP $200) bundle. Competition at this price point comes from the ASUS P8Z77-V LE Plus, the ASRock Z77 Extreme6, the MSI Z77A-GD65, Gigabyte's own G1 Sniper M3, and a for a little more, the ASUS P8Z77-I Deluxe and Maximus V Gene. Performance wise, the Z77X-UD5H gets a high grade across the board. It benefits from having MultiCore Enhancement, pushing the board in CPU related benchmarks. IO benchmarks are mid range, reaching the upper echelons on occasion. The Gigabyte Z77X-UD5H comes with a three-year warranty in North America, and for an extra $30 comes with an included WiFi card and antenna in the form of the Z77X-UD5H-WB WiFi. Overall, the Z77X-UD5H lights up the $175-180 price point like a beacon and is placed well for significant sales.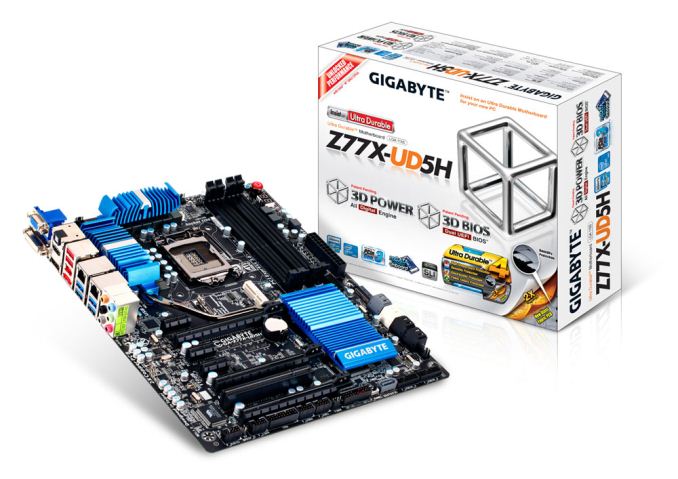 Read our review of the Gigabyte Z77X-UD5H here.
Recommended: Gigabyte F2A85X-UP4 ($120)
While $120 is on the high end for an FM2 motherboard, my motherboard of choice in this category is the F2A85X-UP4 from Gigabyte for a simple reason – during testing, I did not write down a single issue about it. The system just worked without issue during our testing suite. Normally I write at least something down (software failure, BIOS issue), but not so here. The F2A85X-UP4 brings a little more to the Trinity platform than some of its competition, such as PowIRStage IR3550 ICs which have higher efficiency and run cooler than the previous premium power delivery ICs. Design wise we have enough PCIe slots for three GPUs in CrossFireX (no SLI, not certified), seven SATA 6 Gbps ports on board, a TPM header, DualBIOS methodology, power/reset buttons, a debug LED, the Realtek ALC892 audio codec and a Realtek 8111E NIC. Two extra USB 3.0 ports are also supplied through an Etron EJ168 controller. In terms of performance, the Gigabyte F2A85X-UP4 sits well with the rest of the pack of FM2/A85X boards reviewed. The place it really excels seems to be in terms of power usage at idle, during CPU load and during dual GPU gaming. While it the UP4 does not surpass any of the competition for performance (some would argue it is at a lower price:performance ratio), it falls into the category of a rare board that passes my desk without any serious issues, and it should be seriously considered as a reliable purchase.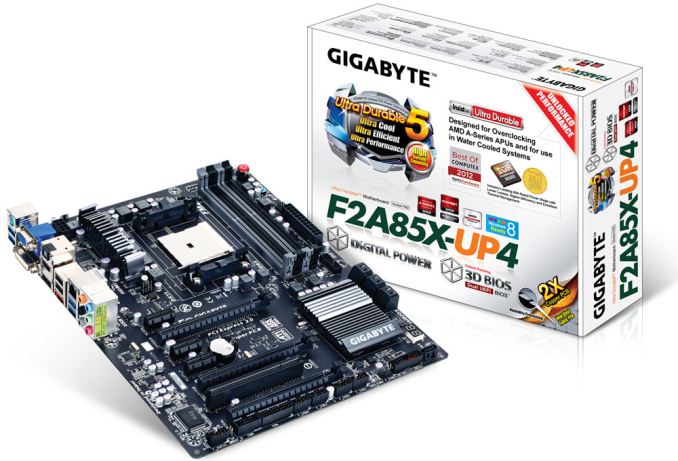 Read our review of the Gigabyte F2A85X-UP4 here.
Recommended: ASRock Z77E-ITX ($140)
Our last board to recommend is the one that finished second in our Z77 mini-ITX review. Now down to a remarkable $140, it hits the price:performance ratio of mITX and Intel spot on. The ASRock Z77E-ITX was pretty middle of the pack in performance, but it comes with a good feature set (WiFi, mSATA, six USB 3.0) and software stack (XFast). The placing of the mSATA on the rear of the motherboard is innovative in the desktop computer space (although the norm in laptops), but I think it is great – now my father has a mITX motherboard which he will not be able to destroy a SATA drive by forcefully removing a locking cable!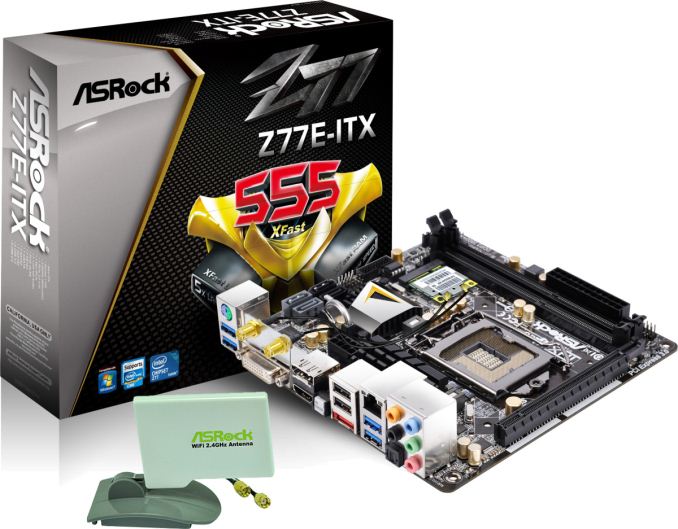 Read our review of the ASRock Z77E-ITX here.
We Miss AMD
I apologize for not covering more AM3+ motherboards in the past 12 months; demand from manufacturers has mostly been Intel or one a piece from FM2, leaving our last 990FX review back in April 2012, covering ASUS, Gigabyte, MSI and Biostar. AMD has not been keen to refresh beyond 990FX, and while a few new motherboards have been released (ASRock 990FX Extreme9, ASUS 990FX Sabertooth GEN3/R2.0), requests for them have been few and far between, compounded by the fact that manufacturers want other more popular brands to be shown in reviews.
In the future we will get Richland processors, but these will fit directly into FM2 motherboards – meaning that I fear we are probably not due a motherboard refresh any time soon. There may be renewed interest in mainstream AMD if you believe a second line of Vishera CPUs are to be released in 2013 (also recent talk about a 5GHz Centurion CPU). After this online reports suggest we are expecting Steamroller CPUs to replace Piledriver/Vishera in 2014 as well as Kaveri APUs to replace Richland in late 2013/Q1 2014. Steamroller should, as we all wait with fingers crossed, update the 990FX platform, though nothing official has been announced (with 1090FX rumors dating back to 2011).
What To Look Forward To
Smaller and cheaper motherboards are going to become the norm for mainstream users – with the internet in your pocket the days of the bulky system under the desk are going away, and cloud services are bringing performance via a cable rather than localized silicon. There is still a market for the high end, but the mid-range is going to be a tough battle from all manufacturers to get your wallet.
Haswell is going to be a big battleground for this, and I am going after more mATX and mITX boards for future reviews at AnandTech. We have also had requests in for B- and Q- chipset models, which should also populate several reviews this year.
The next motherboard recommendation guide is going to focus on the six core specialty range, Sandy Bridge-E and X79. If you want pure throughput, in most scenarios and with deep wallets, X79 is the way to go (of course Piledriver has some advantages) and we have covered quite a few of the main motherboards available. Stay tuned for our recommendations.