Introducing Dell's XPS 15 L521x: the 2012 Update
I've had some good experiences with Dell's XPS line of laptops over the years, but in virtually every case I've had a few minor complaints. The earlier models were large, fast, and too expensive for most users. Then Dell dropped the XPS line for a while and went with the Studio XPS—still generally expensive and there were performance elements that came up short (e.g. the Studio XPS 16 had an awesome RGBLED backlit display, but it tended to run a bit toasty and the hardware wasn't as fast as previous XPS offerings). With the relaunch of the XPS line in late 2010, the original XPS 15 delivered a great display and a well-balanced set of components that was enough to earn our Gold Editor's Choice award, but the chassis was understandably a bit too bulbous for some tastes. The XPS 15 Sandy Bridge update improved the CPU and GPU options, but six months after the first XPS 15 I was even less enamored with the chassis.
Next up in the list of progression was the XPS 15z, which improved some areas but regressed in others. It had a thinner, sleeker looking chassis, but dropped support for quad-core processors, downgraded the GPU slightly, had some thermal concerns, and perhaps most worrisome was the build quality. I posted an update a few months after the review that summed things up nicely: "I can't stress enough how it feels like Dell cut a few corners and the result is a laptop that doesn't hold up as well as I'd like over the long haul…. When the inevitable Ivy Bridge update of the 15z comes out, you can bet I'm going to pound on it a little more." And that brings us to the new XPS 15, which has a completely redesigned chassis. Did Dell listen to my complaints about the 15z build quality? You better believe it!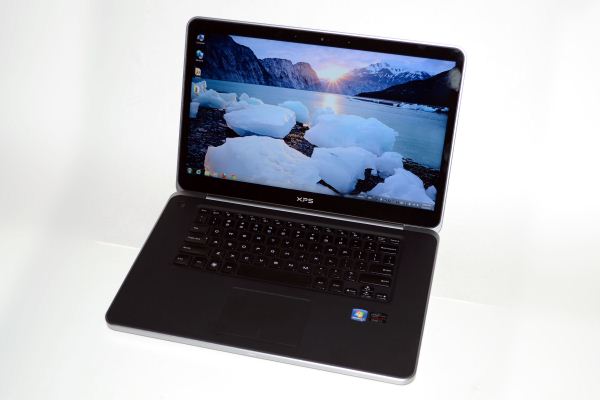 Superficially, the new XPS 15 looks quite similar to the 15z, at least in pictures. Meet one in person, however, and the changes are immediately noticeable. Many suggested that the XPS 15z was trying to clone Apple's MacBook Pro, but that's somewhat disingenuous—unless you consider any laptop that aims to be slimmer and silver to be a MBP clone, I suppose. I would however suggest that it did take more than a couple design cues from Cupertino, including a strikingly similar keyboard layout. The newest model keeps the 15z keyboard layout (which is still a step back from the XPS 15 L501x/L502x in my opinion), but ditches the silver palm rest and keyboard area for a matte black surface with a soft-touch coating. The touchpad also gets a clickable MBP-like interface that we've seen on just about every Ultrabook along with many newer laptops. Personally, I still prefer touchpads with separate non-integrated buttons, so this is another step back.
What's not a step back is the chassis itself, which is now the most MacBook Pro-like chassis I've encountered in a non-Apple product. It uses machined aluminum for the main chassis and frame, similar to Apple's unibody chassis, and it's thicker and far more rigid than any previous Dell XPS laptop. Even the display cover gets a thick aluminum backing, so there's really no twisting or flexing to speak of. The palm rest on the other hand isn't machined aluminum but instead uses magnesium with a soft-touch coating. If you thought the XPS 15z copied a lot of Apple's design, the XPS 15 will only cement that impression, but really I don't care: if a competing product is better, then stealing a few ideas isn't going to hurt my review of it. [Insert obligatory Steve Jobs quote about great artists stealing….]
Here's the spec sheet for the new XPS 15, and I've included the specs of the last-gen MacBook Pro 15 as a reference point. Note that unlike the MacBook Pro Retina, Dell continues to include a DVDRW/Blu-ray optical drive with their XPS 15.
Dell XPS 15 Specification Comparison
Laptop
Dell XPS 15 L521x
Apple MacBook Pro 15 (2012)
Processor
Intel i7-3612QM
(Quad-core 2.10-3.10GHz, 6MB L3, 22nm, 35W)
Intel i7-3610QM
(Quad-core 2.30-3.30GHz, 6MB L3, 22nm, 45W)
Chipset
HM77
HM77
Memory
8GB DDR3-1600
4GB DDR3-1600
Graphics
Intel HD 4000
(16 EUs, up to 1100MHz)

NVIDIA GeForce GT 640M 2GB GDDR5 (Optimus)
(384 cores at 624MHz/709MHz Boost, 128-bit GDDR5-4000)
Intel HD 4000
(16 EUs, up to 1100MHz)

NVIDIA GeForce GT 650M 512MB GDDR5
(384 cores at 735MHz, 128-bit GDDR5-4000)
Display
15.6" WLED Glossy 16:9 1080p (1920x1080)
(AU Optronics B156HTF/B156HW03)
15.4" WLED Glossy 16:10 WXGA+ (1440x900)
Storage
750GB 7200RPM HDD (Seagate ST9750420AS)
32GB mSATA caching SSD (Samsung PM830)
750GB 5400RPM HDD
Optical Drive
Blu-ray Combo slot-load (Matshita UJ167)
DVDRW slot-load
Networking
802.11n dual-band 300Mb WiFi (Intel 6235)
Bluetooth 4.0 (Intel 6235)
Gigabit Ethernet (Realtek RTL8168/8111)
802.11n dual-band 450Mb WiFi
Bluetooth 4.0
Gigabit Ethernet
Audio
Realtek ALC269
Stereo Speakers
Headphone/Microphone jacks
Stereo Speakers with Subwoofer
Headphone/Microphone jacks
Battery/Power
9-cell, 14.8V, 4400mAh, ~65Wh
90W Max AC Adapter (19.5V, 4.72A)
77.5Wh
85W MagSafe Power Adapter
Front Side
N/A
N/A
Left Side
3 x USB 3.0
Mini-DisplayPort
HDMI
Gigabit Ethernet
AC Power Connection
Headphone and Microphone jacks
SDXC Card Reader
2 x USB 3.0
1 x Thunderbolt
1 x FireWire 800
Gigabit Ethernet
MagSafe AC
Right Side
Headphone and Microphone jacks
Kensington Lock
Memory Card Reader
Optical Drive (BD-Combo)
Kensington Lock
Optical Drive (DVDRW 8x SuperDrive)
Back Side
Exhaust Vent
Exhaust Vent
Operating System
Windows 7 Home Premium 64-bit
OS X Lion (or Mountain Lion)
Dimensions
14.6" x 9.8" x 0.91" (WxDxH)
(371mm x 249mm x 23.2mm)
14.35" x 9.82" x 0.95" (WxDxH)
(364mm x 249mm x 24.1mm)
Weight
5.79 lbs (2.6kg)
5.6 lbs (2.56kg)
Extras
1.3MP HD Webcam
80-key Backlit Keyboard (Spill Resistant)
Memory Card Reader (MMC/MS Pro/SD)
720p FaceTime HD Webcam
78-key Backlit Keyboard
Memory Card Reader (SDXC)
Price
$1700 MSRP, online starting at $1600 (7/17/12)
$1799 MSRP; online starting at $1710 (7/17/12)
The "on paper" matchup between the Apple and Dell laptops ends up being quite interesting. Not surprisingly, even the base model MacBook Pro 15 is quite a bit more expensive than the mid-tier XPS 15. (There's a dual-core model XPS 15 that comes with an i5-3210M CPU, GT 630M 1GB GDDR5, 6GB RAM, 500GB HDD + 32GB mSATA SSD, 1080p LCD, and DVDRW for $1300 if you're interested.) In many key areas, Dell comes out ahead of Apple this round: they have a higher resolution LCD standard, you get 8GB DDR3-1600, they use a 750GB 7200RPM HDD with a 32GB mSATA SSD caching drive (via Intel's Smart Response Technology), you get a Blu-ray combo drive, and there's a third USB 3.0 port plus HDMI and DisplayPort outputs.
However, that's not the whole story: Apple uses a full voltage 45W i7-3610QM processor, which boasts slightly higher clock speeds than the 35W 3612QM, and they also use a GT 650M GPU that comes with higher core clocks. Let's also not forget the FireWire 800 port (well, I've never used FireWire so actually I can forget about it…), or more importantly the Thunderbolt port. Apple also uses a higher capacity battery configuration and provides a 450Mbps capable (dual-band 3x3:3 MIMO) wireless adapter.
Perhaps more interesting than the differences are the areas where they're the same. Both laptops have machined aluminum chassis, and the dimensions are very close to a tie. Apple isn't quite as wide, thanks to their 16:10 aspect ratio display, but the Dell XPS 15 is actually slightly thinner. Despite the relatively similar dimensions, Apple still manages to come in 0.2 pounds lighter, but for this size laptop that's close enough for all practical purposes.
So which laptop is better? In the past, I've always felt that Dell's attempts to compete with Apple came up a bit short. The first XPS 15 (L501x/L502x) was a nice change of pace from previous Dell designs, but it wasn't really close to Apple in terms of overall design. The XPS 15z got the form factor right in my opinion, but build quality still went to Apple—plus you were limited to dual-core CPUs. I would also say the same thing about HP's Envy line—they've had some nice looking laptops for sure, but I've never felt they could match Apple's overall build quality (though I would rank the previous models slightly ahead of Dell's older XPS offerings). This time, build quality is absolutely top notch for the new XPS 15, and the only thing that really differentiates it from the MacBook Pro is the black palm rest with soft-touch coating, and the silicone on the bottom of the chassis.
What it really comes down to is one thing: do you prefer running Windows or are you an OS X devotee? Sure, you can always run Windows on a MacBook in a pinch (or you could try to make a Hackintosh), but as we've shown in the past there's a penalty in terms of battery life if you choose that route. If you have never owned a MacBook Pro, there's a good chance you fall into the camp of users that admire Apple's designs but couldn't care less about their OS—which is exactly my feeling. Now, we have a truly viable alternative for the MacBook Pro (though sadly there's nothing even remotely close to the MacBook Pro Retina, of course). And guess what? You'll pay more; yes, it's true: quality has a price.
I'm not sure exactly how much of the added cost comes from the sturdier and slimmer chassis, but if we look at competing Windows laptops (e.g. ASUS N56VZ), you can actually get pretty much the same specs from a laptop for just $1000. There's no doubt in my mind that the XPS 15 is built better than the N56VZ, but I've been using a similar ASUS laptop for a couple months now and the only thing that's really missing in my mind is solid state storage—which you can easily add on your own. The ASUS should also be slightly faster on the CPU side, though the use of DDR3 memory on the GPU makes it a bit of a wash. Based purely on the overall design and features, I'd go with the Dell XPS 15, but at a 60% price premium the ASUS is clearly the better bargain.