Introducing the Dell XPS One 2710
The last time we reviewed an all-in-one from Dell, our impressions were decidedly less than favorable. Dell delivered a polished software experience, but the Inspiron One 2320 we saw had serious issues virtually across the board in terms of both hardware and configuration. As a family appliance (the market typically targeted by all-in-ones), the Inspiron One 2320 was a bust. Yet with the XPS One 27 (along with the impending Inspiron One 20 and Inspiron One 23) they're looking to reverse their fortunes.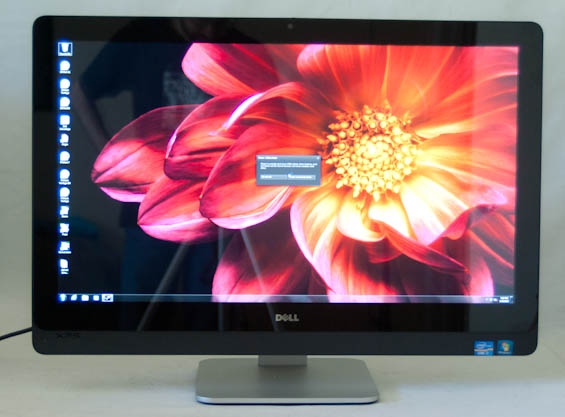 Gone are the poor quality screen, awkward stand, and middling connectivity. In their place we find a PLS screen by Samsung, a more ergonomic stand, and all the modern connectivity you could ask for. Better still, the advent of Ivy Bridge and Kepler promise to shore up many of the hardware weaknesses of the last generation of all-in-ones. So does the new Dell XPS One make the grade? Starting as usual with the hardware specs, here's what we received for review, in bold, with alternate parts listed where applicable (e.g. on the CPU).
Dell XPS One 2710 Specifications
Processor
Intel Core i7-3770S
(4x3.1GHz, Hyper-Threading, 3.9GHz Turbo, 22nm, 8MB L3, 65W)

Intel Core i5-3450S
(4x2.8GHz, 3.5GHz Turbo, 22nm, 6MB L3, 65W)
Chipset
Intel H77
Memory
2x4GB Samsung DDR3-1600 SODIMM (Max 2x8GB)
Graphics
Intel HD 4000 (16 EUs, up to 1150MHz)

NVIDIA GeForce GT 640M 2GB GDDR5
(384 CUDA cores, 645MHz/4GHz core/memory clocks, 128-bit memory bus)
Display
27" LED Glossy 16:9 2560x1440
Samsung PLS
Hard Drive(s)
Seagate Barracuda 7200.12 2TB 7200-RPM SATA 6Gbps HDD

Samsung PM830 32GB mSATA 6Gbps SSD
Optical Drive
Blu-ray reader/DVD+/-RW writer (HL-DT-ST CA30N)
Networking
Atheros AR8161 PCIe Gigabit Ethernet
Intel Centrino Advanced-N 6235 802.11a/b/g/n
Bluetooth 4.0
Audio
Realtek ALC275 HD Audio
Stereo speakers
Headphone and mic jacks
Front Side
Webcam
Speaker grilles
Right Side
Optical drive
Power button
Left Side
Headphone and mic jacks
2x USB 3.0
SD/MMC/XD/MS Pro card reader
Back Side
4x USB 3.0
Ethernet jack
Line-out
HDMI out
HDMI in
Optical out
CATV in
Operating System
Windows 7 Home Premium 64-bit
Dimensions
19.32" x 26.14" x 1.25-2.81"
490.75mm x 664mm, 31.76-71.6mm
Weight
35.16 lbs
15.95 kg
Extras
Webcam
Wireless keyboard and mouse
Flash reader (MMC, SD/Mini SD, MS/Duo/Pro/Pro Duo)
Blu-ray reader
TV tuner (Optional)
Warranty
1-year basic support
Pricing
Starting at $1,399
As configured: $1,999
Dell wasn't messing around with the new XPS One, and indeed the entire line is the result of their engineers having gone back to the drawing board. Fortunately, as I mentioned before, Dell also benefits from the new technology Ivy Bridge and Kepler bring with them.
The Ivy Bridge-based Intel Core i7-3770S is capable of being almost every bit the performance equal of the i7-3770K, starting from a 3.1GHz nominal clock speed (to maintain the slightly reduced 65W TDP) but able to turbo up to 3.9GHz on a single core, just like the 3770K can. It's only in the in-between turbo modes that the 3770K is able to produce a performance advantage, but the mild reduction in performance coincides with an equally mild reduction in overall power consumption. Honestly I remain a bit skeptical about the need for the S series chips; when Intel's quad-cores had 95W TDPs, a 30W reduction would be a substantial one, but just 12W seems too incremental and you'll see later on that the difference wasn't enough. The i5-3450S is the lower end CPU option for now, which drops the clock speeds and Hyper-Threading, along with a lower price.
What got my attention when I saw the spec sheet for the XPS One was the NVIDIA GeForce GT 640M equipped with GDDR5. Spec wise, the GK107 chip that powers the GT 640M is only slightly weaker than the previous generation's GF116. The GF116 may have been slightly underwhelming compared to AMD's Radeon HD 5770/6770, but it was generally able to get the job done at 1080p. The GK107 loses 8 ROPs and 64 bits off of the memory bus, but has roughly equivalent shader power. 384 CUDA cores clocked at 645MHz aren't bad at all, but when we reviewed the GK107 in the Acer TimelineU I suspected the chip was being memory constrained with just DDR3. Now that we have a system that pairs it with GDDR5, we can see if the increased memory bandwidth will allow the GeForce GT 640M to stretch its legs. Better still, there's the potential here to finally have a reasonably-priced graphics solution that can actually power all-in-ones and justify including discrete graphics hardware.
While the rest of the system's configuration is pretty respectable (with the 32GB SSD configured for Intel's Smart Response Technology), the screen is another big plus. Dell opted to include Samsung's PLS technology display in a 2560x1440 resolution, and it's a thing of beauty. If there's an unusual omission here, it's the lack of touchscreen support on this or even any of the new Dell all-in-ones. While I'm not a fan of large touchscreens, Microsoft has clearly decided to go whole hog on them for Windows 8, and so omitting that feature here seems shortsighted. If you're like some and prefer to stick with the old mouse and keyboard interface, though, you may find more to like here.
The price looks pretty steep at first glance, but you have to consider everything that you're getting. The base model still includes a display that would typically go for around $1000 on its own (Samsung's 27" PLS displays don't come cheap!), so $400 gets you the remaining components for a decent desktop experience. At the high-end, which is what we're reviewing, Dell loads up all the extras: more memory, faster CPU, SSD caching, Blu-ray, etc. There's definitely a case of diminishing returns, but Dell is clearly going after the same market as the high-end Apple iMac. That may not be a great way to go about things, though, since one of Apple's biggest selling points is the uniqueness of their OS X experience. In terms of strict hardware comparisons, however, the XPS One 2710 at $1999 comes out ahead of the current 2012 iMac 27" in quite a few areas. Let's get to the benchmarks now and see just what Dell has to offer.