Nokia announced today that their first Windows phone, the Lumia 800 (our review), will be available in white later this month. The initial lineup included three color options: black, cyan (blue-ish), and magenta (red-ish). The white version is internally identical to the other colors, which means 1.4GHz single-core Qualcomm Snapdragon, Adreno 205 GPU, 512MB of RAM and 16GB of built-in NAND. At first it will be available in Europe, but other continents will follow.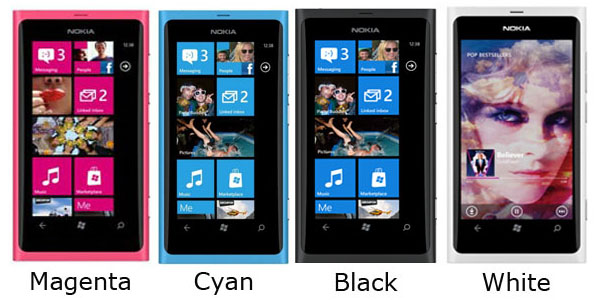 Lumia 800 lineup
White has proven to be an exceptionally difficult color for smart phones. In the case of the Lumia 800, the chassis has not been painted like phones often are, but the actual plastic (polycarbonate if you prefer that name) has been dyed white. The advantage is that there is no paint to wear out and scratches won't reveal a different color either. This isn't the only problem unfortunately. The material must be designed so that light cannot penetrate it as that might cause problems with the internal components. It was speculated that the white iPhone 4 was delayed because of light leakage, though obviously we don't know the real reason behind the delay. Moreover, white is relatively hard to keep white over time (remember "White" MacBooks), so for example heating up could cause chemical reactions that change the color slightly.
Regardless of the difficulties with white casings, the Lumia 800 will offer that option. We'll see how it fares over time, but there are certainly a lot of people interested in a white phone, so having more choices is generally a good thing.
Source: Nokia