MSM8960 Cellular Connectivity
Until now, to get 4G LTE connectivity in a smartphone has required using two basebands - one for delivering 4G LTE connectivity, and a more traditional smartphone-geared baseband for voice on 2G and 3G data. Take Verizon's 4G LTE smartphone lineup for example, where many devices combine MSM8655 for camping a 1x voice session alongside MDM9600 for EVDO and LTE, or some other similar combination. Further, all those LTE basebands are built on 45nm process and really geared towards data specific applications.
For a while now we've also been talking about 28nm LTE basebands, and specifically the multimode connectivity on MSM8960. This is the first of Qualcomm's S4 SoCs, and includes 4G LTE connectivity alongside the usual assortment of WCDMA/GSM/CDMA2000 standards. MSM8960's cellular baseband is based around Qualcomm's second generation (3GPP Rel.9) LTE modem, which is exactly what's inside MDM9x15 which we've talked about in the past.
The full laundry list of what air interfaces MDM8960 supports is impressive - LTE FDD/TDD, UMTS, CDMA, TD-SCDMA (for Chinese markets), and GERAN (GSM/EDGE). I've made a small table below which gives the full laundry list.
Snapdragon S4 - MSM8960 Cellular Support
LTE FDD
100 Mbps DL / 50 Mbps UL (Cat. 3, 3GPP Rel.9)
LTE TDD
68 Mbps DL / 17 Mbps UL (Cat. 3, 3GPP Rel.9)
UMTS
DC-HSPA+ 42 Mbps DL (Cat. 24) / 11 Mbps UL (Cat. 8)
CDMA2000
1xAdvanced, EVDO Rev.B (14.7 Mbps DL / 5.4 Mbps UL)
GSM
GSM/GPRS/EDGE
TD-SCDMA
TD-SCDMA 4.2 Mbps DL / 2.2 Mbps UL
What's new again is inclusion of a category 3, 4G LTE baseband into the SoC alongside DC-HSPA+ and TD-SCDMA for the Chinese market. This is a substantial increase in the number of air interfaces supported onboard the SoC which will enable tighter integration and lower power from the baseband being manufactured on that same 28nm process. There's still the requirement for external RF and transceiver (using RTR8600 or something similar) which houses all the analog, but that's the same everywhere else.
Since the baseband in MSM8960 is shared with MDM9x15, the two are both 3GPP Release 9 devices, whereas presently MDM9600 and other launch LTE devices are 3GPP Release 8, which was the launch standard. This newer 3GPP release brings a number of improvements, and closer to transitioning to Voice over LTE (VoLTE) and SRVCC (single radio voice call continuity) for fallback to GSM/UMTS or 1x voice in the circumstance that 4G LTE coverage fades. The present combination of a camped 1x voice session alongside 4G LTE for data is also possible in MDM8960, which is exactly what's done in the case of the HTC Thunderbolt.
In time, carriers will transition to using VoLTE and enrich the voice experience by offering services that work across the data session, alongside some circuit switched (CS) traditional 2G/3G voice to fall back to. For CDMA networks that'll continue being the dual RF scenario which uses 1x for voice, and for UMTS networks that'll be a SRVCC augmented fast handover to 3G for voice calls. This handover and call setup is targeted to take place in under one second.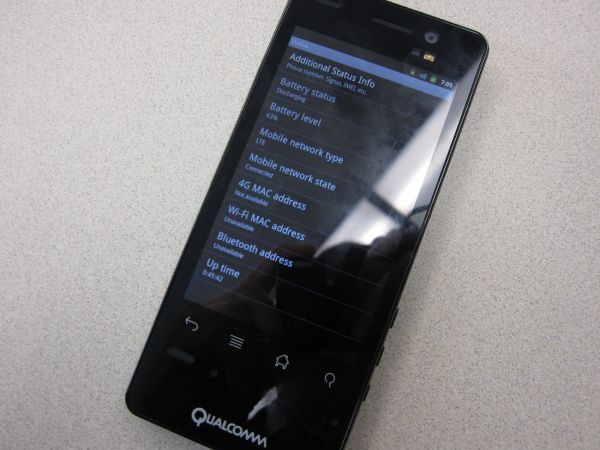 There's more to the connectivity situation as well, as MSM8960 includes built in WLAN 802.11b/g/n (single spatial stream), Bluetooth, and GPS. These are integrated directly into the MSM8960 the same way the cellular modem is and only require some external RF to use.
Of course, it's one thing to talk about all this connectivity on MSM8960 and something else entirely to see it. With MSM8660, Qualcomm gave us one of their Mobile Development Platforms (MDPs) which is something of a reference design and development board for each SoC generation.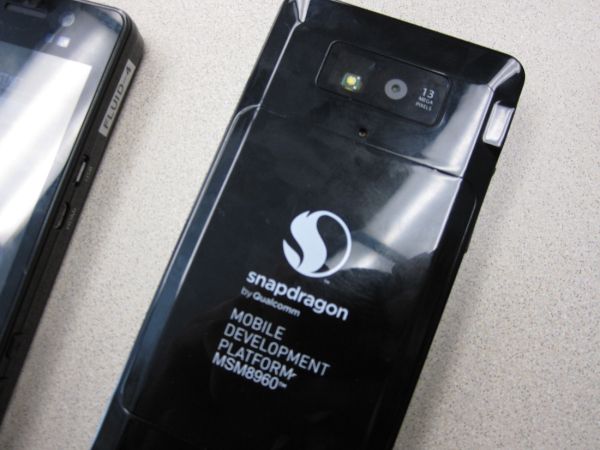 This time was no exception, and they showed off their new MSM8960 MDP connected to Verizon's 4G LTE network streaming 1080p YouTube video, loading pages, and finally running a few speedtests using the Speedtest.net application.
This was all over Verizon's 4G LTE network at Qualcomm HQ in San Diego and worked impressively well for hardware and software that still isn't production level. In spite of marginal signal in the room we performed testing in, the MDP finished tests with pretty decent results. I ran some more tests on a Droid Bionic in the same room and saw similar results.
Final Words
Qualcomm has had MSM8960 silicon back in house for the past 3 months and is on-track for a release sometime in the first half of next year. Assuming Qualcomm can deliver on its claims, performance alone would be enough to sell this chip. Improved power characteristics and integrated LTE baseband really complete the package though.
The implications for a 1H 2012 MSM8960 release are tremendous. Android users will have to choose between a newer software platform (OMAP 4 running Ice Cream Sandwich) or much faster hardware (MSM8960). Windows Phone users may finally get a much needed performance boost if Microsoft chooses to standardize on Krait for its Windows Phone hardware refresh next year. End users will benefit as next year's smartphones and tablets will see, once again, a generational performance improvement over what's shipping today. LTE should also start to see much more widespread adoption (at the high end) as a result of Qualcomm's integrated LTE baseband.