Last month at Mobile World Congress Samsung announced the Galaxy Tab 10.1, a NVIDIA Tegra 2 based Honeycomb tablet. Since then, Apple's iPad 2 raised the bar for ergonomics and performance. Not wanting to be outdone, Samsung just announced a redesigned Galaxy Tab 10.1 that's both thinner and lighter than Apple's iPad 2.
The new Galaxy Tab 10.1 measures only 8.6mm thick and weighs 595 grams. The iPad 2 by comparison is 8.8mm thick and weighs 601 grams. The display is a Xoom-like 1280x800 using Samsung's PLS display technology.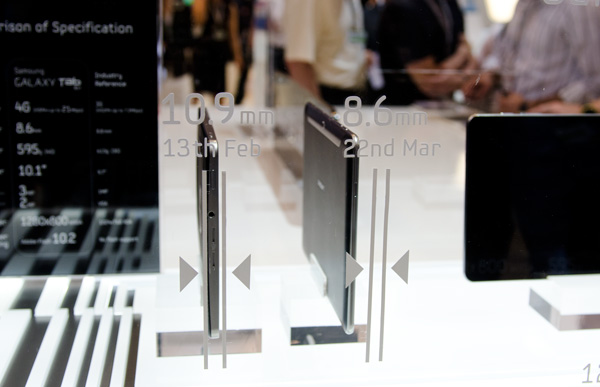 The old 10.1 on the left and the new 10.1 on the right
Samsung Galaxy Tab vs Apple iPad 2
Samsung Galaxy Tab 8.9
Samsung Galaxy Tab 10.1 (New)
Apple iPad 2
Depth
8.6 mm
8.6 mm
8.8 mm
Weight
470 grams
595 grams
601 grams
Screen Size & Technology
8.9-inches PLS
10.1-inches PLS
9.7-inches IPS
Screen Resolution
1280x800
1280x800
1024x768
Battery Capacity
6000 mAh
6800 mAh
6930 mAh
Network connectivity is pretty decent. Like the Galaxy S II you get HSPA+ 21.1 support, as well as 2.4GHz and 5GHz WiFi with two spatial streams. The assumption here is that the 10.1 uses an NVIDIA Tegra 2 SoC however we'll find out soon enough. Samsung is promising LTE and WiMAX versions of the new Galaxy Tab 10.1 as well.
Ergonomics aren't the only area in which Samsung is competitive with the iPad 2; there's also pricing. The Galaxy Tab 10.1 WiFi will be available in 16GB and 32GB versions, priced at an iPad 2 competitive $499 and $599 respectively. The 10.1 will be available starting June 8th. Cellular enabled versions will ship at a later date, pricing TBD.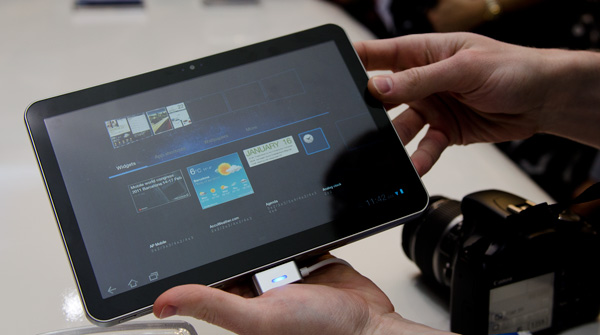 As expected, Samsung also announced the Galaxy Tab 8.9. The specs between the 10.1 and 8.9 remain the same; all that really changes is screen size from what I can tell. You still get the same 1280x800 PLS display but in a much more dense package.
Samsung Galaxy Tab Lineup Pricing
WiFi
16GB
32GB
Samsung Galaxy Tab 10.1
$499
$599
Samsung Galaxy Tab 8.9
$469
$569
Pricing on the 8.9 is a bit lower than the 10.1. Again there are only two versions: 16GB and 32GB, priced at $469 and $569 respectively. The prototype I played with had a SIM slot; however, Samsung didn't announce pricing on the 3G/LTE/WiMAX versions.
Samsung is playing the ambiguous SoC game again and only referring to these two tablets as having a dual-core applications processor. I'm guessing we'll see a mix of Tegra 2 and Samsung Exynos based versions depending on region. Samsung's 8.9 prototypes at the show floor had NVIDIA's Tegra 2 under the hood.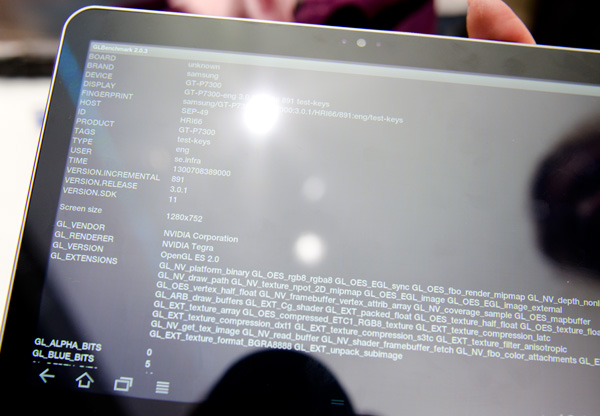 Both tablets will ship with Samsung's new TouchWiz UI for Honeycomb. Having a custom UI on top of Honeycomb does go against the spirit of Google's latest Android OS, but it looks like manufacturer differentiation wins out.
The biggest UI change is the addition of an app dock at the bottom of the screen similar to the dock in OS X. Drag up to reveal the auto-hiding dock and tap to launch an app. The default Honeycomb app switcher is still present.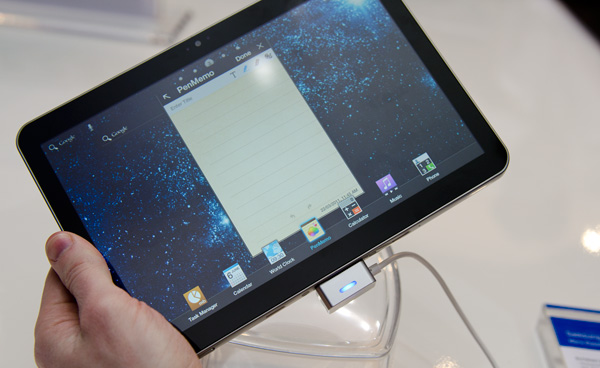 The new tablet TouchWiz also has new size adjustable widgets that look very good on the big screen.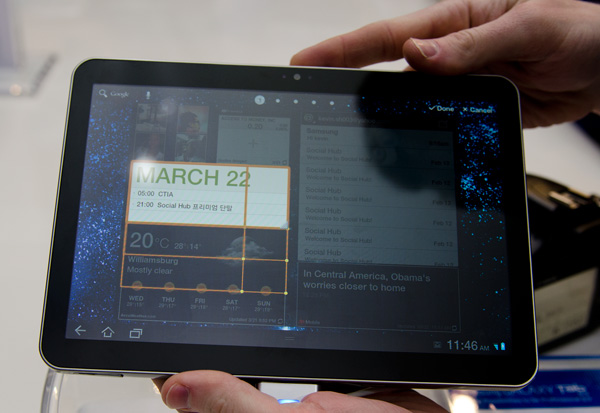 Samsung only had prototypes of the 8.9 and 10.1 tablets for hands on use at the show. The mechanically accurate samples were both behind glass.
It's far too early to draw any conclusions but I will say that the Galaxy Tab 8.9 is a dream to hold.