Today is what OCZ calls the 'unveiling' of their new 4GB DDR3-2133 MHz memory modules, running at 1.65V. Along with the unveiling, OCZ are extending the modules into 8GB dual channel kits and 12GB triple channel kits, up to 2133 MHz. The Platinum Series will aim to cater gamers and high density users, whereas overclockers and enthusiasts may plump for the faster and more expensive Flex EX and Reaper HPC kits.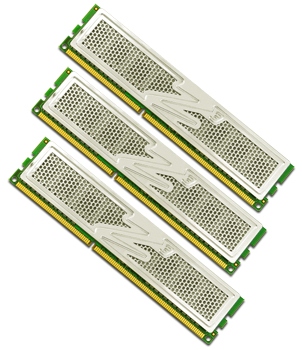 OCZ did not release data on sub-timings with their unveiling, leading one to believe that they are attempting to market the memory based on raw MHz alone. In fact, delving into their website, the Flex EX 2133 MHz modules are specified at 10-10-10-30 timings, and the 2000 MHz Platinum modules are at 9-9-9-24 requiring 1.65V. There is no word on price for the high end parts - for comparison, the OCZ Reaper HPC 2x4GB 1333Mhz CAS 9 kit can be found at Newegg for $225 after rebate, and G. Skill's 6x4GB DDR3-1600 CAS 7 kit is currently priced at $999. OCZ have recently been quite competitive on the pricing front with other products, such as their OCZ RevoDrive which is bringing more affordable PCIe SSDs to the market. Maybe OCZ can start to force the price of 4GB modules down as well.
The debate is always if machines today require more memory, and if the abundance of memory results in poor, bloated programming. It's true that the only people putting 24GB of memory in a PC will be those that need it, or those that want to boast and have the money - but at least more 4GB modules are hitting the market for consumers. Though on that note, as this was only an 'unveiling' and not a release, no release date has been announced, however various kits have popped up on the OCZ website.