HP 4320t Mobile Thin Client
After launching many consumer and business notebooks last week, HP have announced a further addition to their growing notebook family. The HP 4320t Mobile Thin Client is aimed at the user who regularly accesses servers and other remote storage solutions, and therefore requires a thin, light and reliable notebook where onboard storage is not a concern.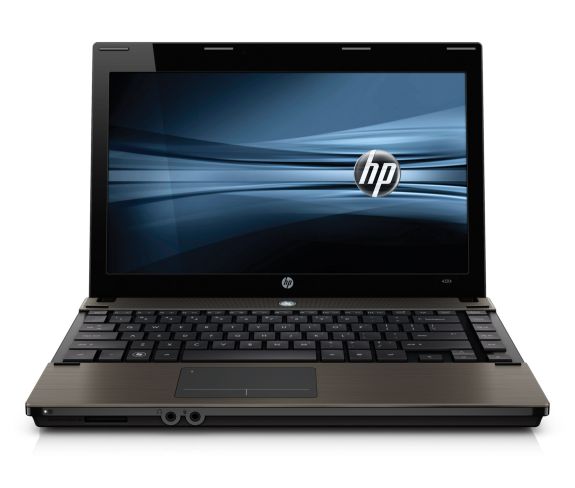 The highlight of this notebook is the brushed aluminum chassis, which HP claim will improve durability. Meanwhile a 13.3" LED-backlit display featuring a relatively lowly resolution of 1366x768 will probably be adequate for the target user.
Performance comes from a 1.8GHz Intel Celeron (presumably P4500) processor on the Intel HM57 Chipset with support for up to 4GB DDR3 RAM. As the primary use of this notebook will be to access remote storage, internal storage is kept to just 2GB or 4GB of solid state memory. An optional DVD drive is available.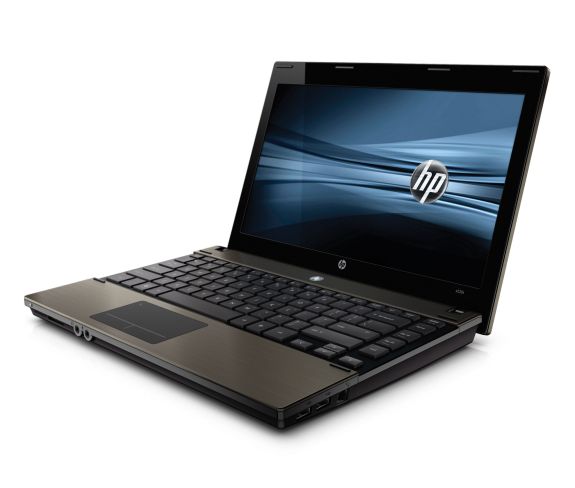 Connectivity comes in the form of three USB 2.0 ports, a USB/eSATA combo port, VGA, HDMI, ExpressCard/34, media card reader, microphone and headphone ports. Networking is plentiful with wireless 802.11a/b/g/n and wired gigabit Ethernet with an optional integrated 56K modem. The notebook also incorporates an integrated digital microphone and stereo speakers.
The notebook features a spill-resistant chiclet-style keyboard and touchpad. Long battery life is a must for this type of notebook; for this HP offers 6 cell (47WHr) and 9 cell (93WHr) options for mobility or extra long battery life. They don't specifically state an estimated battery life, but we'd expect the 6-cell battery to last at least five hours for typical business workloads.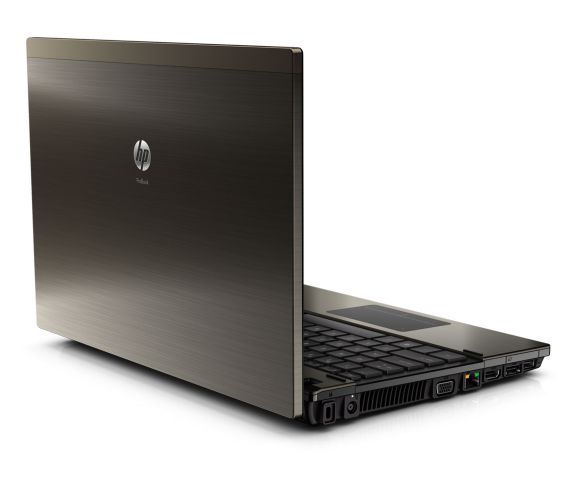 The notebook comes with preinstalled software aimed at enhancing the server-client interaction. This includes the Windows Embedded Standard 2009 operating system and software such as File Based Write Filter and Enhanced Write Filter, and HP Virtual Client Essentials.
The HP 4320t Mobile Thin Client will be available in late May from $599. As a notebook entirely orientated around network storage, it seems to fit the bill. However, should that same notebook find itself stranded from its server, that price tag would buy you a much faster notebook with plenty of onboard storage and Windows 7 in the consumer market which would provide a much richer multimedia experience. So the question the target audience will need to ask is whether that slim aluminum chassis and preinstalled software make it worth the same price as a higher spec, more versatile, mainstream notebook?
In my opinion, probably not. Perhaps even more shocking is that despite the "Thin Client" name, the 4320t is actually thicker and heavier than the ProBook 5310m we looked at last month. For those interested, the full specifications are listed below.
HP 4320t Mobile Thin Client Specifications
Operating System
Windows Embedded Standard 2009
Processor
Intel Celeron ( 1.8GHz, 2MB L2 cache)
Chipset
Mobile Intel HM57 Chipset
Memory
Up to DDR3-1333 (depending on CPU) dual-channel memory
Supports 1024/2048/4096MB SO-DIMMs, up to 4096MB standard
Internal Storage
Solid State Flash Module: 2GB, 4GB
Removable Storage
Fixed 12.7mm SATA DVD-ROM optical drive (optional)
Display
13.3" diagonal LED-backlit 16:9 HD (1366 x 768)
Graphics
Intel HD Graphics
Battery/Power
6-cell (47WHr) Lithium-Ion battery
9-cell (93WHr) Lithium-Ion battery
65W HP Smart AC, HP Fast Charge
Audio/Visual
HD Audio
Stereo speakers
Integrated digital microphone
Wireless Support
Broadcom 802.11 a/b/g/n
Broadcom 802.11 b/g
Communications
Realtek Ethernet (10/100/1000 NIC)
optional 56K v.92 modem
Expansion Slots
ExpressCard/34 slot
Media Card Reader
Ports and Connectors
3 x USB 2.0 ports
1 x eSATA/USB 2.0 combo port
VGA
HDMI
Stereo headphone/microphone
Power connector
RJ-11/modem
RJ-45/Ethernet
Input Device
Full-sized keyboard, ClickPad
Software
Standard: Internet Explorer 7, Windows Media Player 11, File Based Write Filter, Enhanced Write Filter, WinDVD, Microsoft Remote Desktop Protocol, Citrix XenApp, VMWare View, Terminal Emulation Software, Symantec Endpoint Security

Manageability Solutions: HP ThinState Tools, HP Device Manager, HP Client Automation – Starter Edition, Altiris Deployment Client6

HP Virtual Client Essentials: HP Remote Desktop Protocol Enhancements, HP Remote Graphics Software
Security
Kensington Lock slot2, HP Privacy Filter Support
Dimensions
1.08" (at front) x 12.74" x 8.98" / 27.49mm (at front) x 323.50mm x 228.08mm
Weight
Starting at 4.27 lb/ 1.93 kg (with weight saver; weight will vary by configuration)