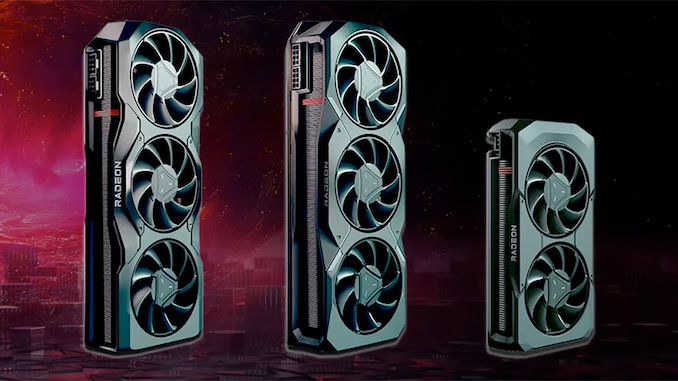 As part of their quarterly earnings call this week, AMD revealed that the company is getting ready to launch new enthusiast-class Radeon RX 7000-series graphics cards in the coming months. To date, the company has launched cards for the top and bottom portions of their product stack, leaving a noticeable gap for higher performing cards that the company needs to fill to fully flesh out the current card lineup.
"We are on track to further expand our RDNA 3 GPU offerings with the launch of new, enthusiast-class Radeon 7000 series cards in the third quarter," said Lisa Su, chief executive of AMD, at the company's earnings call with analysts and investors.
So far, AMD has introduced four RDNA 3-based Radeon RX 7000-series desktop graphics cards aimed at diversified market segments: three Radeon RX 7900-series offerings for enthusiasts who can spend between $650 and $1000 on a graphics card, and the Radeon RX 7600 product for mainstream gamers at roughly $270. This has left an empty space for higher performing cards for cost-conscientious enthusiasts that, for the moment, is being met by NVIDIA's GeForce RTX 4000-series as well as previous-generation Radeon RX 6000-series boards. In particular, AMD currently lacks something current to compete with NVIDIA's modestly well received GeForce RTX 4070.
AMD is believed to have only one GPU left in its Navi 30 range, Navi 32, which would slot in between the current Navi 31 and Navi 33 parts. Navi 32, in turn, is expected to power both Radeon RX 7700 and RX 7800 product families. That said, one thing that remains to be seen is whether the company will decide to go after volume first this quarter and start things off with the RX 7700 series, or after higher margins and reveal its Radeon RX 7800 series first.
AMD's gaming segment revenue was $1.6 billion in Q2 2023, down 4% year-over-year and 10% sequentially primarily due to lower sales of gaming graphics cards. Unit sales of graphics processors in Q2 are typically lower than their shipments in Q1, so a 10% quarter-over-quarter decrease is not surprising. Meanwhile, a 4% drop YoY indicates that appeal of AMD's discrete GPUs was lower in Q2 2023 compared to Q2 2022, an indicator that the company needs new products.
Source: AMD