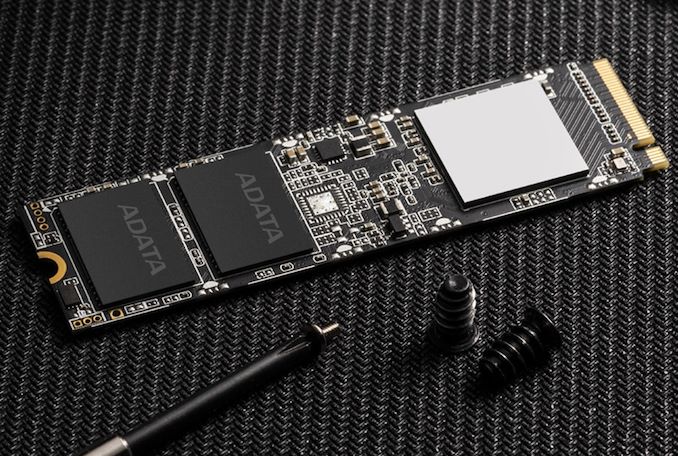 While many gaming-branded components come adorned in RGB LEDs, there is thankfully still a market for plainer and saner products. To that end, ADATA has introduced its new family of high-end SSDs — the XPG SX8100 — that promises leading-edge performance without any unnecessary bling.
Intending its XPG SX8100 SSDs as high-end parts aimed at performance-demanding consumers, ADATA will offer them in 512 GB, 1 TB, and 2 TB configurations. The drives are based on Realtek's RTS5762 controller (8 NAND channels, PCIe 3.0 x4, NVMe 1.3, LDPC, etc.) and 3D TLC NAND, and like virtually all mainstream NVMe drives, the SX8100 comes in M.2-2280 form-factor. The new family of SSDs is ADATA's second lineup of drives (after the XPG Spectrix S40G) to use Realtek's top-of-the-range controller.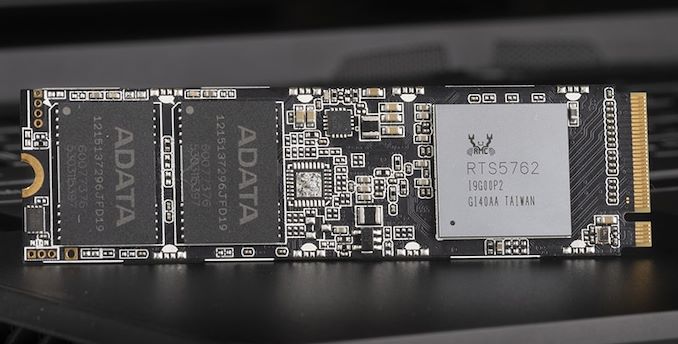 As far as performance is concerned, ADATA rates the drives for up to 3.5 GB/s sequential read speeds and up to 3 GB/s sequential write speeds when SLC caching is used (data based on CDN benchmark, other benchmarks show lower numbers, more information is available here). As for random performance, the SX8100 drives can hit up to 300K/240K random read/write 4K IOPS, which is a bit lower when compared to the XPG Spectrix S40G.
One of the possible reasons why ADATA rates random performance of the XPG SX8100 below that of the blingy XPG Spectrix S40G could be because the new drives are not equipped with a heat spreader. While these are not necessary for moment-to-moment usage, they can help to sustain performance under high loads when these high-end controllers get hot. The upside to forgoing a heatsink however is that it allows the XPG SX8100 to be used with laptops, as well as any other devices that can't fit an M.2 drive with a heatsink.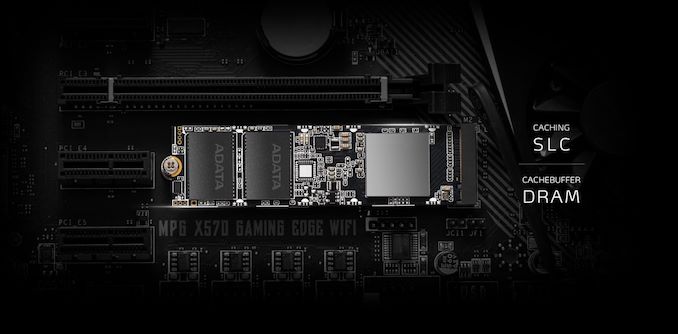 When it comes to endurance and reliability levels, ADATA's XPG SX8100 drives are covered with a five-year warranty and are rated for 320 TB, 640 TB or 1280 TB written, depending on the drive's capacity. Overall, the drives are good enough for around 0.3 DWPD over a five-year period, which in line with other modern consumer-grade SSDs.
ADATA XPG SX8100 Specifications
Capacity
512 GB
1 TB
2 TB
Model Number
ASX8100NP-512GT-C
ASX8100NP-1TT-C
ASX8100NP-2TT-C
Controller
Realtek RTS5762
NAND Flash
3D TLC NAND
Form-Factor, Interface
M.2-2280, PCIe 3.0 x4, NVMe 1.3
Sequential Read
3500 MB/s
Sequential Write
2400 MB/s
3000 MB/s
Random Read IOPS
300K IOPS
290K IOPS
290K IOPS
Random Write IOPS
240K IOPS
240K IOPS
240K IOPS
Pseudo-SLC Caching
Supported
DRAM Buffer
Yes, using Realtek's Partial DRAM Firmware Architecture
Actual capacity is unknown
TCG Opal Encryption
No
Power Management
DevSleep, Slumber (0.14 W).
Warranty
5 years
MTBF
2,000,000 hours
TBW
320 TB
640 TB
1280 TB
MSRP
$89.99
$159.99
$329.99
Additional Information
Link
ADATA will start sales of its XPG 8100 SSDs in the near future for $89.99 - $329.99 depending on capacity. Expect real-world prices of these drives to be below those of the XPG Spectrix S40G (which uses the same controller) and more or less in line with those of the XPG 8200 Pro (which offers similar performance).
Related Reading:
Source: ADATA