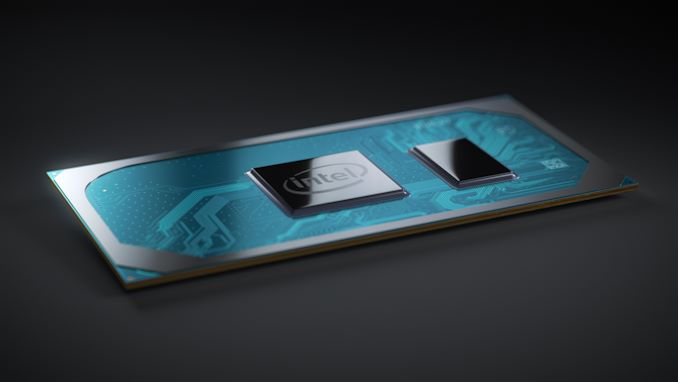 Intel has begun shipments of its 10th generation Core "Ice Lake" processors as of the second quarter, according to the company in an earnings call this week. Made using Intel's 10nm process technology, these laptop CPUs were qualified by OEMs earlier in 2019 and are on track to reach the market inside mobile PCs by the holiday season.
As reported, Intel began to produce Ice Lake processors in the first quarter in a bid to build up inventory to support a high-volume launch in the second half of the year. The processors passed qualification by PC makers in Q1 – Q2, and then Intel started to ship them for revenue later in the quarter, which was a little bit earlier than anticipated by various market observers. Keeping in mind the lead-time required to get assembled PCs on to store shelves, Ice Lake-powered PCs are well on track to hit the market in Q4 with some machines possibly reaching retailers earlier than that.
Bob Swan, CEO of Intel, stated the following:
"We began shipping Ice Lake client [CPUs] in the second quarter supporting systems on the shelf for the holiday selling season."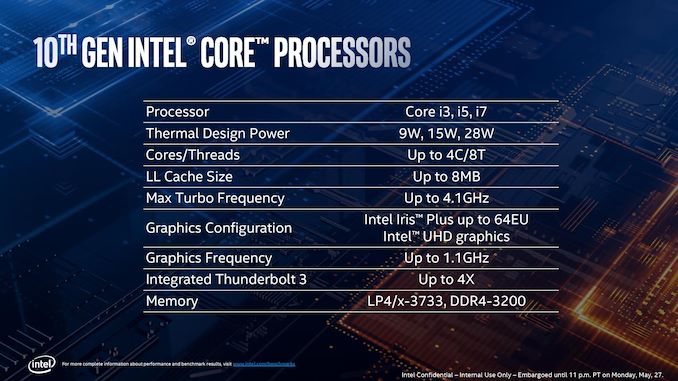 Intel formally introduced its laptop-focused Ice Lake-U and Ice Lake-Y CPUs, which are based on the Sunny Cove microarchitecture, in late May. Officially called 'Intel 10th Generation Core' processors, the family includes 11 chips (ranging from Core i3 to Core i7) featuring two or four general-purpose CPU cores as well as various GPU configurations and coming to market with 9W, 15W, and 28W TDP variants.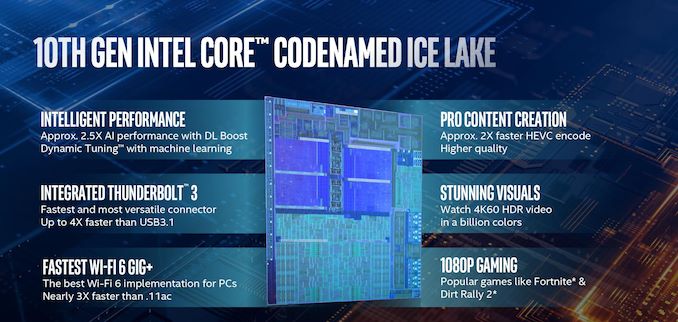 On the CPU side of things, Intel promises an average 18% raw clock-for-clock performance uplift compared to the Skylake core released in 2016 (which has been used with small tweaks since then) along with VNNI and Cryptographic ISA instructions. On the GPU side of matters, Ice Lake CPUs will integrate Intel's Gen11 graphics core with up to 64 execution units, with Intel promising significant performance improvements as well. The updated iGPU will also natively support DisplayPort 1.4 and HDMI 2.0b outputs as well as HDCP 2.2 technology.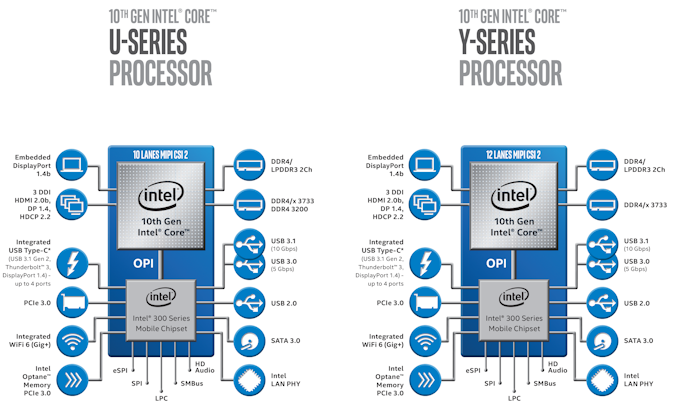 As is traditional for Intel's lower-power mobile parts, the new Ice Lake processors will come with on-package chipsets. The new 300-series chipsets for ICL will natively support USB 3.1 Gen 2, Wi-Fi 6 MAC (RF module will be sold separately), PCIe 3.0, and other features.
Overall, Intel's road to high-volume production of 10nm CPUs has been long and bumpy; but it looks like the company is finally turning a corner in time for their Q4 launch.
Related Reading:
Source: Intel