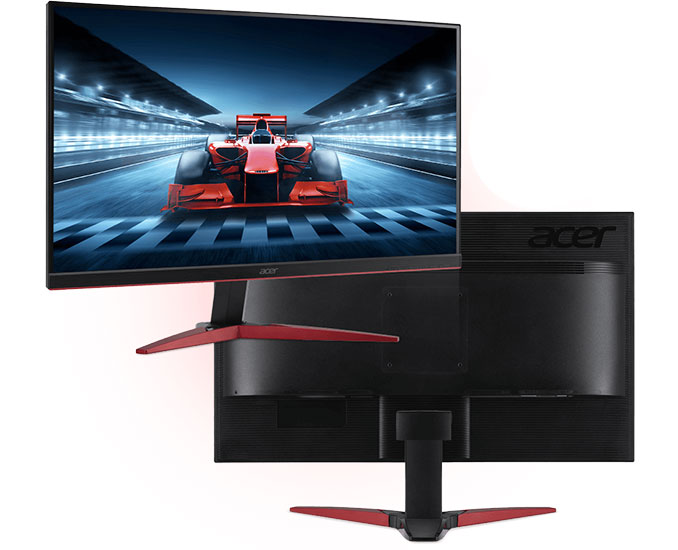 Acer Japan has introduced a lineup of gaming displays featuring a response time below 1 ms. The Acer KG1 family includes seven models featuring a 23.6, 24,5 and 27-inch diagonal and set to target different price segments.
The Acer KG1 monitors rely on non-glossy Full-HD (1920x1080) TN panels featuring between 0.5 ms and 0.8 ms GtG response times, depending on exact SKU. These are blistering response times, and if the specifications listed here are accurate – and with the grain of salt that monitor response time specifications have historically been overestimated – then we're talking about panels can finish a grey-to-grey transition in as little as one-fifth the time of an actual frame update.
Meanwihle, since we are dealing with TN technology, the monitors feature a rather standard 250 – 400 nits brightness, a 1000:1 contrast ratio, as well as 170°/160° horizontal/vertical viewing angles. Acer is listing an sRGB color space for these monitors, though as they're clearly all-in on response times, we'll have to wait and see just how much of that color space they can actually cover.
Being aimed primarily at gamers, Acer's KG1-series displays support AMD's FreeSync dynamic refresh rate technology as well as various gaming-oriented functions, such as AcerAimPoint crosshair, an FPS counter, BlackBoost technology that makes faced-paced scenes look sharper, and so on.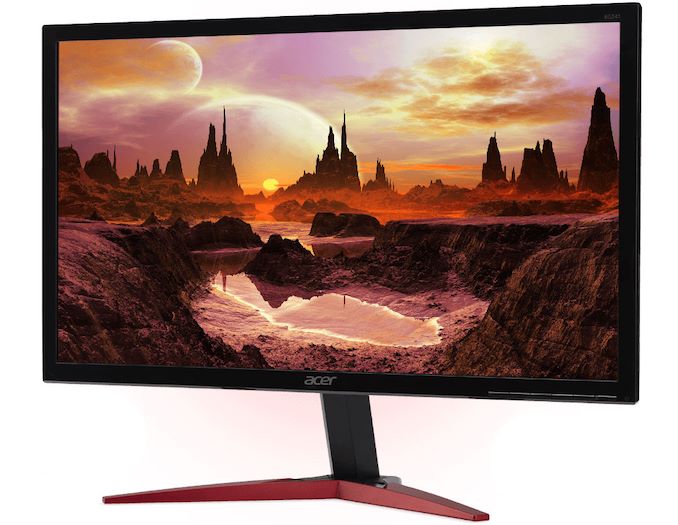 When it comes to inputs, the KG1 displays have a rather standard set of connectors, including DisplayPort 1.2 and HDMI 1.4/2.0 headers. Meanwhile, some models are also outfitted with legacy D-Sub and DVI-D connectors.
Moving on to pricing of the KG1 monitors. Being unique, Acer's new displays with a sub-1 ms response time carry a premium price tag for Full-HD LCDs. The cheapest KG251QGbmiix model costs ¥19,000 ($169) without VAT, whereas the most expensive KG271Fbmiipx SKU is priced at ¥50,000 ($444) without taxes.
Acer Japan has not announced when the KG1 displays will be available on other markets, though it is logical to assume that the company will try to capitalize on its exclusive panels.
Specifications of Acer's KG1 Gaming Displays
KG241QA
KG251QG
KG251QH
KG251QI
KG271D
KG271E
KG271F
Panel
23.6" TN
24.5" TN
27" TN
Native Resolution
1920 × 1080
Maximum Refresh Rate
144 Hz
75 Hz
144 Hz
240 Hz
75 Hz
144 Hz
240 Hz
Dynamic Refresh
Tech
AMD FreeSync (LFC is not confirmed)
Range
?
?
?
?
?
?
?
Brightness (cd/m²)
300
250
400
300
400
Contrast
1000:1
Viewing Angles
170°/160° horizontal/vertical
Response Time
0.7 ms
0.7 ms
0.6 ms
0.5 ms
0.6 ms
0.8 ms
Pixel Pitch
0.27 mm²
0.28 mm²
0.31 mm²
Pixel Density
93 PPI
90 PPI
82 PPI
Color Gamut Support
sRGB
Inputs
1×DP 1.2
1×HDMI 1.4
1×D-Sub
1×HDMI 1.4

1×DVI-D
1×DP 1.2
1×HDMI 1.4
1×DP 1.2
1×HDMI 2.0
1×HDMI 1.4
1×D-Sub
2×HDMI 1.4
1×DVI-D
1×DP 1.2
1×HDMI 1.4
1×DP 1.2
2×HDMI 2.0
Audio
-
2×2W speakers
VESA Mounts
100 × 100 mm
Additional Information
Link
Link
Link
Link
Link
Link
Link
Price
$240
$169
$266
$382
$213
$328
$444
Related Reading:
Sources: Acer Japan, Hermitage Akihabara