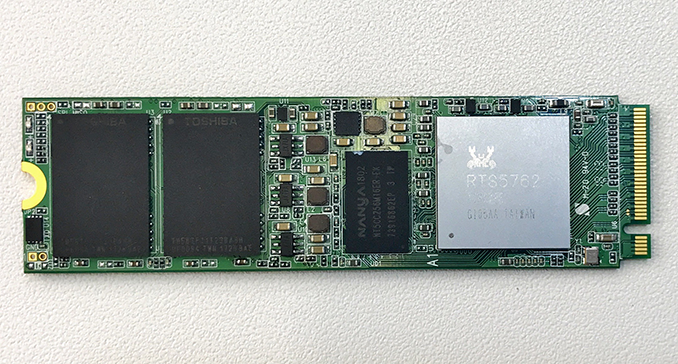 The market of SSDs is expanding rather rapidly, which encourages new companies to enter the scene. Realtek introduced its first SSD controller two years ago targeting primarily entry-level PCIe drives. This controller has received a lukewarm welcome from makers of SSDs, which was not a surprise as the market is quite packed. As a result, the company changed strategy and its new RTS5762 and RTS5763DL controllers that are aimed at higher-performance models. Realtek demonstrated both products at Computex.
The RTS5762: 'Worldwide Fastest Client PCIe M.2 SSD Controller'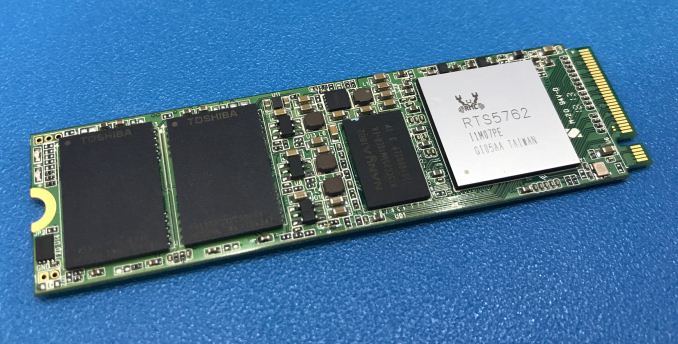 The Realtek RTS5762 will be the company's flagship controller designed for high-end SSDs. This chip is NVMe 1.3 compliant, features 8 flash channels and supports various types of 3D TLC and 3D QLC NAND flash memory, thus featuring robust LDPC-based ECC methods to ensure proper endurance for SSDs. Realtek does not want to disclose all the details about the RTS5762 and the RTS5763DL controllers just now, but one of the representatives for the company in its booth said that the said chips support up to 150 bits/1 KB ECC. Meanwhile, when asked about processing cores the controllers feature, the rep said that the company uses its own custom cores without elaborating.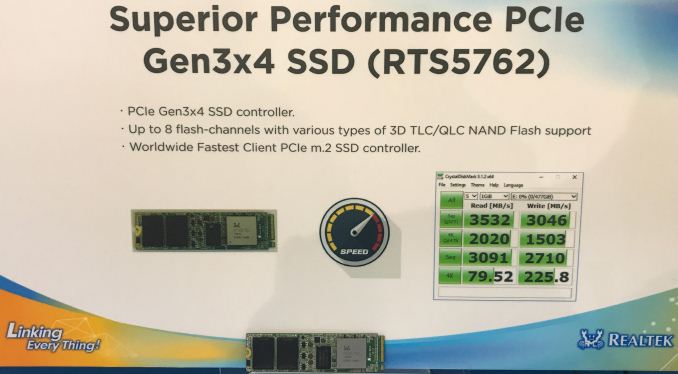 When it comes to performance, Realtek says that SSDs powered by the RTS5762 will deliver up to 3500 MB/s sequential read speeds as well as up to 3000 MB/s write speeds. To put it into perspective, Samsung's flagship 970 PRO drive offers up to 3500 MB/s reads and up to 2700 MB/s writes (when pseudoSLC caching is used), based on official numbers (for real world numbers check out our review). It is unclear what kind of memory Realtek used to hit its targets, but at the show the company demonstrated an RTS5762-powered drive featuring Toshiba's BICS3 64-layer 3D TLC NAND.
The RTS5763DL: The New Mainstream SSD Controller from Realtek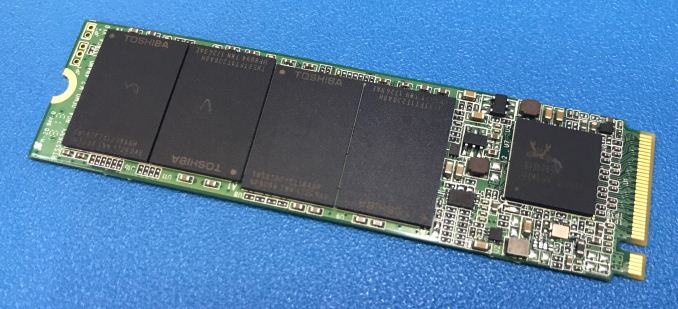 In addition to the high-end controller, Realtek plans to offer a cheaper RTS5763DL controller aimed at lower-end SSDs without DRAM. This chip is also NVMe 1.3 compliant, has four NAND channels and, just like its bigger brother, also supports 3D TLC and 3D QLC memory. It is noteworthy that the RTS5763DL fully supports AES256 encryption (just like its bigger brother), which is a feature not often found with cheaper controllers.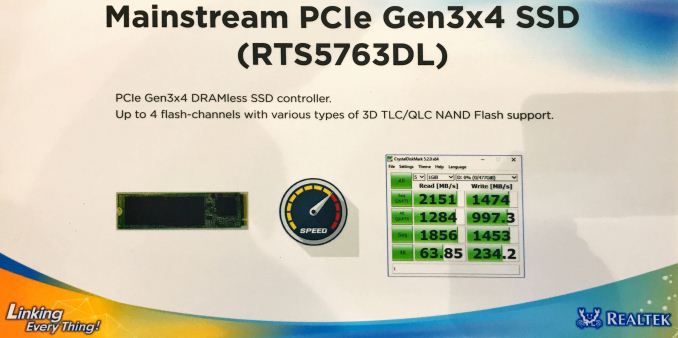 Despite being an inexpensive controller, the RTS5763DL comes with a PCIe 3.0 x4 interface and therefore has no bottlenecks on this side of things, unlike its predecessor. Sequential read speeds of drives based on the RTS5763DL come in at 2150 MB/s, whereas sequential write speeds come in at 1474 MB/s (when pSLC caching is used), which is more or less in line with Silicon Motion's SM2263XT-powered drives. While these numbers may not impress if compared to those offered by the RTS5762 and other high-end models, it should be noted that today's entry-level PCIe SSDs based on Realtek's RTS5760 can barely hit 1000 MB/s, thus competing successfully only against SATA drives that top out at 560 MB/s.
At present various makers of SSDs are evaluating Realtek's controller solutions and if they find the new chips good enough, expect actual drives featuring the RTS5762 and RTS5763DL controllers to hit the market sometimes next year. Keep in mind though that the market of turnkey SSD platforms is very crowded and it will take some time for Realtek to win business from companies like Silicon Motion and Phison.
Related Reading:
Want to keep up to date with all of our Computex 2018 Coverage?

Laptops

Hardware

Chips
Follow AnandTech's breaking news here!