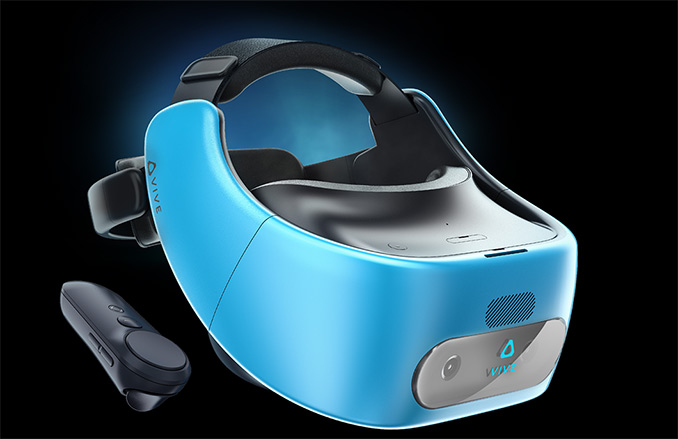 HTC on Tuesday formally introduced its new standalone Vive Focus VR headset at the Vive Developers Conference (VDC) in Beijing. The VR HMD is based on Qualcomm's Snapdragon 835 SoC and is compatible with content developed using the Vive Wave VR SDK and distributed through the VivePort VR store. The company also disclosed names of the partners, who also plan to use the Vive Wave and the VivePort going forward. The Vive Focus VR will be available only in China. In addition, the company cancelled plans to bring the Google Daydream-compatible headset to European and North American markets.
The HTC Vive Focus is a completely standalone Snapdragon 835-powered device that features "a high resolution low-latency AMOLED screen" as well as inside-out 6-degree-of-freedom tracking (6DoF) that does not require any external sensors for positional tracking. In other words, the Vive Focus can be used everywhere without any PC or base stations. The new headset will come equipped with a relatively simplistic Bluetooth 3DoF controller akin to those supplied with the Samsung Gear VR headset. The Vive Focus has a completely different design when compared to the PC-based HTC Vive with new adjustable straps and integrated headphones. Meanwhile, there is also a 3.5-mm audio jack for third-party headphones.
HTC first talked about its Snapdragon 835-based VR headset for China in late July. The company still has not released all of the details about the device, probably because it is still polishing off the specs and determining things like launch price. In fact, HTC handed pre-production Vive Focus units to select developers only two weeks ago, so the product is clearly not hitting the market tomorrow.
Speaking of developers, there are two important announcements that HTC made at the Vive Developers Conference. Firstly, the company has inked deals with 12 hardware partners in China (including 360QIKU, Baofengmojing, Coocaa, EmdoorVR, Idealens, iQIYI, Juhaokan, Nubia, Pico, Pimax, Quanta and Thundercomm), who will support the Vive Wave SDK and integrate the VivePort VR store into their future products. Secondly, there are 35 Chinese and other content developerswho plan to support the Vive Wave. For example, Unity Technologies plans to integrate VivePort support into its platform and enable "a more intuitive way for developers" to use the Vive Wave VR SDK in its tools.
While HTC will release the Vive Focus in China, the company and Google have cancelled plans to bring the Daydream-based VR headset announced earlier this year to Europe and the U.S. No reasons were disclosed, but perhaps HTC does not want to create any internal competition between different platforms before the VR technology in general gets mature.
This marks an interesting shift in strategy for one of the leaders of the nascent VR HMD market; the company is now going it alone rather than working with partners like Google, as was previously the plan. HTC's sale of a chunk of their smartphone assets to Google has nudged the company towards being more VR focused – a field where they've had more a lot more luck as of late – so I suppose it's not too surprising that given recent developments, they'd rather go it alone than having to work with partners. It's more risk for HTC, but also more glory and profits if they succeed.
As for Google's Daydream platform, while this is a step-back for their own standalone Daydream plans, it shouldn't be a major shift. Oculus, Lenovo, and other vendors have also committed to developing Daydream headsets, and those products remain on-track.
Related Reading: