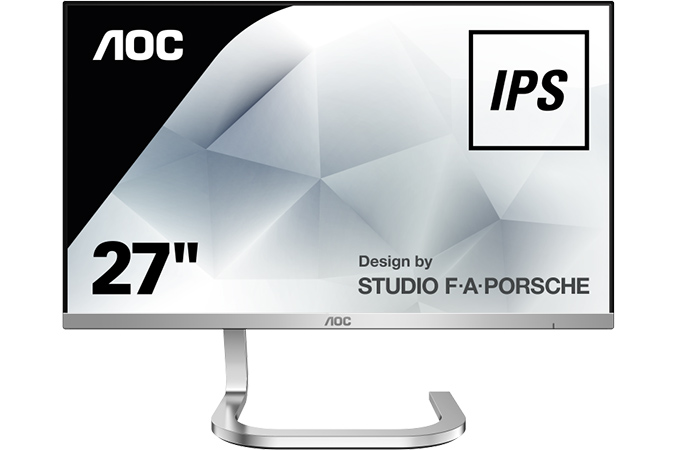 AOC this week introduced two new displays that it co-developed with the Austrian arm of the Porsche Design Group. The PDS241 and PDS271 feature IPS panels with FHD resolution, but their main feature is visual aesthetics with a design that attempts to hide power and signal cables.
While things like resolution, color gamut and refresh rate matter a lot, the visual design remains very important in for various business environments. The new AOC PDS family of displays is an example of the design-first approach. When developing the PDS-series monitors, AOC claims to have attempted to achieve three goals: first, to build visually attractive devices; second, to hide their cables inside their stands; third, to ensure relative affordability without using cheap components and compromising user experience.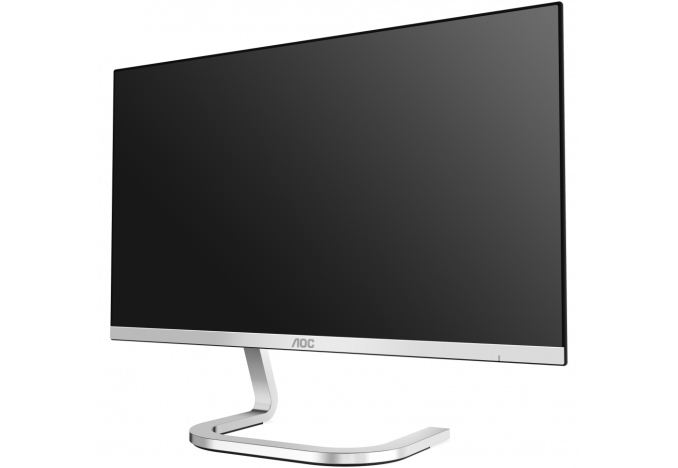 The AOC PDS-series displays feature asymmetric metal stands that integrate their power and signal cables, creating the impression of 'cable-less' monitors. The displays use custom PSUs that not only deliver power, but also feature an HDMI input. In fact, in order to make the PSUs small in general, and avoid using thick power cables, AOC had to use LCD panels and backlighting with lowered power consumption and slightly reduced brightness versus mainstream desktop screens. This also contributes to the reduced thickness of the panel itself.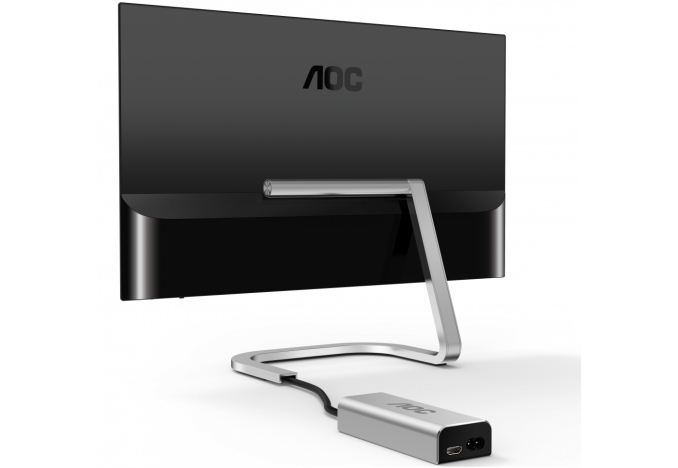 Speaking of panels and general specs, the PDS241 and the PDS271 are based on 23.8" and 27" AH-IPS panels featuring a 1980×1080 resolution, 250 nits brightness, a 1000:1 contrast ratio, viewing angles of 178°, and so on. The displays claim to cover 100% of sRGB and 90% of NTSC color gamut. As for input, both monitors only have an HDMI connector due to space constraints, located in the power supply. Power consumption of both displays ls listed as not exceeding 25 W.

Two thing to notes about the PSU: it is very small, but it also uses a USB Type-C connector to the display to carrying both signal and power.
AOC PDS-Series Displays
PDS241
PDS271
Panel
23.8" AH-IPS
27" AH-IPS
Native Resolution
1920 × 1080
Maximum Refresh Rate
60 Hz
Response Time
4 ms (gray-to-gray)
Brightness
250 cd/m²
Contrast
1000:1
Viewing Angles
178°/178° horizontal/vertical
Color Gamut
100% sRGB, 90% NTSC
Pixel Pitch
0.2745 × 0.2745 mm
0.311×0.311 mm
PPI
92.56
81.59
Inputs
1 × HDMI
Audio
3.5-mm headphone jack
Color
Silver
Power Consumption
Standby
< 0.5 W
Maximum
25 W
Additional Information
Link
Link
Price
$199
$249
AOC's PDS241 and PDS271 displays are already available in the U.S. from Amazon for $199 and $249, respectively.
Related Reading
Source: AOC