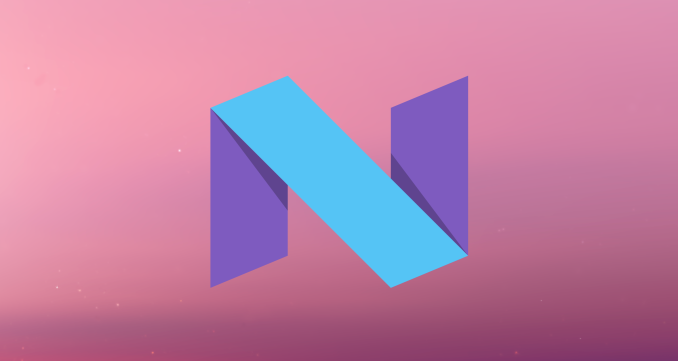 Google has completed its five month beta program and is officially releasing Android 7.0 Nougat today. The company will begin rolling it out to select Nexus devices, including the Nexus 5X, Nexus 6P, Nexus 6, Nexus 9, Nexus Player, the Pixel C tablet, and the General Mobile 4G (Android One phone), as an OTA over the next few weeks. The Nexus 5 and 7 (2013) are not eligible for the update.
The LG V20 will be the first new device to ship with Nougat installed. Manufacturers and carriers have not committed to a specific timeline for rolling out updates for existing devices, however. Samsung's President of Mobile, Koh Dong-jin, revealed in an interview with The Korea Times that the recently released Galaxy Note7 should receive an update perhaps in the next 2-3 months. HTC stated that the HTC 10, HTC One A9, and HTC One M9 will all be receiving Nougat updates, but did not provide any dates, only stating that timing and any additional eligible devices will be announced later.
We took our first look at some of Nougat's features when we got our hands on the first developer beta back in March. Since then, Google has continued to refine the OS and add new features. The new Split-Screen mode, which provides a native API for using two apps side by side, should provide a boost for multitasking. This will be more useful for tablets, but phablet phones should benefit too. There's also many smaller tweaks, such as double-tapping the overview button to switch between the two most recently used apps, that improve usability and productivity.
Nougat also includes the ability for apps to bundle notifications, reducing clutter on the lock screen or in the notification shade. The bundles can be expanded for more detailed information about each specific notification, and you can even reply to notifications directly from the notification shade without launching an app first.
Performance and battery life should also improve with Nougat. The updated JIT compiler claims to improve the runtime performance of apps while also reducing the amount of storage space they require. Android 7.0 also includes official support for the new Vulkan graphics API. Similar to Apple's Metal, it's a low-level API that dramatically improves 3D performance by reducing the overhead of draw calls. The changes to Android's Doze feature, first introduced in Android Marshmallow, promise a small boost to battery life by allowing the phone to go into a lower power state when it's being carried around with the screen locked.
Android has been plagued with security issues, and while this will remain a topic of concern for the foreseeable future, Nougat does bring some new security enhancements. Perhaps the biggest change is the hardening of Android's Stagefright mediaserver library—a combination of better code sanitization to eliminate buffer overflows and splitting the library into several sandboxed components with more restricted permissions. Nougat also adds file-based encryption, a more secure boot process, and behind-the-scenes OS updates.
Nougat provides too many improvements to fully cover here, but even the visible and not so visible changes mentioned above should prove to be welcome additions to Android.