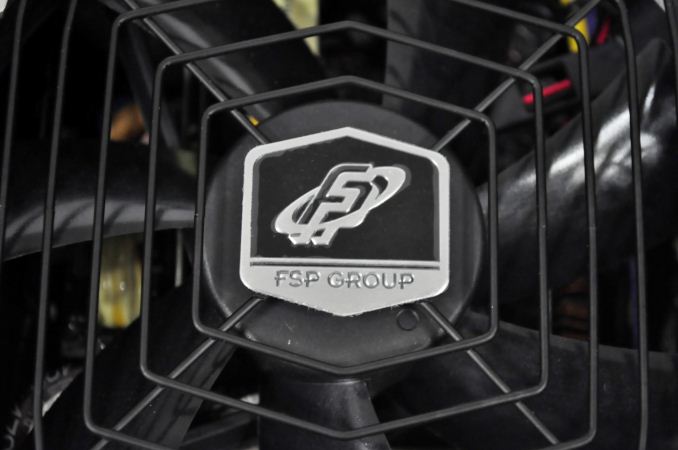 Introduction
As most technology enthusiasts already know, the number of the actual power supply unit (PSU) manufacturers is far smaller than the number of the companies that ship PSUs. Most companies use their own engineering teams to improve/modify an existing platform originally developed by the Original Design Manufacturer (ODM). A few examples from our recent reviews are Antec's EDGE 550W and Corsair's RM1000, which are based on Seasonic and CWT designs, respectively. The modifications that such companies perform on the original platform can be significant but the changes are frequently limited to aesthetic adjustments, essentially copying the original unit in everything but form (or even just color).
Most ODMs have their own retail divisions as well. Perhaps the best examples of such companies would be Seasonic and FSP Group. We reviewed two of Seasonic's newest designs recently, the sensible S12G 650W and the potent Platinum SS-1200XP3, but we have not had a look at a PSU from FSP since the Xilenser, well over two years ago.
Today we are going to look at their most recent and advanced unit, the Aurum PT 1200W power supply. It is an 80 Plus Platinum certified PSU designed with enthusiasts in mind, and it appears to be a direct competitor to products such as Seasonic's Platinum SS-1200XP3, Cooler Master's V1200, and Corsair's AX1200i. Can it hold its own against the very best units that the industry has to offer? We'll find out in this review.
Power specifications ( Rated @ 50 °C )
AC INPUT
100 - 240 VAC, 50 - 60 Hz
RAIL
+3.3V
+5V
+12V
+5Vsb
-12V
MAX OUTPUT
25A
25A
100A
3A
0.8A
160W
1200W
15W
9.6W
TOTAL
1200W
Packaging and Bundle
FSP supplies the Aurum PT 1200W in a relatively small cardboard box with a simple, elegant artwork theme. The key features are noted on the front of the box, with full specifications and additional details on the sides and rear.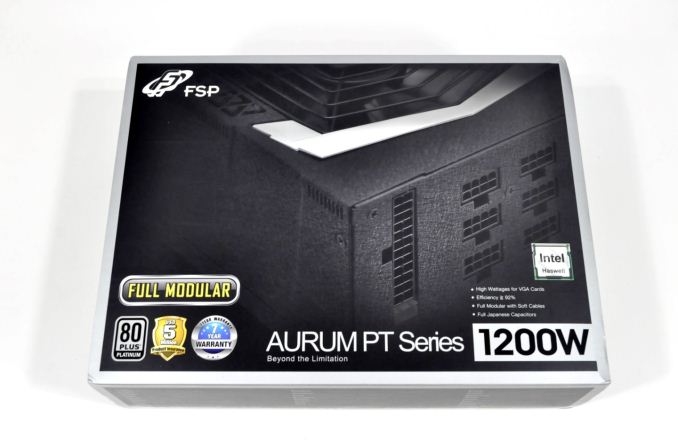 Inside the box, we find a very minimalist bundle for what is supposed to be a top tier product. FSP includes only the necessary AC power cord, four black thumbscrews (note: normal screws are not included), a few zip-ties, a very basic manual, and a bag with the cables.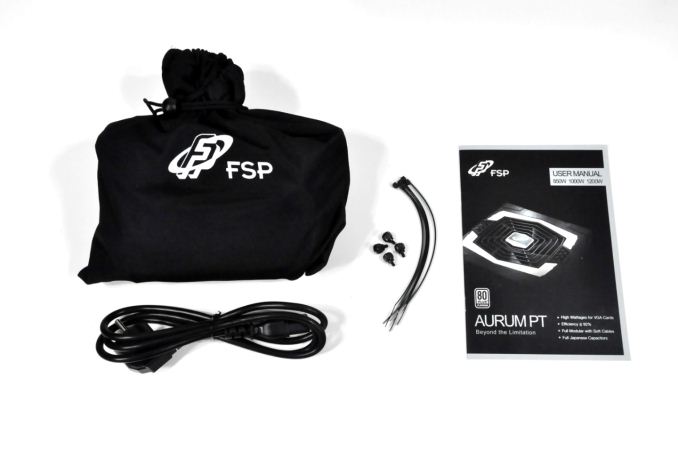 There are four bundles of modular cables inside the nylon bag, each held together with a reusable velcro cable strap. FSP made an odd selection regarding the cables of the Aurum PT 1200W unit, supplying flat black cables for the SATA/Molex connectors and typical cables with color-coded wires and black sleeving for everything else.