Performance Metrics - I
The ASRock VisionX 471D was evaluated using our standard test suite for low power desktops / industrial PCs. We revamped our benchmark suite early last year after the publication of the Intel D54250WYK NUC review. We reran some of the new benchmarks on the older PCs also, but some of them couldn't be run on loaner samples. Therefore, the list of PCs in each graph might not be the same.
Futuremark PCMark 8
PCMark 8 provides various usage scenarios (home, creative and work) and offers ways to benchmark both baseline (CPU-only) as well as OpenCL accelerated (CPU + GPU) performance. We benchmarked select PCs for the OpenCL accelerated performance in all three usage scenarios. These scores are heavily influenced by the CPU in the system. In the case of the VisionX 471D, the AMD R9 270MX also pitches in for the OpenCL accelerated components. The end result is that the combination of the Core i7-4712MQ and the AMD R9 270MX GPU results in the VisionX 471D coming out on top for two out of the three PCMark 8 workloads. In certain workloads with more emphasis on single-threaded performance, the higher clocks in the Core i5 2C/4T CPUs result in the VisionX 471D coming in behind the VisionX 420D and the GIGABYTE GB-BXi5G-760.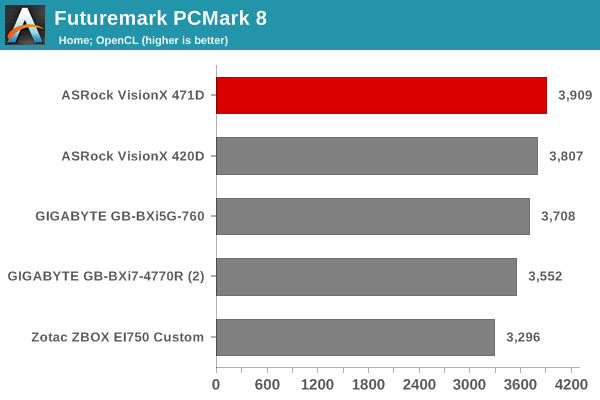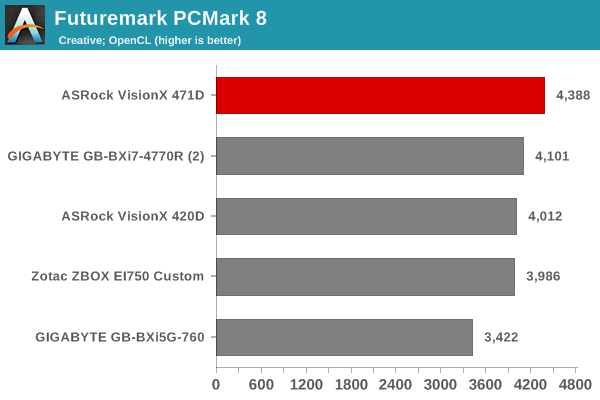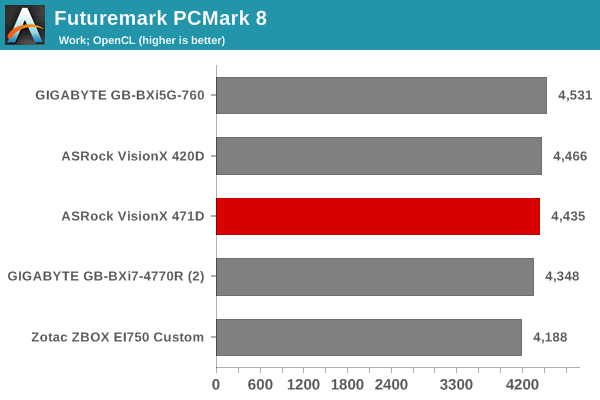 Miscellaneous Futuremark Benchmarks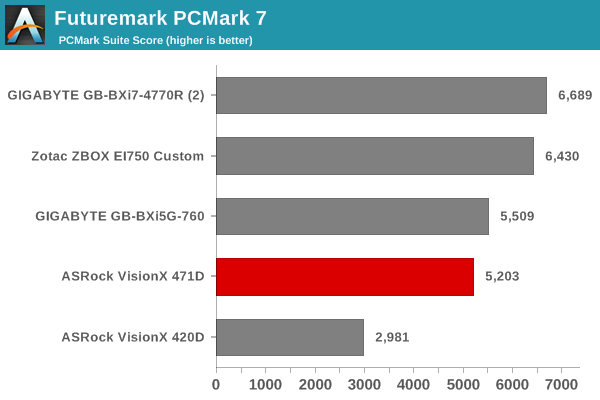 The PCMark Suite in PCMark 7 doesn't benefit much from OpenCL acceleration. This makes the higher-clocked Core i5-based systems take the lead. The Core i7-4770R-based GB-BXi7-4770R has a TDP of 65W and is clocked much higher than the other CPUs in the graph. So, it is no surprise that the BRIX Pro comes out on top in that benchmark.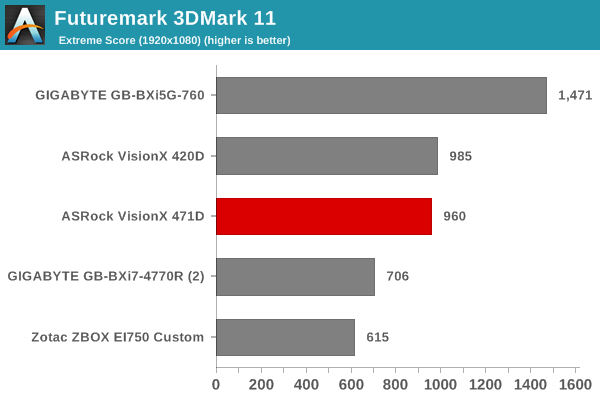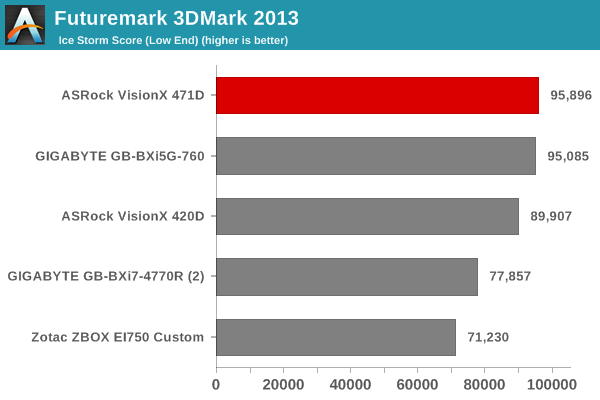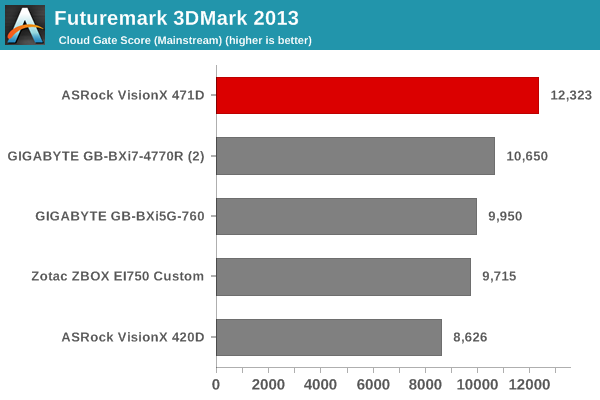 The 3DMark benchmarks show that the main tussle is between the NVIDIA GTX 760 in the BXi5G-760 and the AMD R9 270MX in the VisionX 420D/471D.
3D Rendering - CINEBENCH R15
We have moved on from R11.5 to R15 for 3D rendering evaluation. CINEBENCH R15 provides three benchmark modes - OpenGL, single threaded and multi-threaded. Evaluation of select PCs in all three modes provided us the following results. As described earlier, the higher clocked CPUs perform better in the single threaded mode. When it comes to mult-threaded performance, the 4C/8T i7-based systems take the lead, with the higher clocked 65 W TDP versions taking a significant lead.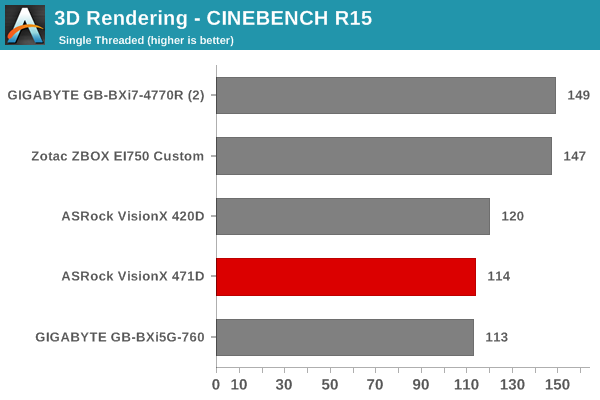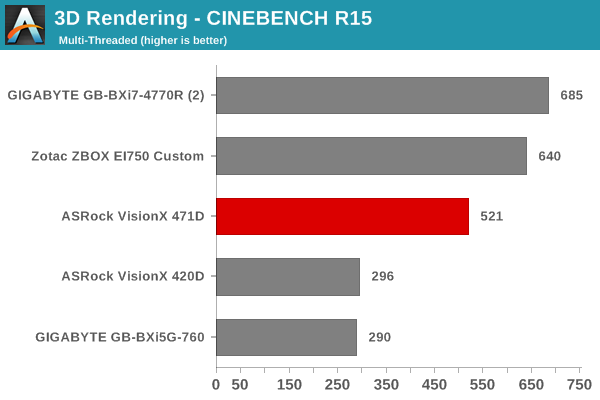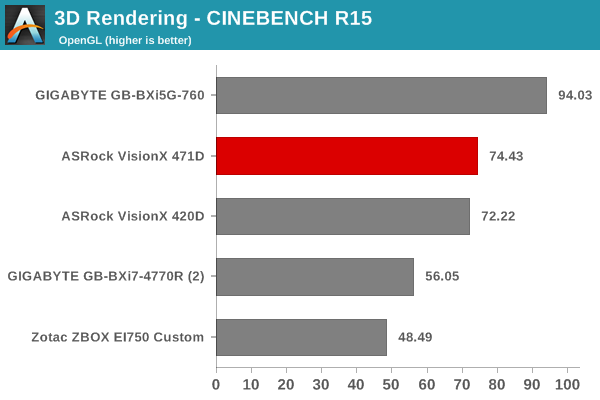 The OpenGL run is definitely in favour of the NVIDIA GPU-equipped BRIX Gaming PC, but the VisionX versions definitely show a big increase in performance over the Iris Pro-equipped systems.