ASRock Fatal1ty Z77 Professional Overview
The effect of Fatal1ty on a motherboard results in a few marketing tools and features. If every brand had a coloring scheme (Republic of Gamers – red and black; Sniper/Assassin – green and black; Big Bang – black and black), Fatal1ty is an ROG copy in the red and black format. The BIOS is updated to reflect this color scheme, as well as the software on the board. Our mate Fatal1ty is not only selling his brand, but also a consultant for design on the products – as a result, we get features such as IDE ports, Floppy Ports, improved mouse sensitivity ports, and a push to be more gamer friendly. While most people can list features they want, it is left to ASRock on the motherboards to provide the implementation, which as users we hope will be top notch, as well as premium brand/premium price product that will push the profit margins.
Given the Z77 space, and the willingness of other manufacturers to introduce mild overclocking enhancements at default, the Z77 Professional as shipped does not perform perhaps as well as it should when it comes to computation or throughput – and is mildly disappointing when it also doesn't reach the upper echelons in our gaming suite either due to this fact.
Features on the board include an IDE port, a floppy drive port, 10 SATA ports, Realtek ALC 898 audio, an enhanced USB 'mouse' port for increased gaming sensitivity, the option for either socket 775 or socket 1155 coolers, and dual Broadcom LAN with teaming. Software support comes through F-Stream, XFast LAN, XFast USB, as well as a novel 'Dehumidifier' setting designed to remove moisture from inside a case by powering fans up for a fixed time during sleep modes.
It has been my observation over the past year that more phases means more power usage under lightly loaded scenarios, due to multiple phase loading (depending on how they are multiplexed). In that regard, the 16+8 phase solution on the Z77 Professional storms our power usage test during 1080p HD video in at 150W, 48W more than the Z77 Extreme4 (note almost 90%+ efficiency from power supply here).
Overall, the board has some features I would love to see elsewhere – SATA ports and Combined Cooler Option are preferred. But the Z77 Professional lacks a lot of what differentiates a good board from a great gaming board – performance, intelligent layout and true gaming audio. If ASRock want to promote a board with legacy components, it may be more beneficial to have a legacy SKU rather than pile on the features on a gaming class system.
ASRock Fatal1ty Z77 Professional Overview
The Z77 Professional comes ablaze with a red and black livery, sporting Professional Series motifs, Fatal1ty branding, and even a signature. As a result, the word 'ASRock' is relegated to just above the first full-length PCIe slot. The heatsinks on board are used to cover the 16+8 phase power supply, and provide a lot of angular surface area for heat dissipation. For an added bonus, unlike some boards in this price range, the power delivery heatsinks are all connected via heat-pipe.
The socket area itself is barely bigger than Intel specifications, and with the heatsinks it could be slightly tricky to fit large air coolers to the board. Users do have the option of using both socket 775 and socket 1155 coolers through ASRock's design choice of including both on board. There are six fan headers on the board – the CPU socket has two fan headers above the top heatsink, one 4-pin and one three-pin, and two above the first PCIe x1 slot (both are three pin). Other fan headers on board are at the bottom, where we find two three-pin chassis headers.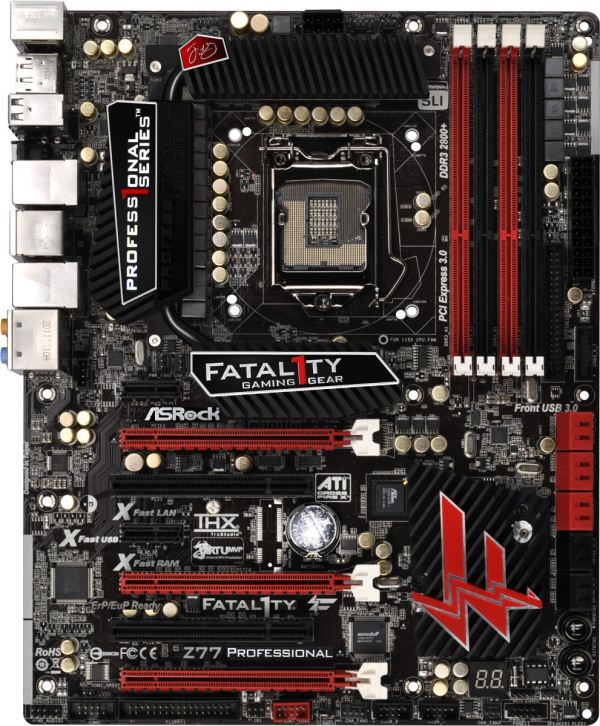 Along the right hand side, we have single ended DIMM slots for easy removal, the 24-pin ATX power connector, an IDE port and USB 3.0. The IDE port is here on the basis that certain gamers want to carry over hard-drives. While this may be good for legacy, I think I am safe in assuming almost everyone has made the switch to SATA by now for their gaming machines. Despite this, the IDE does offer that extra functionality alongside 10 SATA ports, making a total of 12 drives possible. The SATA ports are split into four SATA 3 Gbps (black, chipset) and six SATA 6 Gbps (red, two chipset, four from ASMedia ASM1061 controllers) – however only the Intel SATA ports are RAID capable. In order to power these extra controllers, ASRock has included a PLX chip – this is a PLX chip to expand PCIe 2.0 lanes, not the PLX PEX 8747 which is used to expand PCIe 3.0 lanes for GPUs (such as on the Gigabyte G1 Sniper3 or ECS Z77H2-AX).
Moving further down the right hand side and along the bottom, we have a Fatal1ty branded chipset heatsink alongside a pair of branded power/reset buttons. From right to left there is a two-digit debug, USB 2.0 headers, a chassis fan header, an IEEE 1394 header, a floppy drive header, a COM port, and an audio header. The more amazing part of that list is the floppy header – while I can see some relevance for including an IDE port, the Floppy header is the confusing one, especially if it's a 'gaming feature'. What this does is open the board up to the legacy market – but does the legacy market really want a Fatal1ty branded motherboard? Or is it 'just because we can'?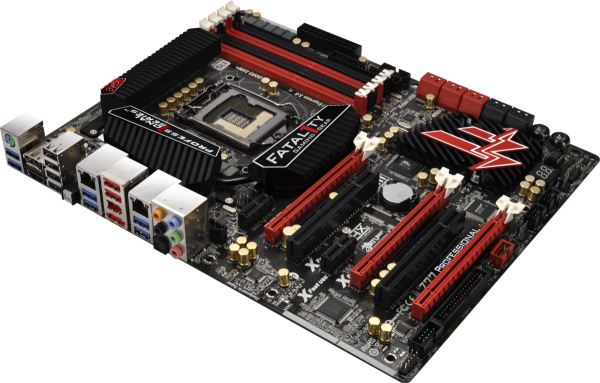 PCIe wise we are fairly well catered for, though the initial x1 is limited to small devices due to the heatsink. From top to bottom, we have a PCIe x1, x16 (x8 in dual GPU), PCI, x1, x8, PCI, x4. Audio onboard is from a Realtek ALC898 – given it is a gaming board I would have expected perhaps a Creative solution, similar to the Game Blaster add-in card we saw on the ASRock X79 products. Perhaps the lack of it is to keep the price in check.

If you want USB ports, the I/O back panel has them. From left to right, we have a PS/2 combo port, two Intel USB 3.0 (blue), DisplayPort, HDMI, four USB 2.0 (black), a ClearCMOS button, Broadcom NIC, two USB 3.0 ports (blue, Etron EJ188H), two USB 2.0 ports (red), an IEEE 1394 port, an eSATA port, another Broadcom NIC (which can be teamed), two more USB 3.0 ports (blue, Etron EJ188H), and standard audio headers. The top red USB 2.0 port is the port designated as the Fatal1ty Mouse Port for increased polling and responsiveness in games (more later in the review).
Board Features
ASRock Fatal1ty Z77 Professional
Price
Link
Size
ATX
CPU Interface
LGA-1155
Chipset
Intel Z77
Memory Slots
Four DDR3 DIMM slots supporting up to 32 GB
Up to Dual Channel, 1066-2800 MHz
Video Outputs
HDMI 1.4a, DisplayPort
Onboard LAN
2x Broadcom BCM57781
Onboard Audio
Realtek ALC898
Expansion Slots
2 x PCIe x16 Gen3 (x16/x0, x8/x8)
2 x PCIe x1 Gen2
2 x PCI
Onboard SATA/RAID
2 x SATA 6 Gbps (PCH), Support for RAID 0, 1, 5, 10
4 x SATA 6 Gbps (ASMedia ASM1061)
4 x SATA 3 Gbps (PCH), Support for RAID 0, 1, 5, 10
USB 3.0
Two USB 3.0 at rear (PCH)
Four USB 3.0 at rear (Etron EJ188H)
One USB 3.0 header (PCH)
Onboard
6 x SATA 6 Gbps
4 x SATA 3 Gbps
8 x USB 3.0 ports (6 rear, 2 on board)
1 x ATA133 IDE Header
1 x Floppy Header
1 x COM port
Power/Reset Buttons
Debug LED
6 x Fan headers
1 x IEEE 1394 header
Power Connectors
1 x 24-pin ATX connector
1 x 8-pin 12V connector
Fan Headers
2 x CPU Fan Header (one 4-pin, one 3-pin)
3 x CHA Fan Headers (3-pin)
1 x PWR Fan Headers (3-pin)
IO Panel
1 x Combo PS/2 Port
1 x HDMI 1.4a
1 x DisplayPort
1 x Optical SPDIF Output
6 x USB 2.0 ports (One is for Fatal1ty Mouse)
1 x eSATA 6 Gbps
6 x USB 3.0 ports
2 x Broadcom NIC
1 x IEEE1394
1 x ClearCMOS
Audio jacks
Warranty Period
3 years from date of purchase
Product Page
Link
The big selling points here are the legacy connectors and all those SATA ports with dual NIC. Against the ASUS P8Z77-V Pro, which is $20 cheaper, the selling points are a plus for the ASRock, but the ASUS Pro has WiFi, fully controllable fan headers, and better software support in terms of onboard features.