Overview
I was not too sure what to expect from the X79 Extreme4-M. One of the biggest LGA2011 features, 40 PCIe lanes, would not be fully exploited by the mATX layout. I then looked at the retail price, and compared to other boards we have looked at, could come in at quite a steal. For users who want pure CPU/memory throughput and are not too concerned with the PCIe layout could pick up a cheap mATX board and an LGA2011 CPU to get the best performance in minimal space.
However, all is not as it seems with the X79 Extreme4-M. To be honest, I only had two major issues with the board – the first being the overclocking. ASRock usually cater users well in this department, offering a wide range of choices in BIOS for a user to select. However, Intel has a feature whereby if a user requires a Turbo mode for a substantial period of time, in order to preserve life and reduce heat, the CPU will clock back. In previous experience on other motherboards, this is automatically disabled on any sort of overclock. However, there is not an option here, and the CPU will go back to below stock CPU frequency at high stresses. I will explain in more detail later. The second point is the default fan speed, which is at 100% for the CPU, potentially causing noise issues.
Feature wise, the user is well catered for at this price range – there are a SATA 6 Gbps controller and a USB 3.0 controller are added on top of the default chipset, six fan headers onboard, and the range of software provided under the ASRock banner is quite good. XFast USB is a nice technology to boost a single USB socket throughput (as tested in the review), XFast LAN allows the user to manipulate packet priority and monitor network usage, and a new addition to the scene, XFast RAM, which allows users to create a RAMDisk for quick temporary file storage.
At $224.99, we are starting to see more agreeable prices for X79 motherboards, which can only be a good thing as long as we are getting as much of the benefit of the new platform as possible. The ASRock X79 Extreme4-M has a few teething issues to begin with, especially at any sort of significant full CPU load plus overclock, which could put a dampener on prospective sales.
Visual Inspection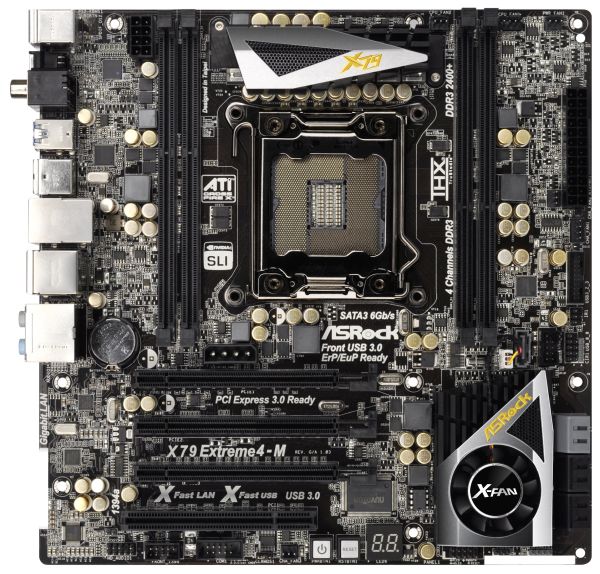 If ASRock were going for the 'black gold' metaphor of valuable commodities, they have at least got the styling right, with all black ports (bar two grey SATA) and gold caps everywhere, splashed with gold writing on the heatsinks. In order to save space, we have only got 4 DIMMs here, which equates to one per channel. Despite this extra 'room', there is a lack of significant extra features on board, such as beefier heatsinks or extra ports. The 6+2 phase power solution is behind the very small (13/16ths of an inch x 3.5 inch) heatsink which gets extremely hot to touch under full load even at stock – it may have been wise for ASRock to extend this heatsink via a heatpipe to take advantage of the extra space.
One thing we can enjoy though is the abundance of fan headers for a mATX board – the X79 Extreme4-M has six of them. There are two CPU fan headers north of the right bank of memory slots, along with a power header. Two of the three chassis headers are beside the 24-pin ATX power connector (presumably for front chassis fans), and the other is on the bottom end of the board next to the power/reset switches. Control of these is through the BIOS, or the ASRock eXtreme Tuning Utility (AXTU) software in the operating system.
Alongside the 24-pin ATX power connector is a USB 3.0 header, and a seventh SATA port from an ASMedia controller. This controller also gives an eSATA 6 Gbps port at the back of the IO panel. Beside these are the six SATA ports from the PCH, four SATA 3 Gbps (black) and two SATA 6 Gbps (grey). These are all shadowed by the chipset cooler, also in black and gold livery, sporting a small 'X-Fan'. This is more substantial than other chipset coolers we have seen (which often use a heatpipe to transfer heat to another heatsink), and the default setting is that the fan only turns on when it reaches 50ºC. Personally, I didn't hear it, because the CPU fan defaults at maximum speed.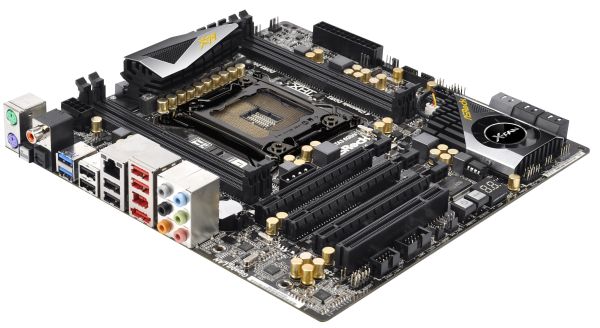 The bottom end of the board sports the power/reset/debug LED trio I love, alongside headers for the Clear CMOS, COM and IEEE 1394. Above these is the PCIe layout, which tries to maximize the 40 PCIe lanes as much as possible. In order, we have an x16, x8 and x16, and PCI, but in reality dual GPU users will populate slots one and three to get their maximum throughput. The layout does bode well for users of one GPU and another PCIe device, though probably at the expense of cooling – ideally the PCIe device would be in the first slot and the GPU in the second or third slots for optimum efficiency. Users will also note the additional 4-pin molex power connector on board to aid in power to the PCIe slots. I was able to run dual GTX580s, without issue, with having nothing plugged into the molex connector. This raises some issues – a) is it really necessary and b) if it is, are other power connectors not suitable? A 4-pin molex is quite substantial to put into the board over other components, especially when devices typically using 4-pin molex connectors are not anywhere near this part of the board.

The IO panel is pretty standard, especially in comparison to most of the Cougar Point chipset motherboards we have seen this year. From left to right, we see two PS/2 connectors, a clear CMOS button, a coaxial SPDIF out, an optical SPDIF out, two USB 3.0 ports, six USB 2.0 ports, gigabit Ethernet (Broadcom BCM57781), eSATA 6 Gbps, FireWire, and audio headers. For a board this price and on X79, we do not see much extra from what we would expect to be the standard.