The host silicon in the SMB / SOHO NAS market is primarily from two players. While the low end is dominated by Marvell, the high end is dominated by Intel's Atom processors. As one goes higher, we have even more powerful Intel CPUs (such as the low end Core i3s). Freescale used to have some design wins till 2009 with their PPC based processors, but we haven't seen any units based on their processors in their last two years.

Removing the drive bays of the TS-659 Pro II reveals an array of 6 SATA slots and a couple of Marvell 88SE9125 chips [PDF]. These are SATA to PCI-E bridges, with support for 2 SATA devices. We believe another of these bridge chips must be present on the other side of the SATA slots array. This array connects to the PCI-E bus on the ICH9 southbridge.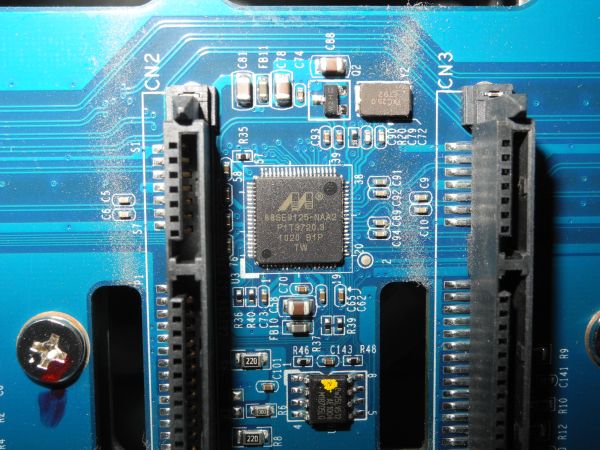 Most of the high end SMB / SOHO NAS units have 1 GB of RAM which can be expanded. The TS-659 Pro II also has 1 GB of RAM expandable to 3 GB. In order to install this notebook memory, one needs to open up the unit. The brushed steel top can be removed by taking off the screws at the rear end and sliding the top out. The motherboard is covered by a screwed on plastic film with a flap above the SODIMM slot where the user can put in the additional memory.
The rest of the components are not easily accessible, but we did manage to grab a snap of the Renesas-NEC 720200 USB 3.0 to PCI-E bridge which enables the two USB 3.0 ports on the unit. The iTE IT8721F is the hardware monitor sensor and fan control chip.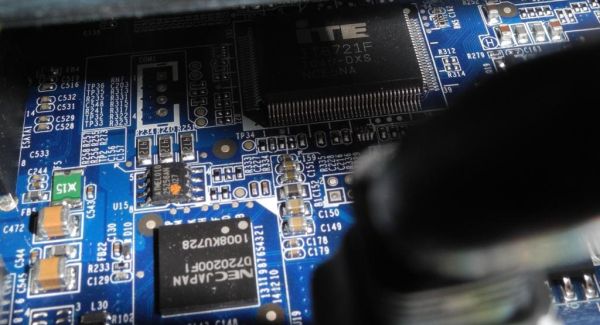 In the next section, we will have the testing methodology outlined and also a description of the testbed.