T-Mobile G2x - The Network
One of the major hardware differences between the G2x and the Optimus 2X is the cellular radio. While the O2X uses a Infineon X-Gold XG616, similar to what you can find in the Samsung Galaxy S/Nexus S and the iPhone 4, the G2x uses Qualcomm's MDM6600 baseband, the whole point of the switch being to support HSDPA 14.4 on T-Mobile's HSPA+ network. At launch, T-Mobile advertised the G2x as a quadband 3G device, with support for HSPA+ over the 1900/850 MHz (AT&T) bands as well as the standard 2100/1700 MHz T-Mobile 3G bands. This, unfortunately, was a blatant error in T-Mobile's information - after the G2x's release, it became readily evident that quadband support was only for EDGE/GPRS, not 3G. How an error of this magnitude managed to slip through until the device started shipping (it was advertised with quadband 3G at CES in January) remains unanswered.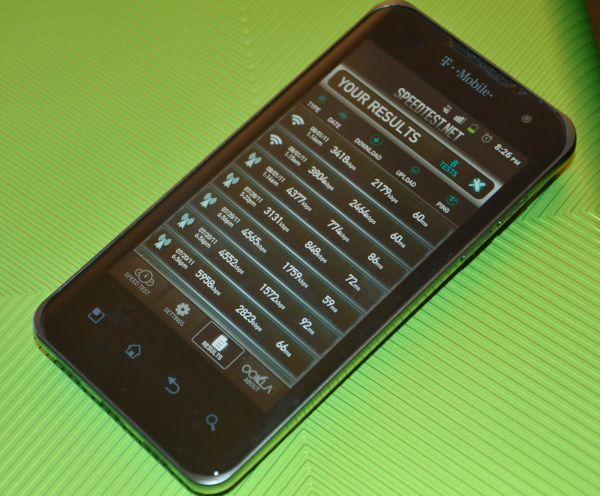 But no matter - if you're on T-Mobile, HSPA+ works, and well. I saw speeds generally in the range of 3.5-6 Mbps downstream and 1.5-3 Mbps upstream. I'm not as obsessive with speed tests as Brian is, so I don't have enough data points to construct a speed graph like he had, but they're fairly consistent with results I've seen before. T-Mobile's HSPA+ is faster in Seattle than in Tuscon where Brian is, which is why my numbers are so much higher.
We ran into some issues with cellular stability with the G2x - Brian complained about it before sending me the phone, and I personally experienced a couple of rather disconcerting periods where the G2x would be unable to send or receive cellular data for a span of 5-10 minutes, unless you got impatient and pulled the battery first. It looks like the implementation of the new baseband was rushed, but this is still a pretty significant issue to slip through. It's something that I haven't noticed post-Gingerbread, but it's only been two days since the update released. I wouldn't say it's a major problem, but definitely an annoyance. It's not the only indication that the transformation from Optimus 2X to G2x was a hurried process either, as we'll see on the software side.