Intel Quanta QSCC-4R Benchmark Configuration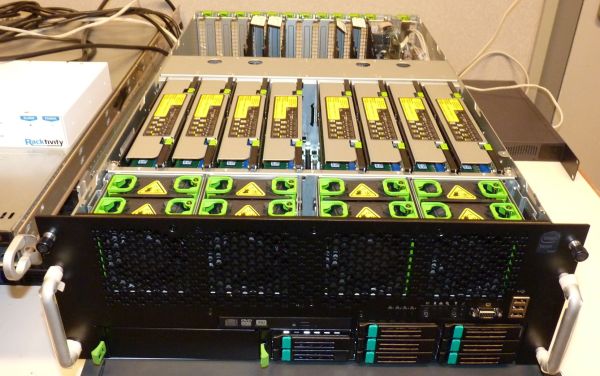 CPU
4x Xeon X7560 at 2.26GHz or
4x Xeon E7-4870 at 2. 4GHz
RAM
16x4GB Samsung Registered DDR3-1333 at 1066MHz
Motherboard
QCI QSSC-S4R 31S4RMB00B0
Chipset
Intel 7500
BIOS version
QSSC-S4R.QCI.01.00.S012,031420111618
PSU
4x Delta DPS-850FB A S3F E62433-004 850W
The Quanta QSCC-4R is an updated version of the server we reviewed a year ago. The memory buffers consume less power and support low power (1.35V) DDR3 ECC DIMMs. The server can accept up to 64x32GB Load Reduced DIMMs (LR-DIMMs), so the new server platform can offer up to 2TB of RAM!
LR-DIMMs are the successors of FB-DIMMs. Fully Buffered DIMMs reduced the load on the memory channel courtesy of a serial interface between the memory controller and the AMB. The very high serial input frequency however increased the heat generation significantly, so the memory vendors abandoned FB-DIMMs after DDR2. Until recently, all large DDR3 DIMMs have been registered DIMMs.
The new Load Reduced DIMM is a registered DIMM on steroids that buffers the address signals just like registered DIMMs, but it also buffers the datalines. LR-DIMMs therefore fully buffer the DIMMs and greatly increase the number of memory chips that can be used per channel without the power hogging serial interface of the AMBs. The downside is that buffering the datalines increases latency, especially with bus turnarounds.
The QSSC-4R comes with a rich BIOS. Below you can see the typical BIOS configuration that we used. As you can see we tested the Xeon with Turbo Boost and Hyper-Threading enabled.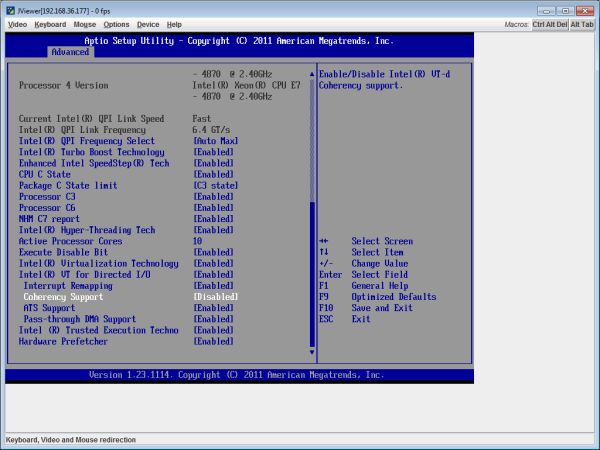 Dell PowerEdge R815 Benchmarked Configuration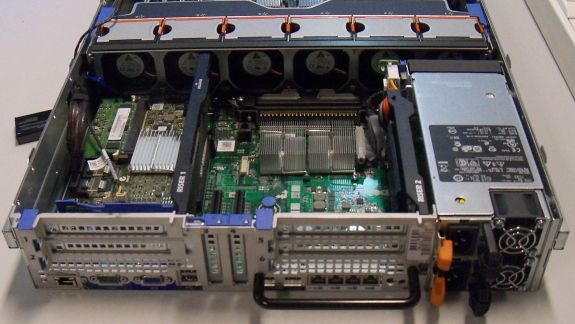 | | |
| --- | --- |
| CPU | 4x Opteron 6174 at 2.2GHz |
| RAM | 16x4GB Samsung Registered DDR3-1333 at 1333MHz |
| Motherboard | Dell Inc 06JC9T |
| Chipset | AMD SR5650 |
| BIOS version | v1.1.9 |
| PSU | 2x Dell L1100A-S0 1100W |
The R815 is not a direct competitor to the quad Xeon platform; it is more limited in RAS features and expandability (512GB of RAM max). However, it is an attractive alternative for some of the more cost sensitive quad Xeon buyers. Its very compact 2U design takes half the space of the quad Xeon servers, and a fully equipped quad Opteron server with 256GB of RAM can be purchased for less than $20,000. A similar quad Xeon system can set you back $30,000 or more.
Storage Setup
The storage setup is the same as what we described here.