Server Benchmark Configurations
We used two relatively basic servers, both made to be affordable and low power. The Intel server comes recommended by Intel, and the Opteron based server is similarly recommended by AMD.
The intel server is an Intel SR1690WB 1U server:
CPU
2x Xeon E5506 2.13GHz or
2x Xeon L5630 2.13GHz
RAM
8x4GB (32GB) Samsung DDR3-1333 CH9
Motherboard
Intel S5500WBV
Chipset
Intel 5500
BIOS version
S5500.86B.01.00.0054,092820101104
PSU
Delta Electronics DPS-650SB B Rev
The AMD server was also a 1U server, the Tyan YR190B8228, a 1U "Twin" server. The twin server consists of a 1U chassis containing two completely separate servers.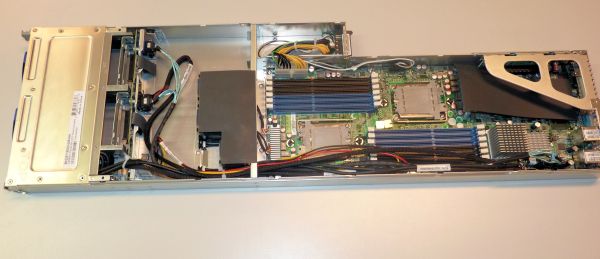 CPU
2x Opteron 4162 EE 1.7GHz
2x Opteron 4122 2.2GHz or
2x Opteron 4170 HE
RAM
8x4GB (32GB) Samsung DDR3-1333 CH9
Motherboard
Tyan B8228Y190X2-045V4H
Chipset
AMD SR5650
BIOS version
YR190-B8228-x2_v101
PSU
3Y Power Technology YM-2451C RevA 450W
The disk system was identical for each server. We equipped each with a Western Digital 64GB SSD SSC-D0064SC-2100 as the boot disk with an Adaptec 5085 PCI-E 8x SAS controller connected to a Promise Vtrak J300s. We placed the VMs on six SAS disks (Fujitsu MAX3073RC) in RAID-0. The Oracle OLTP databases are on two Intel SLC X25-E SSDs.