HP Proliant DL380 G7
| | |
| --- | --- |
| CPU | Two Xeon X5670 at 2.93GHz |
| RAM | 15 x 4GB Samsung 1333MHz CH9 |
| Motherboard | HP proprietary? |
| Chipset | Intel 5520 |
| BIOS version | P67 |
| PSU | 2 x HP PS-2461-1C-LF 460W HE |
The 15x 4GB is not a typo. We wanted to give each server the same amount of memory while making sure that each system was working at the highest performance. In other words, each memory channel had be populated. In case of the HP DL380 G7 we populated the nine DIMMs of the first CPU, and the second CPU only got six DIMMs. This way each channel was populated, and the amount of memory (60GB) was close enough to the other systems (64GB). The extra power that one DIMM would add to the power consumption is taken in to account in the energy measurements. A DDR3 DIMM adds about 4W on average while being active.
The HP DL380 line is probably the most popular server in the world. It comes standard with four fans and one CPU. If you buy a second CPU, two fans are added to the design. The DL380 has eight 2.5 inch drive bays.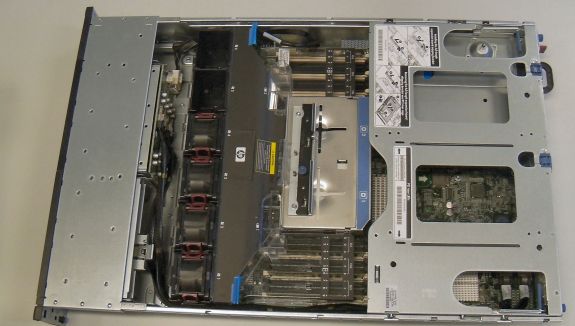 Click to enlarge
HP's engineers have implemented quite a few great ideas: the number of sensors and the integration with the management software (ILO) is great. Lots of LEDs at the front panel give feedback to the administrator. The HP server ships with a PSU that is 92% or 94% efficient, and thus qualifies as an "80PLUS Gold" PSU. The second redundant PSU can be configured as being "cold redudant", not consuming a single watt when it is not necessary.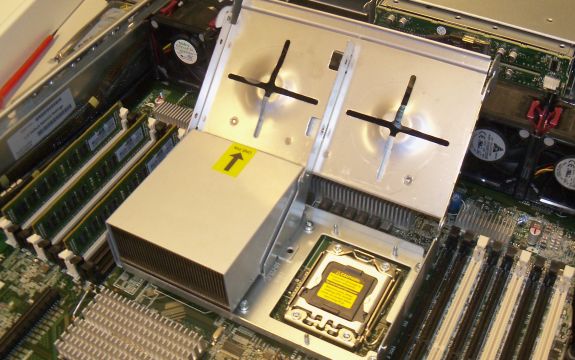 Click to enlarge
The CPU heatsinks can be placed on the CPU, and you simply have to close a metal "heatsink cage" to make sure that the heatsinks are applying the proper pressure on the CPUs. That makes replacing CPUs effortless and very safe.
But we are less enthusiastic about some of the "product differentiation choices". For some weird reason, HP's servers always ship with a few 1GB DIMMS even if you have customized the server with several tens of gigabytes. The servers is delivered with eight dummy drive bays, and you only get the functional drive bays for each disk that you order. The I/O cage is only fitted with one riser card: another optional riser card must be ordered separately. While this makes sense for HP as a vendor, in our opinion it is not customer friendly. This leads in many cases to extra deployment delays as buyers have to order something extra after the server has arrived.