Performance Targets, PPA and Conclusion
The U8-Series microarchitecture will initially be productized as two IP offerings: The U84 and the U87 CPU cores: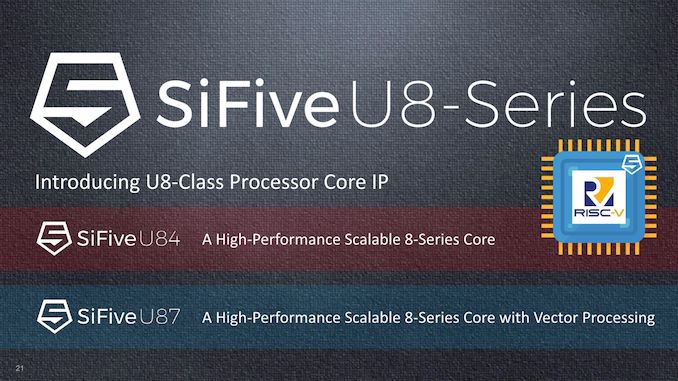 The U87 will only be available later next year, whilst the U84 is also being finalised right now. The company has the U84 IP running internally on FPGA platforms.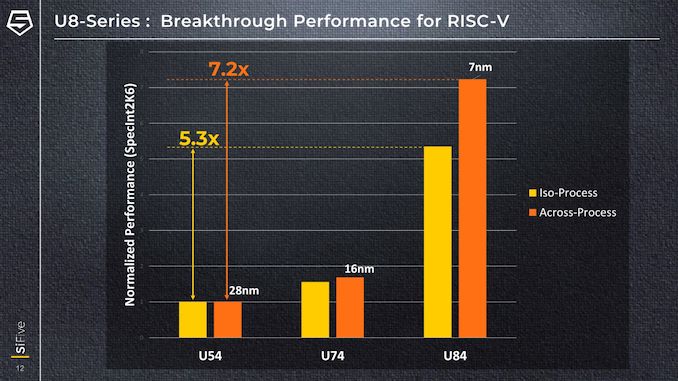 The performance increases compared to previous generation SiFive cores are extremely impressive: Against a U54 at ISO-process, the new U84 features a 5.3x performance increase in SPECint2006. When taking into account the process node improvements that allow the U84 to clock higher, the generational increases that we'd be seeing in products will be more akin to a factor of 7.2x.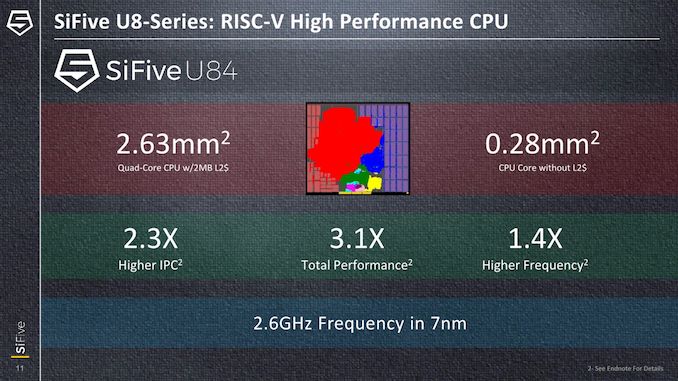 In terms of PPA, compared to a U7-series CPU, IPC increases come in at 2.3x resulting in 3.1x higher performance (ISO-process). A lot of the performance increases of the U8-series come thanks to the increased frequencies capabilities which are 1.4x higher this generation, with the core scaling up to 2.6GHz on 7nm.
On the same 7nm process, the U84 lands in at 0.28mm² per core and a cluster comprising four cores and a 2MB L2 cache measure in at 2.63mm². For comparison, a Arm Cortex-A55 as measured on the Kirin 980, also on 7nm, a core with its 128KB private L2 cache comes in at 0.36mm². Given that SiFive promises of similar performance to a Cortex-A72, which in turn would be more than double the performance of an A55, it looks like SiFive's U84 core would be extremely competitive in terms of its PPA.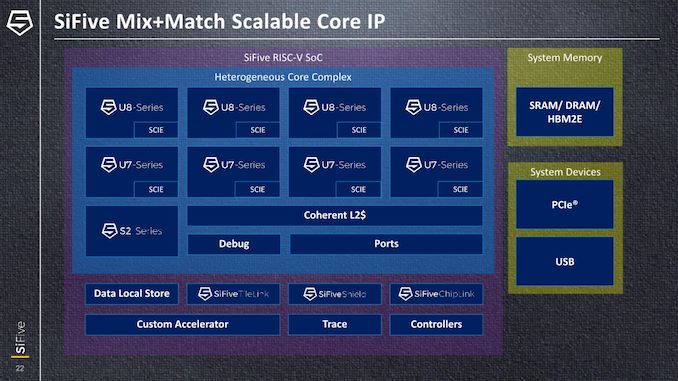 Finally, SiFive is able to configure of up to 9 CPU cores into a coherent cluster with a shared L2. The IP is also able to this in a heterogeneous way, similar to Arm's big.LITTLE approach, employing both U8 and U7 series and even S-Series CPUs into the same cluster.
Conclusion - A Big Step In a Long Journey
Overall, SiFive's new U8 core is I think a very important and major step for the company in terms of pushing its products and as well as pushing the RISC-V ecosystem forward. The key takeaway from the U8 is the massively improved performance of the core that now suddenly allows the company to seriously compete against some of Arm's low- and mid-range cores.
I'm not really expecting to see the core employed in products such as smartphones any time soon as frankly SiFive still has a very long road ahead in terms of improving absolute performance. That being said, in the IoT and embedded markets, I think we'll see faster and wider adoption of RISC-V cores, and SiFive is certain to see continued growth and interest for years to come. We're looking forward in observing this future develop.