AnandTech Storage Bench - Heavy
Our Heavy storage benchmark is proportionally more write-heavy than The Destroyer, but much shorter overall. The total writes in the Heavy test aren't enough to fill the drive, so performance never drops down to steady state. This test is far more representative of a power user's day to day usage, and is heavily influenced by the drive's peak performance. The Heavy workload test details can be found here. This test is run twice, once on a freshly erased drive and once after filling the drive with sequential writes.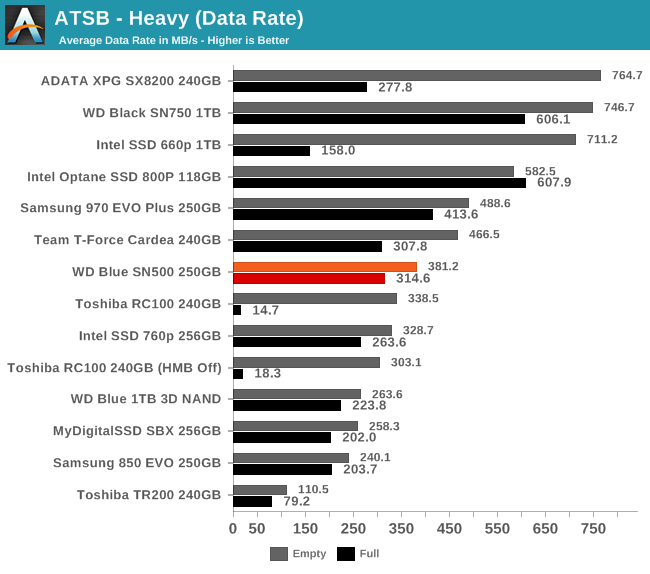 Since the Heavy test is shorter but in some ways more intense than The Destroyer, most of the drives with PCIe x4 interfaces are able to deliver better average data rates here than the WD Blue SN500. However, despite not being able to match the high-end drives for peak performance, the SN500 is more competitive when the test is run on a full drive.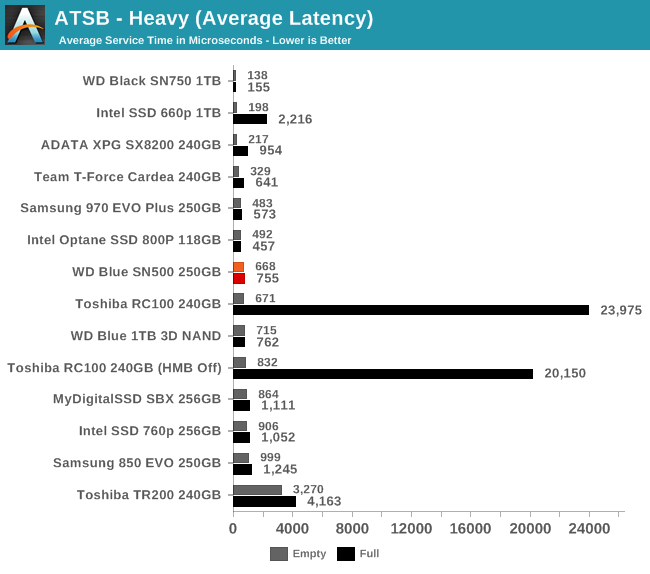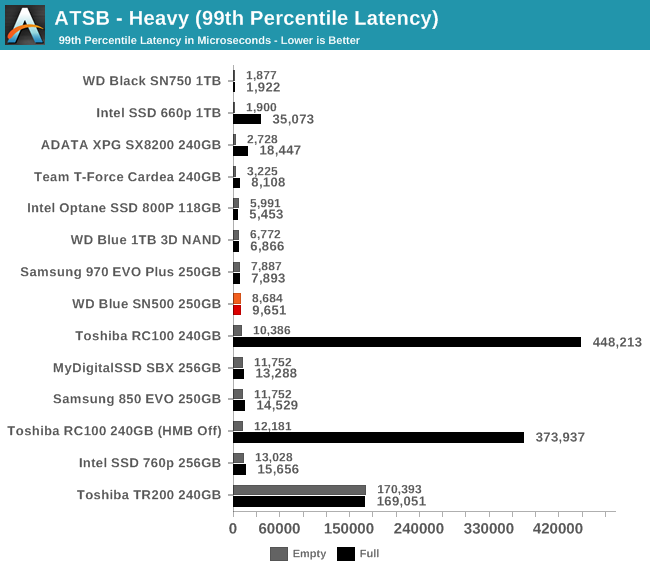 The average and 99th percentile latency scores for the WD Blue SN500 on the Heavy test are good but are still beat by the Samsung 970 EVO Plus and on the empty-drive test runs, by the ADATA SX8200. Without labels on these charts, it would be impossible to point out the SN500 as a DRAMless drive, but the Toshiba drives and the QLC drive are clear outliers.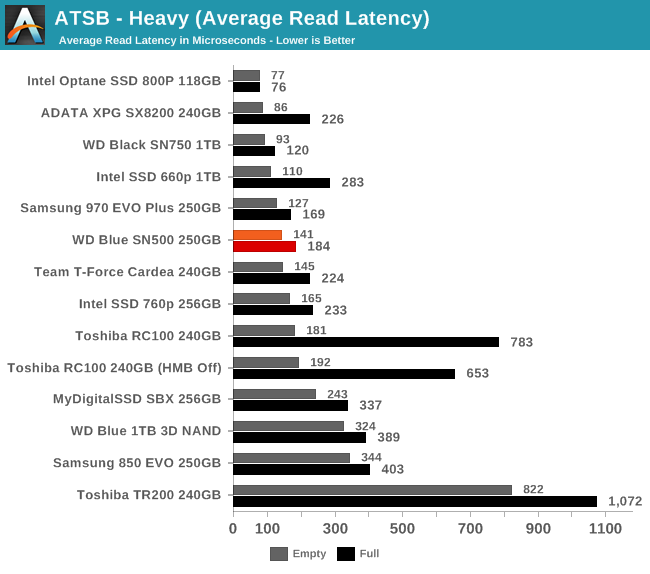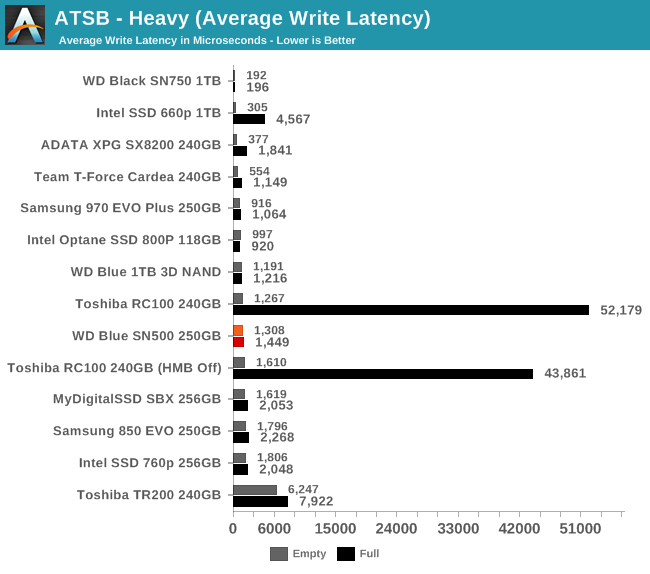 The average read and write latencies for the SN500 are competitive with other NVMe drives of similar capacity, and neither score is significantly degraded on the full-drive test runs.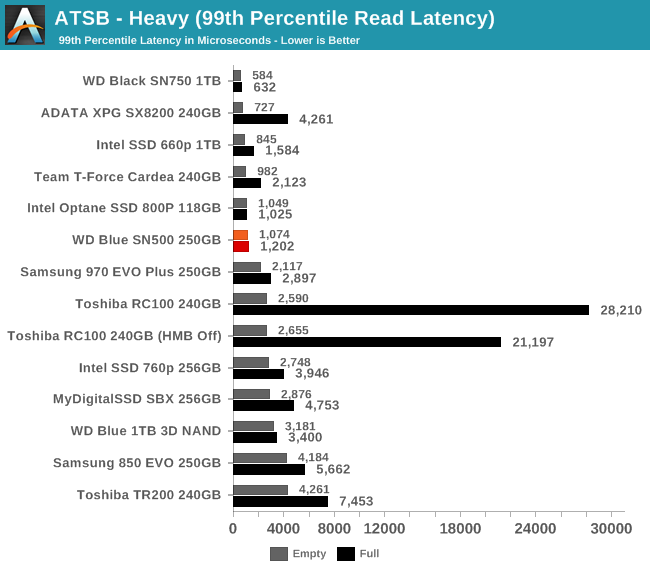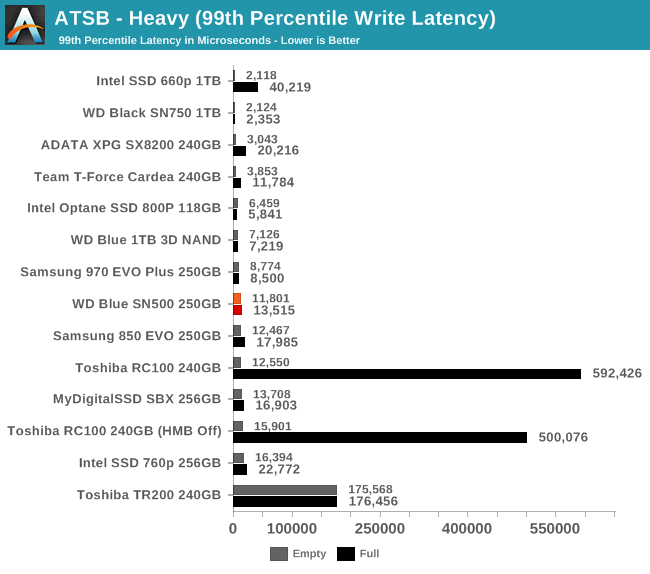 The 99th percentile read and write latencies are also quite good. For reads in particular, the WB Blue SN500 shows less impact from running the test on a full drive than all of its competitors.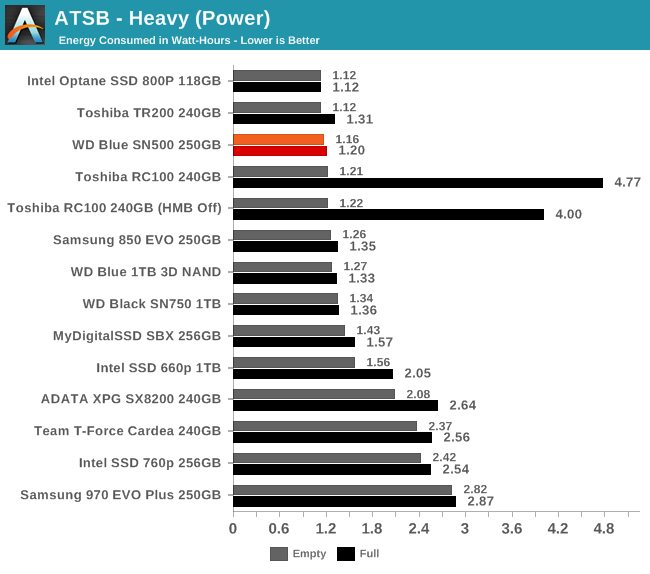 The WD Blue SN500 is not the only NVMe drive that can complete the Heavy test while using no more power than a decent SATA drive. However, it is more affordable than the most efficient high-end drives and doesn't suffer from the horrible worst-case scenario that ruined the Toshiba RC100's full-drive scores.