Board Features
While the X299 Gaming Pro Carbon is packed with many of the same features that we have seen on previous MSI models - like PCIe slot and memory slot reinforcement, M.2 Shield, Mystic Light RGB LED lighting - MSI has unveiled some new ideas like user-replaceable heatsink covers and mounting points for 3D printed accessories. MSI has also included two sets of gold and silver colored heatsink covers, so you can swap out the black faux carbon fiber inserts that are found on the rear I/O shroud, the MOSFET heatsink, the chipset heatsink, or the shroud covering the audio section.
MSI X299 Gaming Pro Carbon AC
Warranty Period
3 Years
Product Page
Link
Price
Amazon US
Size
ATX
CPU Interface
LGA2066
Chipset
Intel X299
Memory Slots (DDR4)
Eight DDR4
Supporting 128GB
Quad Channel
Up to 4266+ MHz
Network Connectivity
Intel I219-V
Onboard Audio
Realtek ALC1220
PCIe Slots for Graphics (from CPU)
4 x PCIe 3.0
- x16
- x16/x16
- x16/x16/x8
With 44-lane CPU.
- x16
- x16/x8
- x8/x8/x8
With 28-lane CPU.
- x8
- x8/x8
With 16-lane CPU.
PCIe Slots for Other (from PCH)
2 x PCIe 3.0 x1
1 x PCIe 3.0 x4
Onboard SATA
Eight, RAID 0/1/5/10
Onboard M.2
2 x PCIe 3.0 x4 NVMe or SATA, RAID 0/1
Onboard U.2
1 x PCIe 3.0 x4 NVMe
USB 3.1 Gen2
1 x Type-A
1 x Type-C
1 x Type-C Header
2 x ASMedia ASM3142 Controller
USB 3.0
3 x Rear Panel (ASMedia ASM1074)
1 x Rear Panel (Chipset)
4 x Via Headers (Chipset)
USB 2.0
3 x Rear Panel (Chipset)
4 x Via Headers (Chipset)
Power Connectors
1 x 24-pin ATX
1 x 8-pin CPU
1 x 4-pin CPU
Fan Headers
1 x CPU (4-pin)
1 x Water Pump (4-pin)
4 x CHA/SYS (4-pin)
IO Panel
Clear CMOS & BIOS FLASHBACK+ Buttons
1 x Combination PS/2
3 x USB 2.0 (Chipset)
2 x Wi-Fi Antenna Jacks (Intel)
4 x USB 3.0 (ASMedia)
1 x Network RJ-45 (Intel)
1 x USB 3.1 Gen2 Type-A (ASMedia)
1 x USB 3.1 Gen2 Type-C (ASMedia)
5 x Audio Jacks + 1 x S/PDIF
Other Features
TPM Module Connector
Clear CMOS Jumper
Slow Mode Jumper
GAME BOOST knob
Power/Reset Buttons
Multi-BIOS Switch
RGB LED Connector
Front Panel Header
Virtual RAID on CPU connector (VRAID1)
Front Audio Header
Since the X299 chipset is so similar to the Z270, it should come as no surprise that the LGA2066 platform doesn't offer anything drastically new on the connectivity front. Support for VROC is the only exception, though that requires a Skylake-X processor and a pricey hardware key from Intel if you want to unlock the more complex functionality. Frankly, given that the Realtek ALC1220 and Intel I219-V are known entities, what interests us the most is MSI's use of the ASMedia ASM3142 USB 3.1 Gen2 controller - two of them, in fact - for the rear I/O ports and the internal USB Type-C port header. Another interesting addition is the Intel Dual Band Wireless-AC 8265 module that occupies the onboard M.2 Key-E slot. This 802.11ac Wi-Fi/Bluetooth 4.2 module is not strictly new, but it has not found its way to any previous motherboard generation. However, since it's still just a basic dual-band 867Mbps solution it is hard to get excited when some competing X299 motherboards are offering cutting-edge 802.11ad (WiGig) wireless connectivity (albeit at a higher price point).
In The Box
When you open this motherboard's packaging, you are greeted by two separate sections. The top half holds the motherboard in an anti-static bag, while the bottom half contains the numerous bundled accessories, software DVD and documentation.
When you lay out the accessories, you get the following: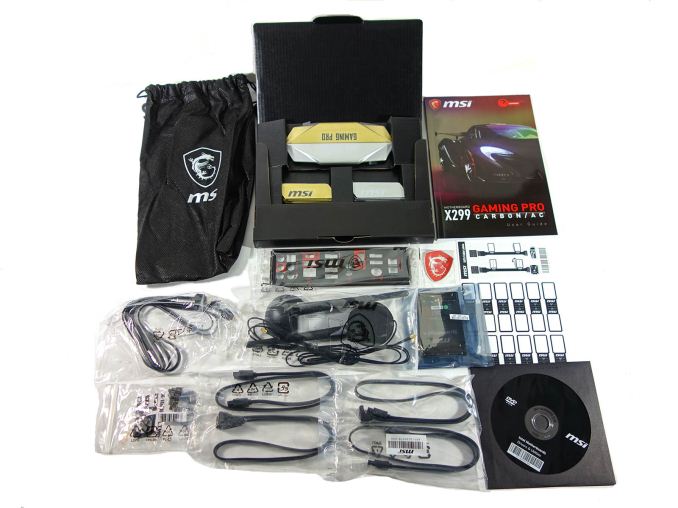 In no particular order, the bundled accessories consists of a manual, quick installation guide, SATA cable labels, software/driver DVD, MSI Gaming case badge, rear I/O cover, SLI HB bridge, four SATA cables, Two Wi-Fi antennas, RGB LED Y-splitter cable, two sets of heatsink replacement covers, and twelve 3D X-Mounting standoffs. Overall, it's a pretty decent assortment of accessories, though we would have liked another one or two sets of SATA cables.
Overclocking
Since this platform launch was more than a little rushed, at least with respect to last minute foibles, we didn't really had enough hands-on time to manually determine the overclocking limits of our 10-core Core i9-7900X processor. Having said that, this was the perfect opportunity to probe the automatic overclocking capabilities of this X299 Gaming Pro Carbon AC. With a total of 8 Game Boost levels available, in either the BIOS or the Command Center utility, it really was just a matter of selecting our desired frequency target and within seconds the overclock preset was applied.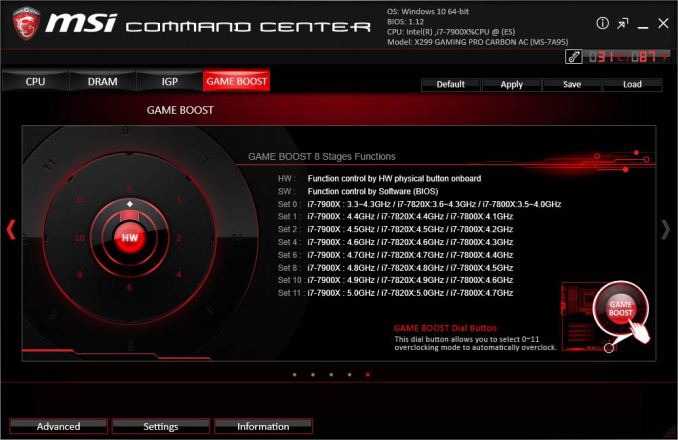 In our testing, Level 1 merely set the standard Turbo frequency - 4.3GHz- across all cores, while the aptly named Level 11 pushed the core frequency to a stratospheric 5.0Ghz at 1.425V. While we could load Windows at Level 11, stability was essentially nonexistent.
Dialing things back a little to Level 10 saw our processor running at 4.9GHz at 1.40V. While we could toil around Windows, and it would pass even pass some of our lighter benchmarks, loading up all the cores in any stress test instantly resulted in a system crash. This was clearly due to hitting thermal limits, since using either a Corsair Hydro H110i GT or an surprisingly capable Prolimatech Mega Shadow heatsink, we consistently saw temperatures climb into the dreaded mid-to-upper 90C range. We strongly suspect that every conventional heatsink or all-in-on liquid cooler will be overwhelmed by the amount of heat a i9-7900X can radiate at anything approaching 1.40Vcore. If you have an air conditioning unit nearby, we suggest that you crank that to Level 10.
Dialing things back even further, Level 8 set the frequency to 4.8GHz at 1.375V, which resulted in a small but appreciable decrease in heat output. We were able to run OCCT for a moment, but once again temperatures would skyrocket until the inevitable system crash. If we can manually get the Vcore down to the 1.30-1.25V, and massage the other system settings, we strongly suspect that 4.8GHz will be a realistic target our particular chip with the right cooling.
Ultimately, we settled on Level 2, which meant 4.5Ghz at 1.30V. At that level, we could run OCCT for as long as we were willing to ignore the still redlined CPU core temperatures. Obviously, we did not bother enabling the "AVX Capable Linpack" option since that would once again crash the system.
Overall, we can't fault the MSI X299 Gaming Pro Carbon AC for anything since the processor - or more accurately processor cooling - is the bottleneck at the moment. The Game Boost feature has a been a reliable overclocking tool for a few generations now, and that appears to also apply to this new platform.