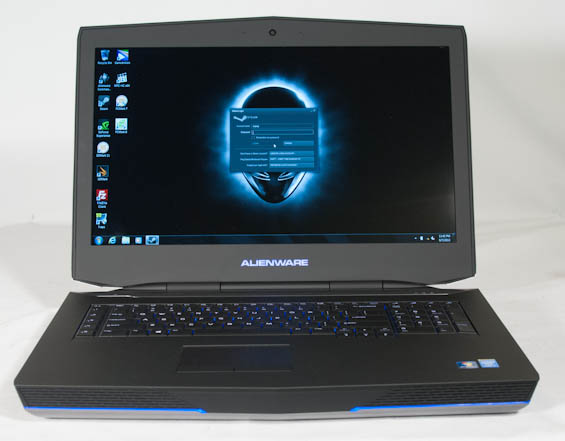 We recently had a chance to play with the Alienware 17, and while it's not the perfect 17" gaming notebook, I'm reasonably convinced it's still probably the best one available. Alienware has done a major refresh of their chassis design across their entire notebook line; the 17 may be a step up from the M17x R3 and R4, but those weren't the notebooks that really needed to be looked at again. The M18x, on the other hand, definitely needed some new shoes.
Coming clean, I was never really a fan of the M18x. Alienware smartly stripped multi-GPU out of their 17" line when they made the jump to the M17x R3 and made that the signature feature of their beef supreme M18x, but the aesthetic just didn't look right stretched to those proportions. A deluxe model with an 18.4" display was always going to be bulky; stretching a fairly attractive look to those outsized dimensions just wasn't the right call.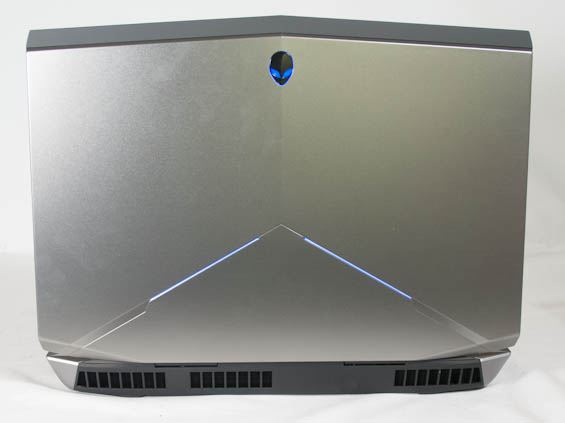 Of course, the other reason why I didn't like the M18x and M18x R2 that much was that at the time, they were just too much. When the GTX 580M was released, it was plenty for mobile gaming, as was the GTX 680M. What changed in the interim? PC games stopped being glorified console ports inhibited by the aging architecture of their launch platforms and started to truly move into the next generation. BioShock Infinite may still be based on Unreal Engine 3, but it leverages DirectX 11 in a major way, and Tomb Raider's TressFX absolutely tears down most high end hardware (though it looks pretty fantastic in the process). That's all ignoring the gorgeous but otherwise criminally underwhelming Crysis 3. Next generation games are arriving, and suddenly we're finding ourselves needing a bit more punch.
Alienware 18 Specifications
Processor
Intel Core i7-4900MQ
(4x2.8GHz + HTT, Turbo to 3.8GHz, 22nm, 8MB L3, 47W)
Chipset
Intel HM87
Memory
32GB (4x8GB) Hynix DDR3L-1600 (Max 4x8GB)
Graphics
2x NVIDIA GeForce GTX 780M 4GB GDDR5 in SLI
(1536 CUDA cores, 771MHz/823MHz/5GHz core/boost/memory clocks, 256-bit memory bus)

Intel HD 4600 Graphics
(20 EUs, up to 1.3GHz)
Display
18.4" LED Glossy IPS 16:9 1080p
SDC4C48
Hard Drive(s)
Samsung SM841 512GB mSATA 6Gbps SSD

Western Digital Scorpio Black 750GB 7200-RPM SATA 3Gbps HDD
Optical Drive
HL-DT-ST CA40N slot-loading BD-ROM/DVDRW
Networking
Broadcom BCM4352 802.11ac Wireless
Killer Networks e2200 Gigabit Ethernet
Bluetooth 4.0
Audio
Realtek ALC668 HD audio
Stereo speakers
Dual headphone jacks and mic jack
Battery
87Wh
Front Side
-
Right Side
SD card reader
Slot-loading optical drive
2x USB 3.0
Ethernet
Left Side
AC adapter
Kensington lock
HDMI in/out
Mini-DisplayPort
2x USB 3.0
Dual headphone jacks and mic jack
Back Side
-
Operating System
Windows 7 Ultimate SP1 64-bit
Dimensions
17.97" x 12.9" x 2.26"
456.5mm x 327.89mm x 57.5mm
Weight
12.1 lbs
5.5kg
Extras
Webcam
USB 3.0
Killer Networks wired networking
802.11ac wireless networking
Configurable backlit keyboard with nine user programmable keys
Warranty
1-year limited
Pricing
$2,099
As configured $3,849+
Incidentally, the model we have in for review can't actually be ordered from Alienware's site right now; the Alienware 18 tops out at dual NVIDIA GeForce GTX 770Ms. This isn't that surprising, as top end chips usually have teething and availability issues. The 780M is a massive jump over the 770M, although two 770Ms in SLI would likely still provide an excellent experience. But a single 780M has 60% more shader power and at least 33% more memory bandwidth than a single 770M, so we're talking about a pretty substantial jump in performance.
The Intel Core i7-4900MQ at the heart of our review unit is a first for Intel; typically x900-branded CPUs are branded Extreme Editions, but this is a garden variety chip with a 47W TDP to boot. The 2.8GHz nominal clock speed on Haswell architecture isn't too shabby, and it's able to turbo up to 3.8GHz on a single core, 3.7GHz on two cores, and a still healthy 3.6GHz on all four. As Jarred pointed out recently, that puts the i7-4900MQ pretty squarely in high end desktop CPU territory.
We also get 32GB of DDR3L-1600 in four 8GB DIMMs, necessitating Windows 7 Ultimate (or at least Professional) instead of Home Premium. I think it's very telling that these gaming notebooks Alienware is seeding to the press are loaded with Windows 7 and not Windows 8 despite the latter having been around for almost a full year now. Alienware continues to offer both operating systems and even "recommends" switching to 8, but it's hard not to see the default 7 as a vote of no confidence.
Impressively, our review unit also comes equipped with a 512GB mSATA SSD courtesy of Samsung, and that's almost enough capacity on its own outside of the substantial 750GB Western Digital Scorpio Black mechanical hard disk that accompanies it. Most gamers may not even have to worry at all about using the mechanical storage. And networking is, as with the Alienware 17, handled by a Broadcom 802.11ac wireless solution and gigabit ethernet courtesy of Killer Networks.
It's not all rosy, though. One of the big upgrades with the Alienware 17 and indeed the modern Alienware line en masse was supposed to be matte finishes on the displays, yet the IPS panel being used on the 18 has a glossy finish instead. I know someone at Alienware is going to throw his hands up and go "screw this, I can't win" after reading this review, but I'd honestly rather have had a matte TN panel than a glossy IPS, even though feedback at the launch of the new line is the reason why the 18 is even offered with an IPS panel in the first place.