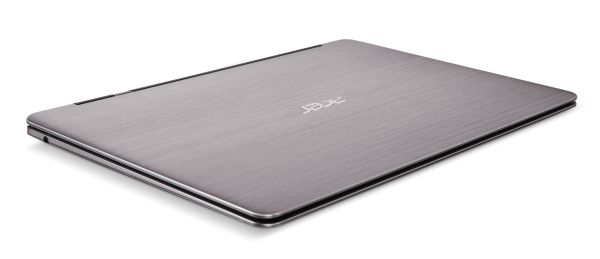 Acer hasn't had the best year, falling behind in global PC sales from its former perch at No. 2, just behind HP. Their announcement today that their first Ultrabook, the Aspire S3 would be available this week, and at a positively cut rate $899 is a strong move to build itself back up. You'll recall Ultrabooks are an Intel backed initiative to produce thin, lightweight laptops based around their CULV Sandy Bridge processors. By "Intel backed" this isn't just a name and a concept, Intel has committed $300M to help companies develop and market their variants. The power-sipping, modern processors are just one part of the concept; SSDs feature prominently in all models, as does a target price of $999, and a target battery life of 5 hours. Rapid sleep and wake times are also notable, though the speed of these seems very manufacturer dependent.
The 13.3" S3 delivers a 1366x768 resolution on its LED backlit display, in an aluminum/magnesium chassis just a tick over half an inch thick at its thinnest point, and weighing just under 3 lbs. These are all characteristics that we'll encounter repeatedly as other Ultrabook models become available. The thin frame finds room for two USB ports along with a full size HDMI port on its back side, while audio jacks and a card reader grace its sides. The full size chiclet keyboard and large multitouch trackpad are par for the course and the system is being offered in a metallic grey with a fingerprint resistant finish. Connectivity comes in the form of 802.11 a/b/g/n wireless along with Bluetooth 4.0+HS, and a 1.3MP webcam rounds out the exterior specs.
Inside the S3-951, you'll find the Core i5-2467 whose two cores can operate at 1.6GHz, or up to 2.3GHz on a single core, along with 4GB of RAM on the Intel UM67 chipset. Acer's Ultrabook will feature not just an SSD, 20GB in size, but also a 320GB HDD for expanded mobile storage. It's unclear whether the SSD will serve as a boot drive or exclusively to store sleep state. Note that the UM67 chipset does not support the Z68's Smart Response Technology that Anand discussed previously, but all ultrabooks sport enhanced wake from sleep times thanks to their SSD requirement and some chipset optimizations.
In the case of the S3, we're looking at a 2 second wake from sleep time (which really doesn't seem like that big a deal--resume from hibernation is what typically requires 30+ seconds). Another highlight is the 50 day stand by time. This is where the SSD's non-volatile memory really comes in handy. When left in sleep for longer than 8 hours, or a user definable time, the S3 will enter a Deep Sleep state that allows for this absurd stand by time. It can wake from Deep Sleep in just 6 seconds. Stand by times aren't the only area where the S3 should excel, the 3-cell 3280 mAh integrated battery is said to be good for 6 hours continuous usage. We can't wait to get our hands on one to test these battery life figures (though we'll likely pass on testing that stand by number).
All of this will be available this week for that tempting $899 MSRP, a welcome value when not that long ago thicker, heavier and less potent machines were competing in the same price range for the "thin and light" crown. This is only the start though, with many OEMs expected to announce their products in the coming days and weeks.
Source: Acer