Last time I looked at MSM8x60 it was at 1.5 GHz inside the Qualcomm Mobile Development Platform (MDP). We benchmarked it and found performance to be pretty compelling, with the caveat that this was a development board with none of the power management OEMs use in real products.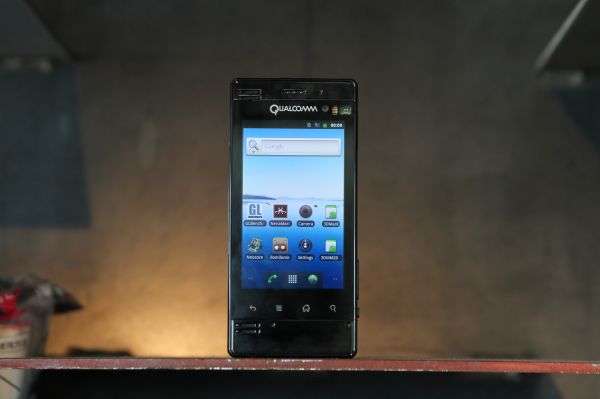 It seems like a long time since we touched that MDP, but this time we're looking at production hardware that's very close to launch (and the Sensation is already shipping in Europe), after OEM power optimizations and with a lower base clock of 1.2 GHz. Keep in mind that both devices are now running at qHD (960x540) as opposed to the WVGA (800x480) that the MDP and most other Android phones are running at. We still haven't found a way to do this very effectively in our graphs (it's coming soon), but as of right now, the HTC Sensation, HTC EVO 3D, and Atrix are the only qHD devices we've tested.
In my limited time available, I was only able to run Egypt and Pro from GLBenchmark 2.0 (latest build, 2.0.3.1) on both the Sensation and EVO 3D. The graphs are unfortunately again a bit deceptive since we're dealing with 1.35x as many pixels in qHD than we are with WVGA. If you factor in the 25% decrease in clock speed between 1.5 GHz from the MDP to 1.2 GHz in MSM8x60 shipping in devices now, and keep assume a linear scaling (which is honestly something we should never do, but here it gives a ballpark estimate), we get around 23 FPS expected performance on the Sensation/EVO 3D in Egypt. Compare that to the ~21 FPS we get in that test on those devices, and things look almost where they should be.
All things considered, performance doesn't seem to take that big of a hit going from MDP to real implementation, at least in the Egypt test. Again, we're going to explore this in more depth in the HTC Sensation review.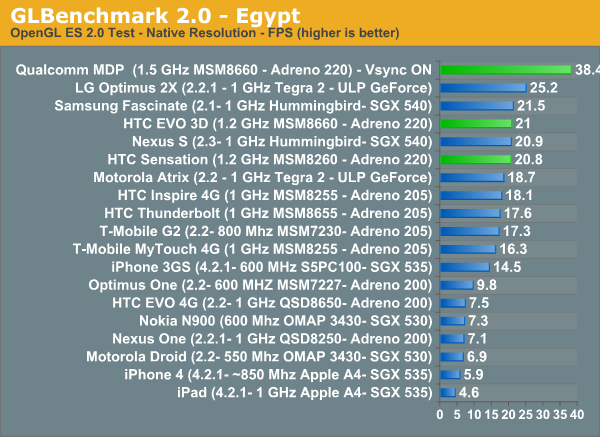 The Pro subtest is a bit more difficult to interpret since we're essentially back up against the framerate cap in this test. I didn't run the test to figure out what the Sensation and EVO 3D's respective caps are, but it should be in the neighborhood of 50-60 fps.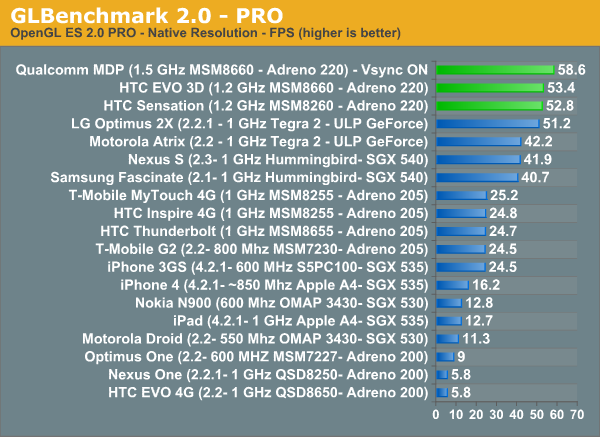 SunSpider and Browsermark are the odd tests here. Performance isn't at the top or even competitive with the other dual-core SoC on the charts, Tegra 2. Instead, the Sensation and EVO 3D scores hang back a little bit. It's entirely possible that at least in BrowserMark some of this is the difference in resolution, but SunSpider just shows some aberrant behavior. From what I've learned at Uplinq (and a story is coming on it soon as well) Qualcomm closely works with OEM partners and the V8 project to optimize V8, the JavaScript engine in Android's browser, for the Scorpion CPU architecture, so we should in theory see better performance.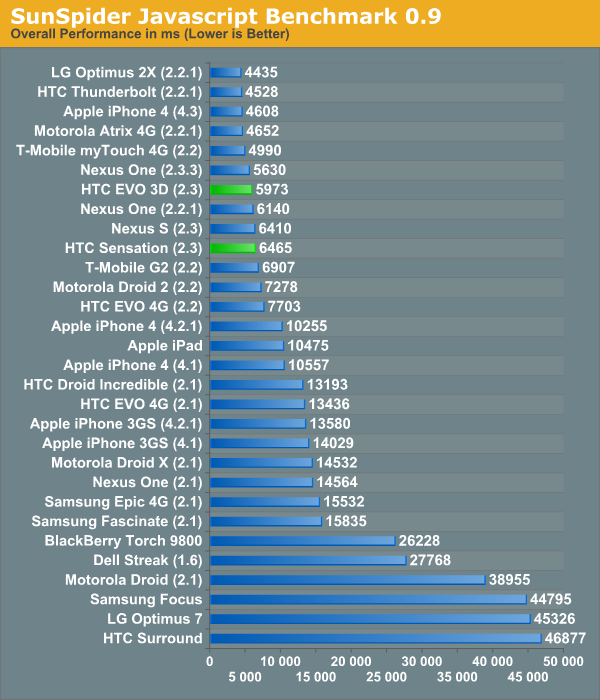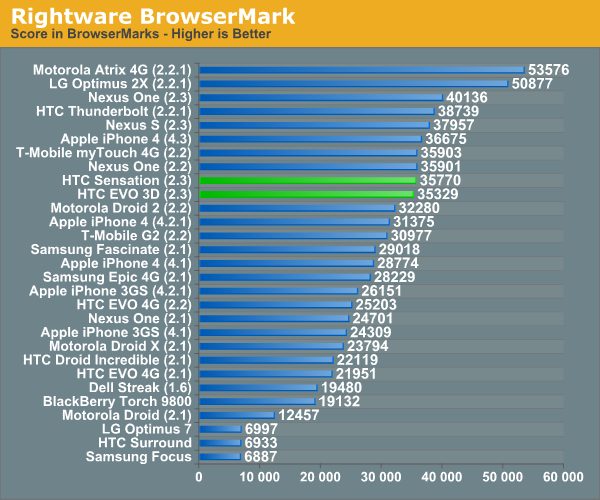 We still have a lot more testing to do when the Sensation hits our doorstep, and in spite of the curious browser benchmark performance numbers, the both MSM8x60 devices felt incredibly speedy in the hand.