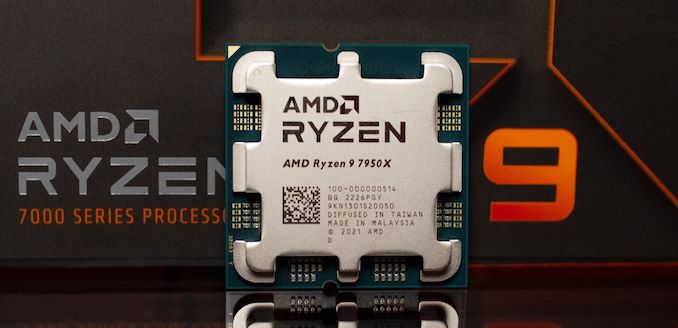 During AMD's 'together we advance_PCs' event at the end of August, the company unveiled its Ryzen 7000 series of desktop processors, with four SKUs aimed at the mid-range and high-end market segments. After whetting the audience's appetites with that announcement, tomorrow AMD will be officially releasing their long-awaited next-generation CPUs.
The launch of the Ryzen 7000 series brings a lot to digest, for casual fans and hardcore hardware enthusiasts alike. For their newest lineup of chips, AMD has given their desktop CPU platform a top-to-bottom update, not only releasing new CPUs, but releasing an entirely new platform, socket AM5 around it. As a result, for the first time in a few generations these chips are not drop-in compatible with existing AMD motherboards. But at the same time it has allowed AMD to deliver on a collection of platform improvements, ranging from DDR5 and PCIe 5.0 support to improved power management capabilities. AMD has even managed to sneak an entry-level Radeon RDNA2 architecture-based iGPU into the chip.
The Ryzen 9 7950X: 16 Cores, 32 Threads, New 170 W TDP: $699
We'll start, as always, with the CPUs themselves. AMD's flagship for this generation is the Ryzen 9 7950X, a 16 Zen 4 core CPU that AMD is looking to top the charts with for both single-threaded and multi-threaded workloads. The Ryzen 9 7950X has a base frequency of 4.5 GHz and a peak turbo clockspeed of 5.7 GHz, which makes it the highest clocked desktop x86 CPU to hit the market yet.
But don't think AMD's Zen 4 architecture is just about clockspeeds. AMD has also improved the IPC of their CPU architecture by an average of 13% – primarily relying on the addition of AVX-512 instruction support and comfortably larger caches and buffers throughout the CPU – which means that the Ryzen 7000 chips can deliver some significant performance improvements in a variety of single-threaded workloads.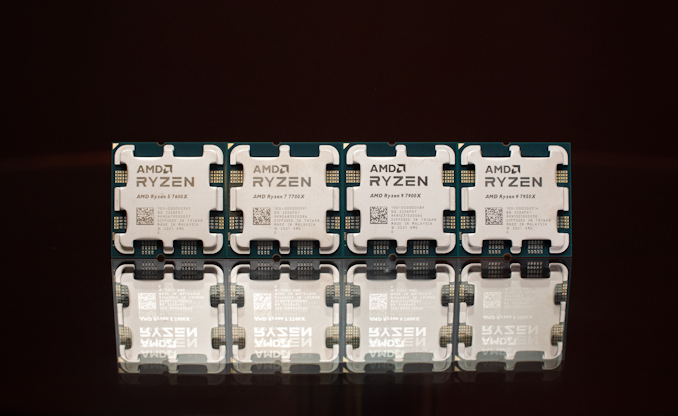 As for multi-threaded workloads, AMD has been able to improve performance there as well, albeit with a reliance on both architecture improvements and higher TDPs to allow for higher sustained clockspeeds. One of the enabling factors here is that the AM5 platform allows for higher chip TDPs – up to 170W in the case of the 7950X – which is some 65W higher than the max TDPs on AMD's fastest 16 core Ryzen 5000 parts. As a result AMD is in a good position to deliver on the "leadership" class performance that the company is after, but not entirely for free.
The Ryzen 9 7900X, Ryzen 7 7700X, and Ryzen 5 7600X
Moving one down the stack is the Ryzen 9 7900X, which is a 12C/24T and 170W TDP part; it has a higher base frequency than the 7950X of 4.7 GHz, but with a slightly lower boost frequency of up to 5.6 GHz.
Below that, AMD has launched one Ryzen 7 part designed for mid-range desktop computing, the Ryzen 7 7700X. This is an 8C/16T SKU, with a boost frequency on a single core of up to 5.4 GHz, and a base frequency of 4.5 GHz. Notably, unlike the Ryzen 9 parts, this part has a more typical-for-AMD TDP of 105W.
Finally, also aimed at the mid-range market and the cheapest member of AMD's new product stack, we have the Ryzen 5 7600X. Offering 6C/12T with a TDP of 105W, the 7600X is Zen 4 at a more reasonable price point. The chip runs at a base frequency of 4.7 GHz, with a modest (compared to Ryzen 9) boost frequency on a single core of 5.3 GHz.
AMD Ryzen 7000 versus Ryzen 5000
AnandTech
Cores
Threads
Base
Freq
Turbo
Freq
Memory
Support
L3
Cache
TDP
MSRP
Ryzen 9 7950X
16C / 32T
4.5GHz
5.7GHz
DDR5-5200
64 MB
170 W
$699
Ryzen 9 5950X
16C / 32T
3.4 GHz
4.9 GHz
DDR4-3200
64 MB
105 W
$799
Ryzen 9 7900X
12C / 24T
4.7GHz
5.6GHz

DDR5-5200

64 MB
170 W
$549
Ryzen 9 5900X
12C / 24T
3.7 GHz
4.8 GHz

DDR4-3200

64 MB
105 W
$549
Ryzen 7 7700X
8C / 16T
4.5GHz
5.4GHz

DDR5-5200

32 MB
105 W
$399
Ryzen 7 5800X
8C / 16T
3.8 GHz
4.7 GHz

DDR4-3200

32 MB
105 W
$449
Ryzen 5 7600X
6C / 12T
4.7GHz
5.3GHz

DDR5-5200

32 MB
105 W
$299
Ryzen 5 5600X
6C / 12T
3.7 GHz
4.6 GHz

DDR4-3200

32 MB
65 W
$299
Comparing apples to apples, so to speak, between the new Ryzen 7000 series parts to the previous-generation Ryzen 5000 series parts, Ryzen 7000 has made some big overall improvements to the chips' capabilities. All of the Ryzen 7000 chips offer significant increases in both base and boost frequencies, which bodes well for overall performance. The worst we can say is that AMD hasn't increased their core counts at any price point/market segment, so all of the performance gains we'll see here today are entirely from architecture and clockspeeds, rather than the more immediate MT gains of throwing more silicon at the matter.
AMD's performance gains have been made possible in part through the Zen 4 architecture's superior power efficiency. While the Zen 4 architecture is modest refinement of Zen 3, delivering a 13% IPC improvement, it also gets the big advantage of being produced on TSMC's 5 nm process node, a full node's shrink from the TSMC 7nm process that was used for Ryzen 5000/3000. This efficiency has allowed AMD to boost clockspeeds without breaking the power bank, with the 105W TDP 7700X seeing a 700MHz improvement for no change in TDP. And multi-threaded performance is not left out in the cold, either; by increasing their top TDP to 170W, AMD is able to keep the CPU cores on their 12C and 16C parts at higher sustained turbo clocks, delivering much better performance there as well.
Of course one of the key arguments here is that more power calls for more cooling, which is very much true for the Ryzen 7000 series. Ryzen 7000's TjMax for its Precision Boost Overdrive technology stands at 95°C, which means that the CPU will use all of the available thermal headroom right up to that point in order to maximize performance.
Although this can be overridden when manually overclocking, none the less the top-end Ryzen 7000 chips call for better cooling than their Ryzen 5000 counterparts. Users will need to employ more premium and aggressive coolers to squeeze every last drop of performance from Zen 4, as most of us are wont to do. AMD for their part has accounted for all of this with their design choices and product marketing, clearly advising Ryzen 9 79x0 owners to use a liquid cooler with these chips. Still, this does mean that AMD is not bundling their own CPU coolers with their retail SKUs, instead directing buyers to fairly powerful third-party coolers.
New AM5 Socket: AM4 Coolers will Support AM5 Too
AMD has also transitioned to a new platform for Ryzen 7000, named AM5. Along with AM5 also comes a new socket, the titular socket AM5, a LGA-1718 socket that is AMD's first use of the LGA form factor for mainstream desktop CPUs. Now what's interesting is AMD has specified that most AM4 coolers will support the new AM5 socket, which is great for keeping compatibility with existing coolers.
This also means that AM4 is slowly on its way to becoming a thing of the past. While AMD is still (many) months away from replacing their complete Ryzen 4000/5000 stack with Ryzen 7000 parts, today is the first day and the first step to doing so. None the less, AM4 does offer some incredible deals right now (e.g. 5800X3D), as well as support for cheaper DDR4 memory. This sits in contrast to the AM5 platform, which is entirely DDR5-only. Though when it comes to memory AMD does have a small advantage over Intel; whereas Intel's 12th Gen Core chips only support a maximum (JEDEC) speed of DDR5-4800, the Ryzen 7000 chips are officially rated for DDR5-5200.

To go with the new AM5 platform and provide motherboards for their new CPUs, AMD has unveiled four(ish) new chipsets. These are the B650 and X670, as well as their "Extreme" variations, the B650E and X670E. The top-end X670E series will feature both PCIe 5.0 lanes to the top PEG slot and support for PCIe 5.0 NVMe storage devices. The regular X670 chipset, on the other hand, foregoes the mandatory PCIe 5.0 speeds for the PEG slot in favor of easier-to-implement PCIe 4.0. In either case, both versions of X670 are intended to offer a plethora of I/O options, and in keeping with the general tiered structure of AMD's AM5 chipsets, X670 boards will generally offer better designs, better controllers, and better specifications.
The B650 chipsets, meanwhile, are designed to be more affordable, doing away with some of the I/O lanes and overall I/O flexibility the X670 chipsets enjoy. Like the Extreme X670, the B650E is intended for boards that will offer PCIe 5.0 to the PEG slot and NVMe storage. Otherwise, the lowest-tier B650 chipset dials that back to PCIe 4.0 for the PEG slot as well.
For this week's launch, only the X670/X670E boards will be available. Buyers looking for the cheaper B650/B650E boards will need to hold out until October.
New I/O Die: TSMC 6nm For Ryzen 7000
Last, as has been the case for the last couple of Ryzen desktop generations, for the Ryzen 7000 series AMD is constructing their CPUs out of chiplets. All Ryzen 7000 desktop chips are built from an I/O Die (IOD) as well as either one or two core complex dies (CCDs) depending on the SKU. The IOD hosts all of the PCIe 5.0 lanes, the DDR5 integrated memory controller (IMC), and new for Ryzen 7000, an integrated GPU based on AMD's Radeon RDNA2 GPU architecture. All things considered, the IOD used for the Ryzen 7000 is a pretty significant overhaul compared to AMD's previous IOD, with AMD implementing several new performance and power-saving features, as well as further cutting down on power consumption thanks to TSMC's 6nm process.
It's time to dive deep into all of AMD's new improvements and changes for its Zen 4 microarchitecture. Over the following pages we'll, be going over the following:
Ryzen 7000 Overview: Comparing Ryzen 7000 to Ryzen 5000 specifications
Socket AM5: The New Platform For Consumer AMD
More I/O For AM5: PCIe 5, Additional PCIe Lanes, & More Displays
AM5 Chipsets: X670 and B650, Built by ASMedia
DDR5 & AMD EXPO Memory: Memory Overclocking, AMD's Way
Ryzen 7000 I/O Die: TSMC & Integrated Graphics at Last
Zen 4 Architecture: Power Efficiency, Performance, & New Instructions
Zen 4 Execution Pipeline: Familiar Pipes With More Caching
Test Bed and Setup
Core-to-Core Latency
SPEC2017 Single-Threaded Results
SPEC2017 Multi-Threaded Results
CPU Benchmark Performance: Power, Web, & Science
CPU Benchmark Performance: Simulation and Encoding
CPU Benchmark Performance: Rendering
CPU Benchmark Performance: Legacy Tests
Gaming Performance: 720p and Lower
Gaming Performance: 1080p
Gaming Performance: 4K
Conclusion