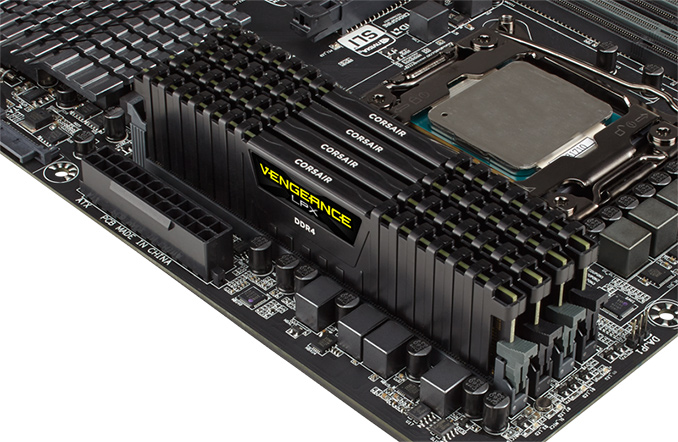 Today we're launching a new feature on the AnandTech Pipeline: Price Check. Here we'll periodically examine hardware prices and analyze what's behind recent price changes.
Just a year ago DDR4 dynamic random access memory (DRAM) was rather expensive and was sold at a noticeable premium compared to DDR3. Today, DDR4 memory modules cost less than DDR3 modules cost a year ago and continue to get more affordable. Next year prices of DDR4 are expected to decline further as manufacturers of DRAM are gradually increasing production of memory in general and DDR4 in particular.
DDR4 Gets Cheaper as Price Premium Over DDR3 Erodes
The average spot price of one 4Gb DDR4 memory chip rated to run at 2133MHz was $2.221 at press time, according to DRAMeXchange, one of the world's top DRAM and NAND market trackers based in Taipei, Taiwan. Spot price of a similar memory integrated circuit (IC) was $2.719 in late September and $3.618 in late June, 2015. As it turns out, the price of a single 4Gb DDR4 DRAM IC dropped 38.62% in about half of a year.
Spot prices of DDR3 memory are also declining. One 4Gb DDR3 chip rated to operate at 1600MHz cost $1.878 in Taiwan at press time. A similar chip was priced at $2.658 in late June, which means that the spot price of a 4Gb DDR3 IC dropped 29.4% in less than six months.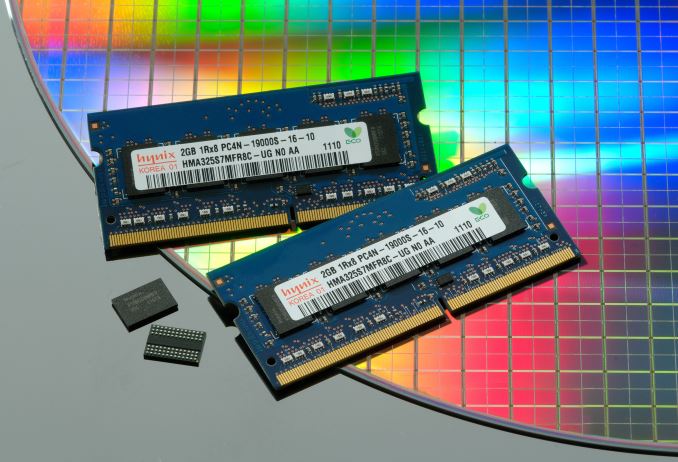 The difference between a 4Gb DDR3 memory chip and a 4Gb DDR4 DRAM IC used to be approximately 26.5% in June. Today, a 4Gb DDR4 chip costs about 18.5% more than a 4Gb DDR3 memory IC.
Spot prices of DRAM chips directly affect prices of actual memory modules. At present one 4GB DDR4 SO-DIMM costs $18 in Taiwan, according to DRAMeXchange. A DDR3 4GB SO-DIMM is priced at $16.75. For many PC configurations, price difference between DDR3 and DDR4 memory modules is already negligible. Next year it will erode further and the new type of memory will replace DDR3 as the mainstream DRAM for personal computers and servers.
Retail Prices of DDR4 Modules Drop by Over 50% This Year
While spot and contract prices give a good idea about ongoing trends and help to understand the market in general, they do not reveal the retail situation, something that is important for the end user. As it appears, some DDR4 memory kits became over 50% cheaper this year.
Kingston's HyperX Fury Black 16GB kit (2*8GB) rated to operate at 2133MHz with CL14 latency used to cost $229.20 in March at Amazon.com, according to CamelCamelCamel. Today, the dual-channel kit costs $108.99. Kingston's HyperX memory modules are relatively affordable solutions for PC enthusiasts, which are used by system integrators too.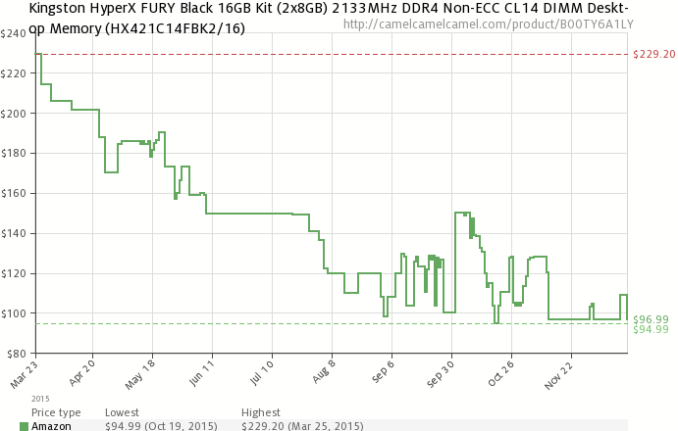 G.Skill's latest Ripjaws V family of memory modules started to show up in retail only in October or November, but they have already got more affordable. Based on checks from CamelCamelCamel, the G.Skill Ripjaws V DDR4 16GB dual-channel kit rated to operate at 3200MHz used to cost $176.64 in early November, but the product is available today for $136.59.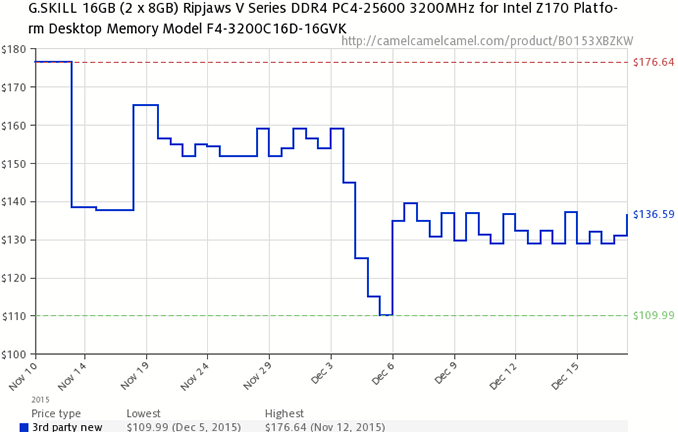 Memory modules for high-end desktop systems tend to get cheaper faster and more significantly than solutions for mainstream PCs. Corsair's Dominator Platinum 64GB DDR4 quad-channel kit capable of operating at 2666MHz with CL15 latency used to cost up to $1759.99 at Amazon.com early in 2015. By the middle of the year the price of the kit declined to around $1000 and currently the set of four premium 16GB DDR4 memory modules is available for $679.99.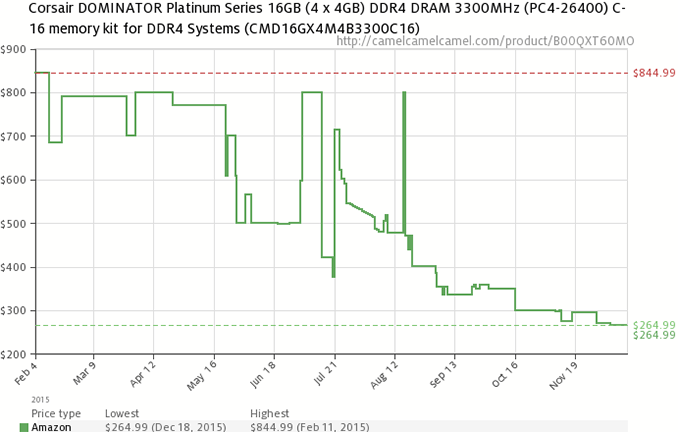 Since the Dominator Platinum series is designed for ultra-high-end systems, it is not surprising that they are generally overpriced. Nonetheless, even such DDR4 memory solutions get more affordable these days.
Supply Exceeds Demand
There are two key reasons why computer memory is getting more affordable. Firstly, demand for DRAM is not high these days. Secondly, makers of memory chips are transiting to thinner process technologies, effectively increasing their output. Since supply exceeds demand, prices are getting lower.
Sales of personal computers as well as tablets dropped this year, which decreased demand for DRAM by the industry. According to International Data Corp. (IDC), shipments of PCs in the third quarter of 2015 totaled 71 million units, a 10.8% decline from the same period a year ago, but a 7.4% increase from the second quarter of 2015. Sales of tablets in Q3 2015 reached 48.7 million units, which is 12.6% less than in Q3 2014, but 8.94% more than in Q2 2015. By contrast, the industry shipped 355.2 million smartphones in the third quarter, up 6.8% year-over-year and 5.3% sequentially.
The vast majority of personal computers and many tablets use commodity DDR3 or DDR4 memory, whereas contemporary smartphones use LPDDR3 or LPDDR4 memory. Typically, when demand for PCs and commodity DRAM drops, memory makers start to increase output of more expensive server DRAM as well as LPDDR memory to offset revenue declines. According to DRAMeXchange, 40% of global DRAM bit output was LPDDR in Q3 2015.
Modest growth of smartphone sales amid declines of PCs and tablets in the third quarter barely helped DRAM makers to maintain their revenue at approximately the same level as in the second quarter. Global DRAM revenue in Q3 2015 totaled $11.298 billion, down 1.2% from Q2 2015, DRAMeXchange found.
DRAM Prices to Keep Declining
While there are only three major makers of DRAM left on the planet, they continue to fight for market share and profits. In a bid to cut-down costs, manufacturers of memory have to adopt thinner process technologies, which decreases sizes of memory cells and thus increases bit output per wafer. As a result, global supply of DRAM upsurges and affects prices.
This year Samsung Electronics continued its transition to 20nm DRAM manufacturing technology, whereas its rivals — Micron Technology and SK Hynix — only started to use their 20nm and 21nm fabrication processes. The thinner production technology helped Samsung to increase its profit margins and market share. The company controlled 46.7% of the DRAM market in Q3 2015, up from 45.1% in the second quarter. SK Hynix and Micron commanded 28% and 19.2% of the memory market, respectively, according to the market tracker.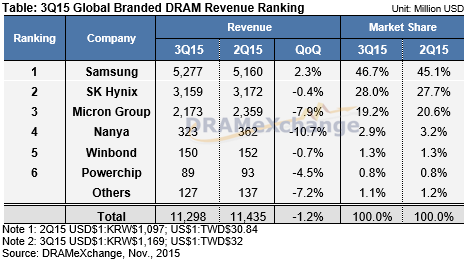 Analysts from DRAMeXchange believe that transition to 20nm/21nm manufacturing technologies, slow economy and weak demand for electronics will negatively affect prices of DRAM going forward as supply will exceed demand. To stay profitable, DRAM makers will have to migrate to thinner fabrication processes faster and balance their product mixes.
"Looking ahead to next year's DRAM market, the annual demand and supply bit growth rates are projected around 23% and 25% respectively," said to Avril Wu, research director of DRAMeXchange. "Supply will still outpace demand by bit and average sales prices will continue to drop. Whether suppliers can turn a profit will mainly depend on their progression in technology migration and product-mix strategies."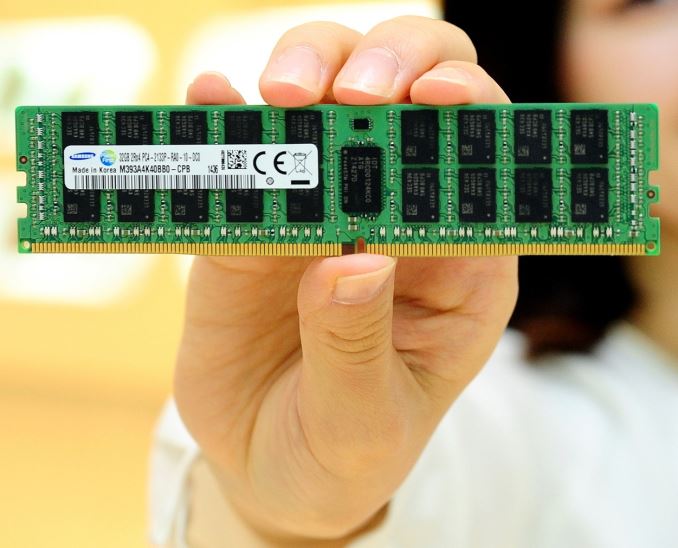 One good news for DRAM makers is that 20nm and 21nm process technologies help to reduce costs of DDR4 ICs in general and 8Gb DDR4 memory chips in particular. Such DRAM ICs are required to build high-capacity — 32GB, 64GB, 128GB — memory modules. Such products are sold at a considerable premium to server makers, which helps to bolster revenue and profits of memory producers.