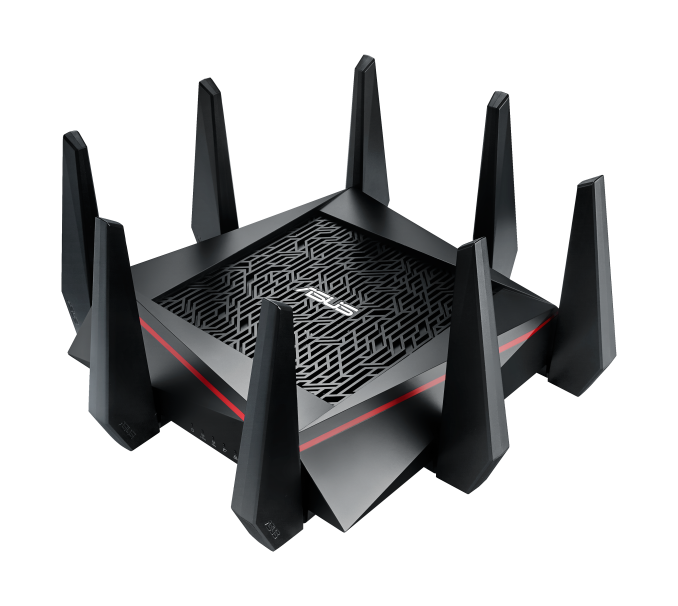 Asus announced the RT-AC5300U 802.11ac router using Broadcom's tri-band Wi-Fi chipset at IFA 2015 today. This is meant to be a flagship router with AC5300 speeds (1000 Mbps on the 2.4 GHz band and 2167 Mbps on each of the 5 GHz bands for a total of 5333 Mbps theoretical bandwidth). The router uses Broadcom's latest Wi-Fi chipset along with the XStream platform concept.
As a recap, Broadcom's XStream involves combining two discrete 802.11ac radios in a single board, thereby allowing for two different channels to be simultaneously active in the 5 GHz band. Essentially, this concept combines two Wi-Fi routers in one. Initially introduced in a six stream configuration using Broadcom's second generation 802.11ac chipset, it was even demonstrated by Asus at Computex 2014. At CES earlier this year, Broadcom updated their 802.11ac portfolio with some new products sporting Wave 2 features. D-Link also simultaneously announced their ULTRA series using Broadcom's chipsets. The DIR-895L AC5300 was the flagship that combined the Broadcom 4x4 MU-MIMO solution with the XStream concept. The Asus RT-AC5300U being announced today uses the same platform (BCM4709, a 1 GHz dual-core Cortex-A9 based processor combined with three BCM4366 radios) and has similar features.
Broadcom's proprietary NitroQAM / TurboQAM technology helps in low-latency and high bandwidth requirement scenarios (as long as the client side also has Broadcom silicon). The router sports eight external dual-band detachable antennae. Internally, there iis 128 MB of flash and 256 MB of DDR3 RAM. The other features are standard - 1x WAN and 4x LAN Gigabit ports, 1x USB 3.0 and 1x USB 2.0 port.
The router will be available for purchase sometime in Q4 2015. There is no information on the pricing yet.