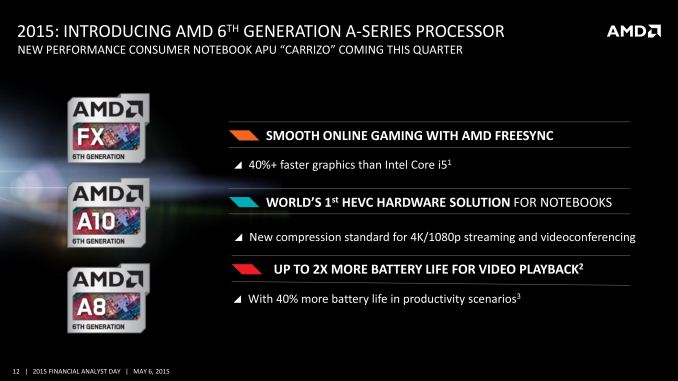 Along with AMD's roadmap announcements today at financial analyst day, AMD has also offered a brief update on the state of Carrizo, the company's forthcoming next-generation mobile APU. Due for launch this year, AMD has just confirmed that Carrizo is ramping well and will be launching this quarter, though SKU details are not being provided at this time.
Meanwhile, AMD is also using the opportunity to announce their intended branding for Carrizo notebooks. These products will now be known as the 6th generation A-series, and will be featuring revised AMD badges to indicate this. AMD will be retaining the current FX/A10/A8 branding, with the only real change being the inclusion of the "6th generation" branding on the badges.
Badging aside, AMD still will have to face the fact that they're launching a 28nm notebook APU versus Intel's 14nm notebook CPUs, the company is once again banking on their strong GPU performance to help drive sales. Coupled with the combination of low power optimizations in Carrizo and full fixed-function hardware decoding of HEVC, and AMD will be relying on Carrizo to carry them through to 2016 and Zen.
Finally, though it will come a bit later in the year, AMD's FAD update has also briefly mentioned their plans for their AMD Pro lineup and how Carrizo will impact it. In short, AMD will be leaning on a combination of Carrizo's power gains, and their own security technology as found in the Pro APUs.