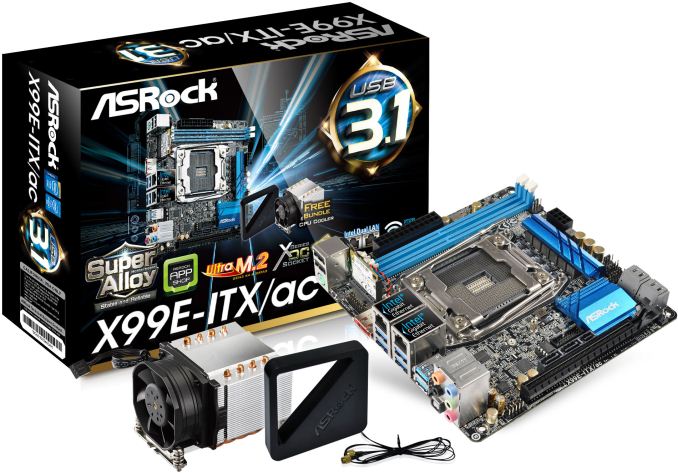 I always love to see interesting deviations to the norm when it comes to motherboards, and something such as a mini-ITX based extreme system has been at the top of my list for many years. We never saw a mini-ITX X79 system (the nearest was an extended mini-ITX from Shuttle) but now ASRock has gone head first into the X99 plus mini-ITX arena, showing their first model at CeBIT later this month.
The reason for mini-ITX on the extreme platform is usually for density, though there are a couple of compromises that have to be made. The socket is large, and supporting quad channel memory can be a challenge with SATA ports and 40 PCIe lanes in tow. As a result, ASRock's X99E-ITX/ac only uses dual channel memory, and we get a single PCIe 3.0 x16 slot for add-in cards.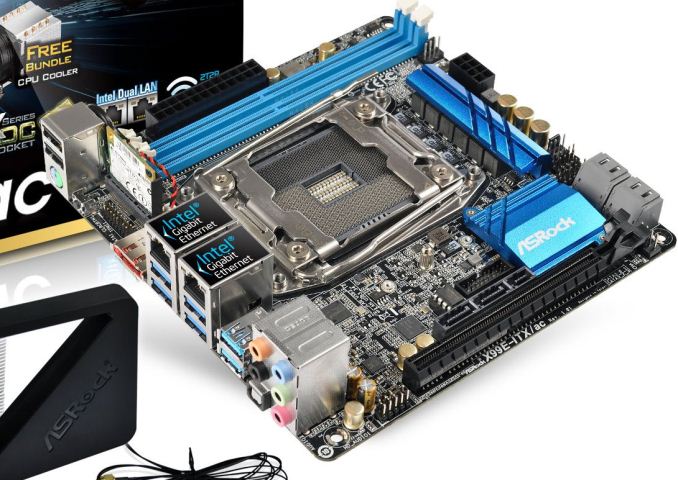 There is bundled dual-stream 802.11ac wifi, along with dual Intel network controllers and SATA Express. USB 3.1 is also supported through two Type-A ports, presumably using the ASMedia controller we previously tested on other motherboards. The box also mentions Ultra M.2, which means PCIe 3.0 x4 lanes for an M.2 slot and looking at the board it seems to be located between the socket and the SATA Express ports. With all those PCIe lanes to spare, it makes sense to use them in this fashion.
In order to save space, ASRock has used the narrow version of the LGA2011-3 socket (many thanks to liu_d for the spot), which we saw in the our MD60-SC0 review. This narrow socket is incompatible with regular LGA2011-3 coolers, and the number of narrow-ILM CPU coolers on the market is usually limited to servers or OEMs. It would also seem that ASRock is bundling a CPU cooler with the board in order to ensure this is not an issue for the user – this looks like a 2U server cooler, but should be sufficient for 140W CPUs as long as no serious overclocking takes place. These coolers can be loud, but ASRock's software package comes with fan controller tools both in the BIOS and in software.
Pricing and release dates are not yet announced, but we will get one in for review as soon as we can. The dual channel memory restriction hopefully does not become too severe for performance, but we will run a full range of real world tests to confirm this.
Source: ASRock