As part of AMD's broader restructuring efforts, back in June the company announced a business reorganization that would see the company organized into two major groups, the Computing and Graphics Business Group, and the Enterprise, Embedded and Semi-Custom Business Group. Furthermore at the time AMD promoted Dr. Lisa Su to the position of Chief Operating Officer (COO), a position that previously had been unfilled at AMD for some time.
Now 4 months later it turns out that Lisa's time as COO will be a short one. Today AMD has announced that effective immediately, current CEO Rory Read will be stepping down. In his place Lisa is being promoted to President and CEO of the company, making her the 5th CEO in the company's history.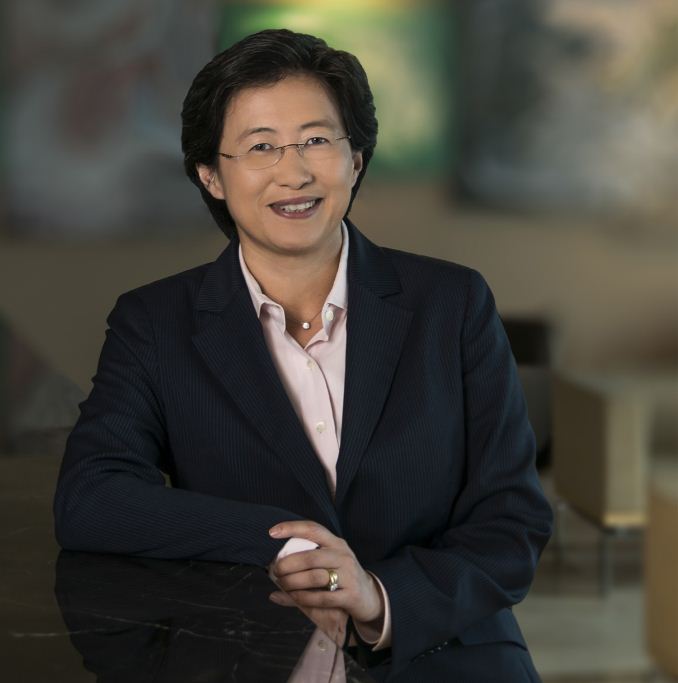 With Lisa's previous promotion to COO, she had essentially already been promoted to AMD's second-in-command under Rory, so this is a straightforward promotion over at AMD. More significantly, given the resurrection of the COO post there has been good reason to suspect that Lisa was bound for a promotion to CEO sooner than later. And now that AMD has finally promoted Lisa to CEO, they are confirming that the above was exactly the plan, and that Rory has been preparing her for the CEO role for some time.
For his part, the retirement of Rory signifies that AMD's transition is nearly complete and that his role is coming to an end. Rory was brought on in 2011 to restructure and stabilize the company after its struggles late in the last decade and at the start of this one, with an emphasis on diversifying the company beyond its traditional (and troubled) x86 and graphics products. While AMD remains significantly vested in those products, they now have a sizable business presence in other fields/technologies such as ARM processors and semi-custom IP designs, which as part of AMD and Rory's plans ensure the company isn't overexposed to any single business. And on the financial side AMD is unfortunately still operating at a loss, but if all goes according to plan that should be coming to an end this year.
Though AMD has never called Rory a transitional CEO, his actions overhauling AMD over the last 3 years and now stepping down as CEO after the fact serve to cement the fact that Rory was brought on board to execute the necessary restructuring rather than to lead the company in the long term. AMD is still in the process of developing some of the silicon that will be the basis of these business plans – including the x86 and ARM versions of the K12 processor – so it will be a bit longer yet until the company can fully execute on their ambidextrous plans, but on the business and development side they have completed the necessary changes to allow that. With those changes behind them AMD is now ready to move out of their transitional phase and in to their new position as a diversified IP designer, which is what has led to Rory's retirement and Lisa's promotion.
Internally for AMD and its product lineups, Lisa's promotion should not result in significant changes. She has already been overseeing much of AMD throughout her career there – first as SVP of Global Business Units and then as COO – meaning that although the CEO is changing, the person overseeing much of AMD's product lineup is not. Working alongside AMD's CTO, Mark Papermaster, AMD's product leadership is more or less unchanged.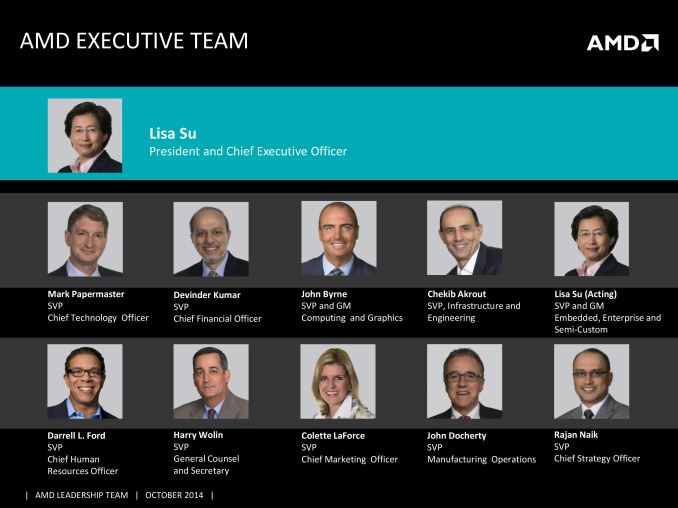 Meanwhile the transition from Rory to Lisa means that AMD is also once again being led by an engineer (and a very capable one at that), which AMD leadership is treating as a great strength going forward. Lisa holds a doctorate in electrical engineering from MIT and has previously held positions at IBM and Texas Instruments, including semiconductor research and development, and is much of the reason she joined the company at the SVP level in 2012. Being the CEO is about business as much as it is about technology, but with AMD's business situation settled by Rory, this should give Lisa a chance to settle in and focus on driving and improving AMD's technological situation, which is ultimately what will make or break the company. AMD now has a number of very capable engineers leading the company at multiple levels, including Lisa, CTO Mark Papermaster, and K12 designer Jim Keller, so the company should be in a good position going forward.
Finally, this promotion means that AMD's executive lineup has been slightly shuffled once more. The COO position was recreated for Lisa and now it seems just for Lisa; it will not be filled now that she is CEO, and those responsibilities will be staying with her. Meanwhile AMD is also noting that while Rory is stepping down as CEO effective immediately, he will be staying with the company in an advisory role to help see out the company through the rest of 2014.
Source: AMD