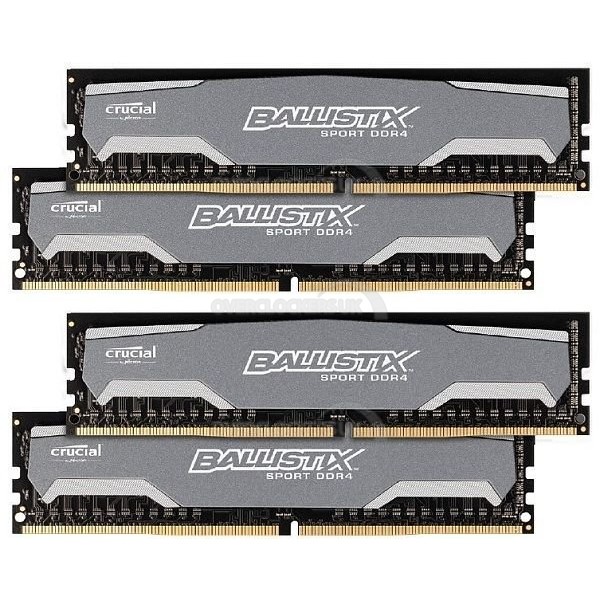 While browsing the internet this evening I found a news post that started quoting UK pricing for DDR4. Given the length of time between now and the official DDR4 launch, and given that DRAM manufacturers are already announcing their kits, a quick trip to the shopping part of Google gave some interesting numbers. Several DDR4 kits had prices listed, all from one UK retailer and all from Crucial.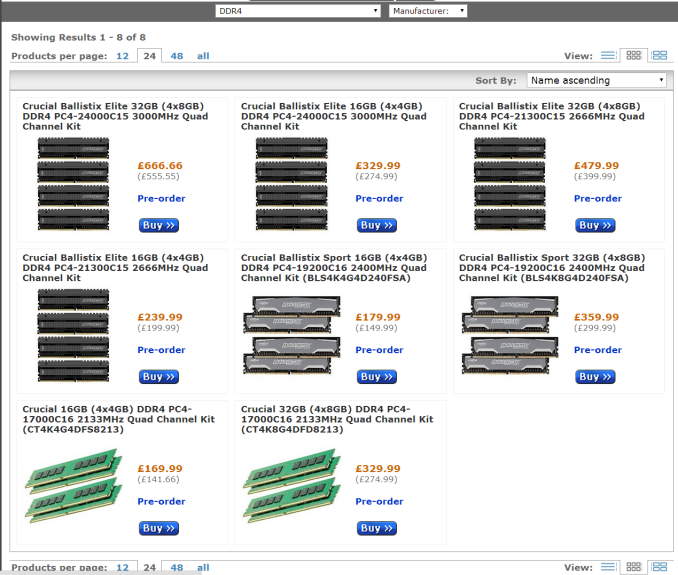 All the kits on offer are quad channel, with 4x8 GB and 4x4 GB kits. Notice they are all pre-order, stating a 29/8/14 ETA (or 8/29 for the US) – the end of August.
The kits at hand are offered in several speeds and price points. Note the prices above in orange are UK pricing, which includes our 20% sales tax: the black price underneath is excluding sales tax. Here is the price comparison without tax:
2133 C16: £141.66 for 4x4GB, or £8.85 / GB
2133 C16: £274.99 for 4x8GB, or £8.59 / GB
2400 C16: £149.99 for 4x4GB, or £9.37 / GB
2400 C16: £299.99 for 4x8GB, or £9.37 / GB
2666 C15: £199.99 for 4x4GB, or £12.50 / GB
2666 C15: £399.99 for 4x8GB, or £12.50 / GB
3000 C15: £274.99 for 4x4GB, or £17.19 / GB
3000 C15: £555.55 for 4x8GB, or £17.36 / GB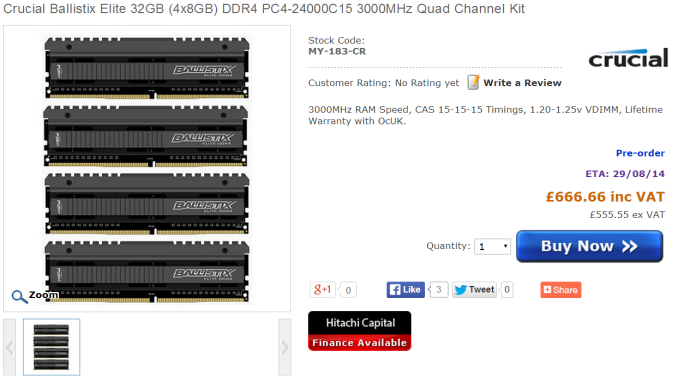 Aside from the obvious price premium over DDR3, as is normal for a new technology, it is worth noting that 4x4 GB of the 3000 C15 is the same price as 4x8 GB of the 2133 C16. If Crucial are this early out of the gate with online listings, the other DRAM manufacturers should not be far behind.
Source: OverclockersUK