The Haswell Refresh Processors
As a species that thrives on getting things done quicker or cheaper, a processor refresh should be welcomed. For the refresh, Intel is launching a total of 42 new SKUs, 24 of which are desktop but not all of them will make it into the land of retail. Prices for batches of a thousand will range from $42 to $303 on the desktop and $75 to $434 in mobile. Cutting to the chase, the new desktop SKUs are:
Intel Haswell Refresh CPU List (Desktop)
New SKU
Cores
Base
Turbo
L3 Cache
IGP
TDP / W
Intel
List
Price
Celeron G1840
2 / 2
2800
-
2 MB
HD (Haswell)
53
$42
Celeron G1840T
2 / 2
2500
-
2 MB
HD (Haswell)
35
$42
Celeron G1850
2 / 2
2900
-
2 MB
HD (Haswell)
53
$52
Pentium G3240
2 / 2
3100
-
3 MB
HD (Haswell)
53
$64
Pentium G3240T
2 / 2
2700
-
3 MB
HD (Haswell)
35
$64
Pentium G3440
2 / 2
3300
-
3 MB
HD (Haswell)
53
$75
Pentium G3440T
2 / 2
2800
-
3 MB
HD (Haswell)
35
$75
Pentium G3450
2 / 2
3400
-
3 MB
HD (Haswell)
53
$86
Core i3-4150
2 / 4
3500
-
3 MB
HD 4400
54
$117
Core i3-4150T
2 / 4
3000
-
3 MB
HD 4400
35
$117
Core i3-4350
2 / 4
3600
-
4 MB
HD 4600
54
$138
Core i3-4350T
2 / 4
3100
-
4 MB
HD 4600
35
$138
Core i3-4360
2 / 4
3700
-
4 MB
HD 4600
54
$149
Core i5-4460
4 / 4
3200
3400
6 MB
HD 4600
84
$182
Core i5-4460S
4 / 4
2900
-
6 MB
HD 4600
65
$182
Core i5-4590
4 / 4
3300
3700
6 MB
HD 4600
84
$192
Core i5-4590S
4 / 4
3000
3700
6 MB
HD 4600
65
$192
Core i5-4590T
4 / 4
2000
-
6 MB
HD 4600
35
$192
Core i5-4690
4 / 4
3500
3900
6 MB
HD 4600
84
$213
Core i5-4690S
4 / 4
3200
3900
6 MB
HD 4600
65
$213
Core i5-4690T
4 / 4
2500
-
6 MB
HD 4600
45
$213
Core i7-4785T
4 / 8
2200
-
8 MB
HD 4600
35
$303
Core i7-4790
4 / 8
3600
4000
8 MB
HD 4600
84
$303
Core i7-4790S
4 / 8
3200
4000
8 MB
HD 4600
65
$303
Core i7-4790T
4 / 8
2700
-
8 MB
HD 4600
45
$303
Every new desktop processor is a 100-200 MHz upgrade from the one named xx2x lower but at the same price point. Back when the initial processor price lists were announced, I made different comparisons from Celeron to i7 depending on what was relevant. For example, in the Celeron category:
Haswell Celeron
Celeron G1840
2.8 GHz (New)
Celeron G1830
2.8 GHz (Current)
CPU Speed
2.8 GHz
2.8 GHz
Cores
2
2
Threads
2
2
L2 Cache
512 KB
512 KB
L3 Cache
2048 KB
2048 KB
IGP
HD (Haswell)
HD (Haswell)
IGP Frequency
?
1050
TDP
53W
53W
Price at Launch
$42
$52
Here we already have a Celeron processor with the exact same speed as one of the Haswell Refresh SKUs, but because it has been on the market for longer it is actually cheaper while providing the same specifications.
At the top end i7, the i7-4790 should actually be a replacement for the i7-4771 which was released in September 2013:
Haswell Core i7
Core i7-4790
(New)
Core i7-4771
(Current)
CPU Speed
3600 MHz / 4000 MHz
3500 MHz / 3900 MHz
Cores
4
4
Threads
8
8
L2 Cache
1024 KB
1024 KB
L3 Cache
8192 KB
8192 KB
IGP
HD 4600
HD 4600
IGP Frequency
350 / 1200 MHz
350 MHz / 1200 MHz
TDP
84W
84W
Price at Launch
$303
$314 (OEM) / $320 (box)
By releasing new mainstream processors into the desktop market, as well as the 9-series chipsets, Intel has afforded the system integrators another chance to sell newer systems and not to stagnate with older models.
For most of the performance enthusiasts reading this review, the question you might well be asking yourself relates to the Haswell Refresh overclockable CPU. At this point in time it is clear that the i5-4670K and i7-4770K models do not have refresh counterparts, both of which are also more marketable to system integrators as well as desired by home users. There is a simple explanation to this.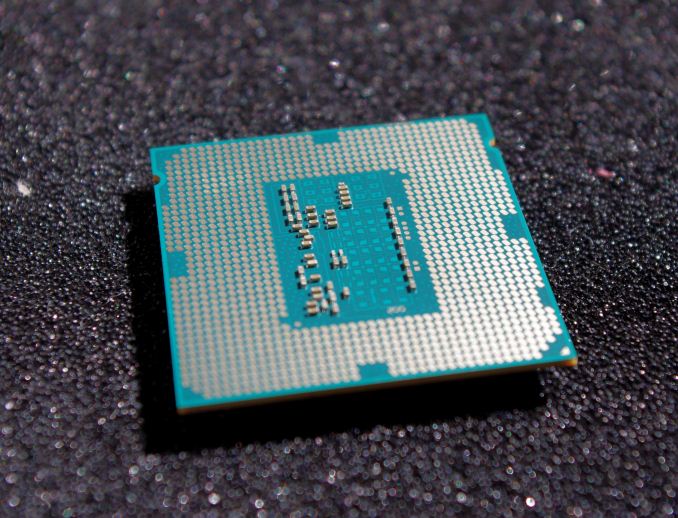 Nothing fundamentally changes with these refresh processors. It is the same design underneath. Now that Intel has been making Haswell wafers, the process is slightly more efficient over time (ironing out production) and the processor bins can all be shifted. If Intel were to release new overclockable CPUs that were a simple speed bump but ultimately had no performance gain of the current overclocking CPUs, there might be a backlash.
To that end, Intel is going to release 'Devil's Canyon' in due course. Devil's Canyon has no official SKU name yet (i7-4970K or i7-4770X are my best guesses) but it was announced back in March as having an improved package and better thermal interface material. It will probably be the same silicon underneath as the i7-4770K due to the nature of the refresh, perhaps with a small design tweak that does not require new masks. We will review the new overclocking processor when we receive a sample from Intel, hopefully under something suitably extreme.
Today's Review: The Intel Core i7-4790, i5-4690 and i3-4360
Back when Haswell was launched, we had only the chance to test the top line overclocking processor, the i7-4770K. This time around I was thankful to get the opportunity to expand our testing to the i5 and i3 segments of the processor line to find where they each stand in terms of performance. For comparison points we have the i7-4770K from our launch review, an i7-4765T from our ASRock M8 review, and an i3-4330 we picked up along the way.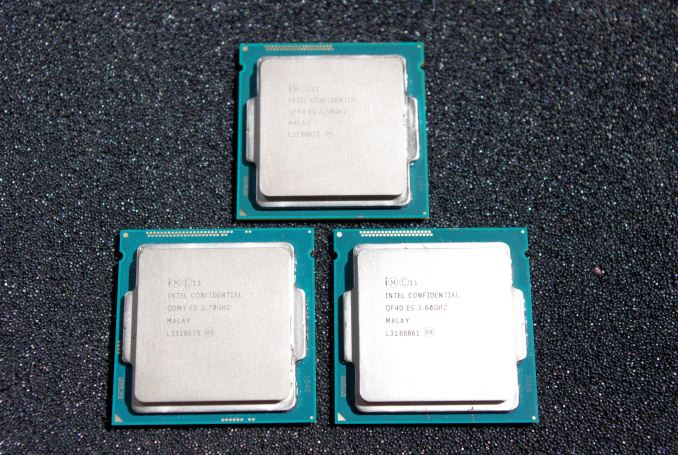 The Intel Haswell Refresh Review
Core i7-4790
(New)
Core i7-4770K
Core i7-4765T
Core i5-4690
(New)
Core i3-4360
(New)
Core i3-4330
Price
$303
$340
$303
$225
$149
$140
Launch
5/2014
6/2013
6/2013
5/2014
5/2014
9/2013
Cores / Threads
4/8
4/8
4/8
4/4
2/4
2/4
Base
Frequency
3600
3500
2000
3500
3700
3500
Turbo
Frequency
4000
3900
3000
3900
-
-
IGP
HD 4600
HD 4600
HD 4600
HD 4600
HD 4600
HD 4600
IGP
Frequency
350
350
350
350
600
350
IGP Turbo
1200
1250
1200
1200
1150
1150
L3 Cache
8 MB
8 MB
8 MB
6 MB
4 MB
4 MB
TDP
84 W
84 W
35 W
84 W
54 W
54 W
Assuming all goes as planned, the small increases in frequency should provide a ~3% increase in benchmarks compared to the older Haswell processors.
Multi-Core Enhancement Isn't Much Of An Issue
CPU benchmarking can be a bit of a nightmare in the current climate, especially on Intel platforms where turbo modes are possible. Back in 2012 I wrote an extensive news piece about Multi-Core Enhancement titled 'The Debate About Free MHz', wherein it is not actually Intel that set the CPU frequency for the processors but the motherboard. Where Intel might have a 3500 MHz base frequency and a 3900 MHz turbo frequency, a motherboard can detect that setting and override it for 3900 MHz on all cores by default. One motherboard went as far as increasing the multiplier +1 over the Intel specifications. The upshot of this is in multi-threaded performance benchmarks, where due to the extra frequency the final result is higher than Intel specifications. MultiCore Enhancement also means that the same CPU in different motherboards will give different results out of the box.
Most motherboard manufacturers that use this tactic (MSI, ASRock, GIGABYTE and ASUS all have this feature), as far as I can tell, limit the option to overclockable SKUs, and it is only implemented when XMP is implemented.
On top of this, Windows can also be a culprit. In different power modes, users can specify the percentage of maximum CPU frequency depending on what power mode is in play. This relates more to portable devices, but it is configurable with desktop systems as well.
For our review, as we only have one overclockable CPU in the test, we can adjust appropriately. For our testing we actually run SYSMark 2014 as our first benchmark, as the install prefers a fresh OS image to work with. This generates a consistent power profile which we maintain for the rest of the benchmarks. Had we run SYSMark mid-way through our testing period, it may have ended up with variable results, so we aim to keep our environment consistent and maintainable.
Test Setup
We would like to thank the following companies for providing test-bed support:
Thank you to OCZ for providing us with PSUs and SSDs.
Thank you to G.Skill and ADATA for providing us with memory kits.
Thank you to Corsair for providing us with an PSU, CLC and memory.
Thank you to ASUS for providing us with the AMD HD7970 GPUs and some IO Testing kit.
Thank you to MSI for providing us with the NVIDIA GTX 770 Lightning GPUs.
Thank you to Rosewill for providing us with keyboards.
Thank you to ASRock for providing us with the 802.11ac wireless router for testing and other components.
Following recent reviews, we have added several new benchmarks to our testing, including SYSMark and Unity-based testing methodology. At present we have only tested a few CPUs on these new benchmarks.
Power Consumption
For our power consumption tests, we take the system as a whole with a GTX 770 installed and test at idle, long idle (monitor turned off by the OS) and OCCT (artificial CPU load). We use the same PSU to keep efficiency on the same scale, although some of the data points are sub-20% efficienct for our power supply. This means that arbitrarily the qualitative comparison is more important than the quantitative comparison. Also of note is the Z97 motherboard we used for these tests implements an Adaptive voltage profile, meaning that artificial loads such as OCCT push the voltage higher than normal, increasing power consumption at load. Nevertheless the order of the results indicates a pattern from low power to high power.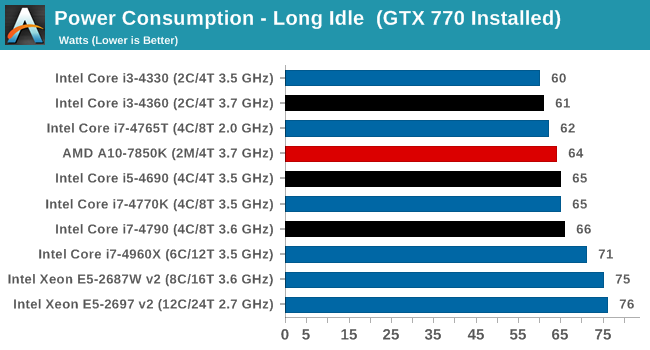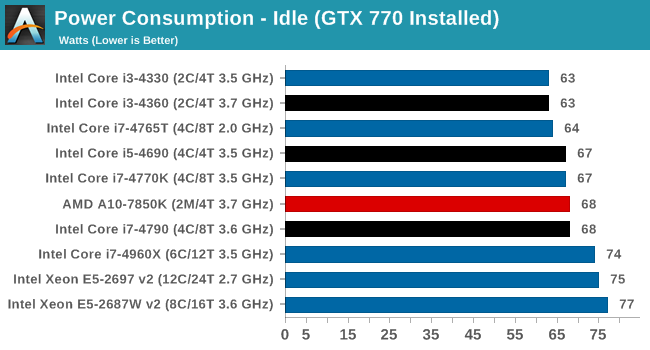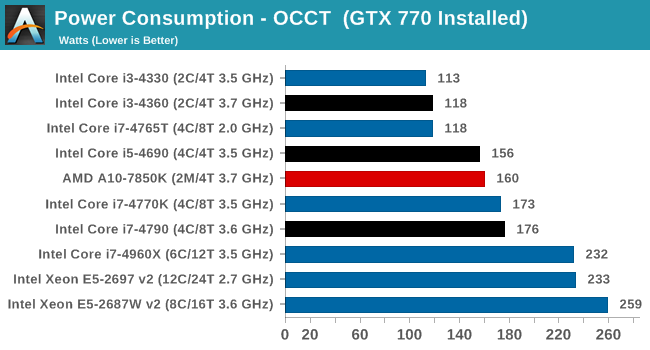 As expected, the 84W i7-4790 requires the most power, similar to the i7-4770K and i5-4690 that are also 84W.