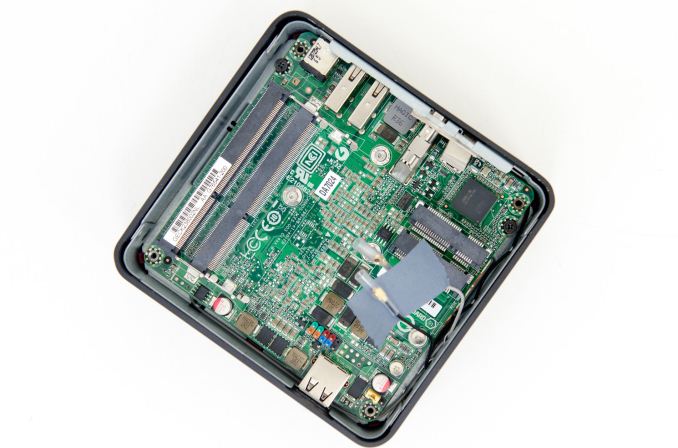 The Next Unit of Computing (NUC) from Intel is becoming a part of the PC roadmap like never before. Anand reviewed the first generation of the NUC, the DC3217BY, featuring a dual core Ivy Bridge ULV CPU (Core i3 3217U, 17W TDP, 1.8 GHz, HD 4000). Ganesh got the Haswell NUC, the D54250WYK, with a dual core Haswell CPU (Core i5-4250U, 15W TDP, 1.3 GHz/2.8 GHz Turbo + HD5000), as well as the GIGABYTE BRIX Pro, with a full on quad core Haswell CPU (Core i7-4770R) featuring Crystal Well and Iris Pro HD 5200 graphics. The next batch in line will be the Broadwell models, and the road maps for these have just become available courtesy of FanlessTech.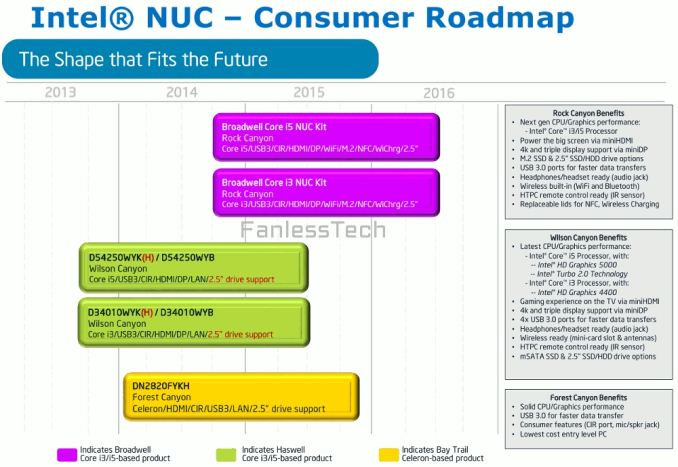 On the consumer side, we have the DN2820FYKH Bay Trail platform coming out in Q1 2014, under the Forest Canyon code name. This gives a Celeron CPU, HDMI, USB 3, 2.5" drive support, an Ethernet port and infra-red/audio capabilities.
For Q4 2014, the Broadwell NUCs should be upon us. If this roadmap is correct, we should expect an i3 and an i5 kit to come to market, under the Rock Canyon code name. Features for Rock Canyon include:
Mini HDMI
4K and Triple Display via miniDP
M.2 and 2.5" drive options
USB 3.0 ports
WiFi and Bluetooth built in
Replaceable lids for NFC and Wireless Charging
The M.2 connectivity is welcomed, although the replaceable lids might not matter much if a NUC is used in a VESA mount – hopefully there might be a way to run the lid connected to the system via a cable and just resting on the desk. No formal mention of the format of the WiFi connectivity, although as it is now mentioned as part of the kit and built in, hopefully this will be at least a 2T2R 802.11ac solution given we now see it on $150 Intel 8-series motherboards.
Also available is the commercial roadmap, which lists a series of different products: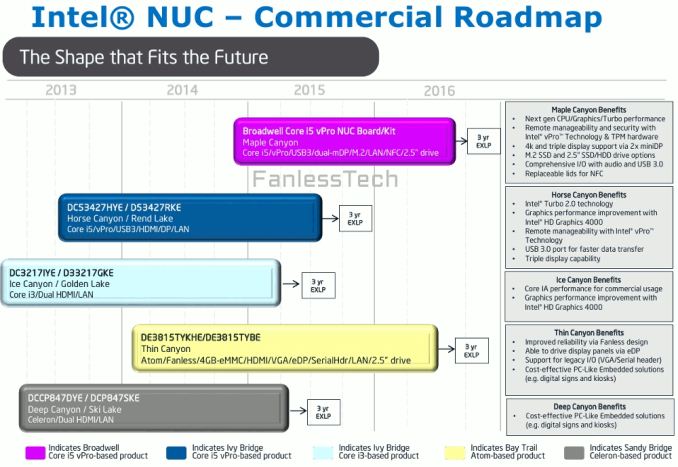 Using the Maple Canyon code name, the Broadwell commercial NUC is aimed more at a late Q4 launch. Using the Broadwell i5 and vPro with Trusted Platform Module support, this kit mirrors the Broadwell NUC in the consumer line up (4K, M.2, NFC, USB 3.0) although with two miniDP ports for connectivity.
For Atom, starting in Q1 2014 we have the DE3815TYKHE and DE3815TYBE. These are fanless Atom SoCs based on Bay Trail, using 4GB of eMMC as well as HDMI, VGA, eDP and support for legacy IO. The aim here is embedded solutions, such as digital signs and kiosks.
Source: FanlessTech